Miracle-Gro® Moisture Control™ Enriched Compost Pots & Baskets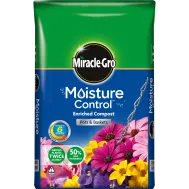 Miracle-Gro® Moisture Control™ Enriched Compost Pots & Baskets
Miracle-Gro Moisture Control Enriched Compost Pots & Baskets is perfect for hanging baskets, patio pots and houseplants. Its exclusive Aquacoir® formula stores and releases water when plants need it.  This product absorbs twice as much water as ordinary multi purpose compost and feeds for up to 6 months. 
HOW TO USE
Hanging Baskets:
Line the basket, if required with moss or other liner.

Half fill basket with compost and plant trailing plants around edges.

Plant more trailing plants around the baskets edge and upright plants in the centre.

Fill the rest of the basket with compost, firm lightly and water thoroughly.
 
Pots and containers:
Place a layer of compost in the base of the pot.

Tap out the plant from the old pot, loosen the root ball and place in the centre of the pot.

Fill the space around the root ball, ensuring the compost level covers all the roots.

Firm lightly, water thoroughly and let drain.
WHERE TO USE
For planting patio pots, containers and hanging baskets with summer flowering bedding plants and annual vegetables growing outdoors or under glass.
HOW OFTEN TO APPLY
Feeds plants for up to 6 months.
CAUTIONS
Always wear gloves when gardening,
Always read the label and product information before use.
RECYCLING & HANDY HINTS
Useful tips:
For continued fantastic results with the hungriest plants we recommend that you begin feeding with Miracle-Gro® plant food as soon as the leaves begin to pale.

Plants vary in their requirements for light.  Refer to plant tags for specific sun or shade needs.

Compost should be kept moist at all times and not allowed to dry out.  Avoid plants sitting in water.
Health and Safety
Always read the pack label and product instructions carefully before use. For further information relating to product safety please review the product data safety sheet link below.