Driving for change in packaging
At Evergreen Garden Care, we care about the world we live in and want to leave a greener planet for future generations. We take our responsibility seriously and support initiatives that avoid our packaging ending up in rivers or oceans.
Over the last few years, we have taken significant steps to change our packaging and we are continuing to develop a more circular approach to waste.

Reuse
We want to encourage our customers to reuse our products where possible so for those products that can be reused, we have introduced clear messaging to help you make the right decisions.

Repair
A free parts replacement service for our lawn care spreaders is available encouraging you to repair instead of dispose.  Many of our spreaders can last many years so it is important to maintain your spreaders after each use to make sure they last.
To find out more about how you can replace parts on our spreaders, contact us.
Recycle
We recognise that clear on-pack instructions encourages recycling, so we have recycling labels on many of our products. Here is a quick overview of what can be recycled:

Reduce
Most of our plastic bottles and bags contain at least 30% recycled material, with some containing even more. We are regularly reviewing recycled content and pushing the boundaries to develop packaging that contains more recycled content and is recyclable.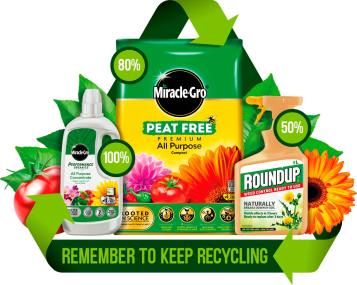 Redesign
We wanted to understand the impact reducing plastic will have on climate change, so we conducted an independent study on our Miracle-Gro concentrated bottle.
We discovered that by changing the shape and reducing the amount of plastic by 23%, we saw an 18% reduction in impact to the climate. These results have supported further widespread changes in packaging.

We recognise that the packaging we develop must keep our products protected when stored outside, and they need to be safe and easy to use, but should not be over-engineered.
It's important to only use the amount of material needed to be legally and technically compliant. Our journey has only just begun and there are many more exciting stories to come.
We have already committed that we will be using 90% recycled plastic by 2023.