Miracle-Gro® Premium Houseplant Potting Mix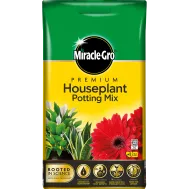 Miracle-Gro® Premium Houseplant Potting Mix
A Premium Compost, that caters the special needs of potted house plants. Its unique formulation of 3 different patents will feed your plants for 3 months, provide the optimum structure for the roots to grow strong and prevent water to dry out fast, as a result your plants will thrive.
Miracle-Gro Premium Houseplant Potting Mix compost contains Waterlock™ technology which absorbs 25% more water to help stop your pot plants drying out and makes watering easier.
With a unique, patented Fibre Smart™ technology. The hollow wood fibres ensure optimum balance of air and water for strong roots to grow healthy. Wood fibres are 100% natural and peat free.
Miracle-Gro Premium Houseplant Potting Mix compost provides a unique combination of 14 vital minerals. N/P/K, Nitrogen is used by plants for lots of leaf growth and good green colour. Phosphorous is used by plants to help form new roots, make seeds, fruits, flowers and fight disease. Potassium helps plants make strong stems and keep growing fast. Additionally, there are 11 more minerals such as iron, iodine, fluoride, copper, zinc, chromium, selenium, manganese and molybdenum which are vital for maintaining plants health. Feeds for up to 3 months.
---
How to use
For containers and baskets: Place a layer of compost in the base of the pot. Tap out the plant from the old pot, loosen the root ball and place in the centre of the pot. Fill the space around the root ball, ensuring the compost level covers all the roots. Firm lightly, water thoroughly and let drain.
---
Where to use
Ideal for all house plants and herbs. Works well for young plants and matured pot plants.
Perfect for use in pots, container and hanging baskets.
---
Coverage
Fills 2 medium pots 22cm (9").
Fills 1 large pot 25cm (10").
Fills 1 hanging basket 30cm (12").
---
Cautions
Use in a well ventilated place and avoid breathing in dust.
Always wear gloves when gardening. Wash hands after use.
Store in a cool place, away from sun.
Open bag carefully and reseal after use.
Always read the label and product information before use.
Health and Safety
Always read the pack label and product instructions carefully before use. For further information relating to product safety please review the product data safety sheet link below.