Miracle-Gro® Rotary Spreader
Miracle-Gro® Rotary Spreader
The Miracle-Gro® Rotary Spreader has variable settings to apply lawn food or grass seed. It guarantees wider coverage to feed large lawns easily. For best results use with Miracle-Gro® EverGreen® granular lawn treatments and/or grass seed products only. The Miracle-Gro® Rotary Spreader has a spreading width of 3m.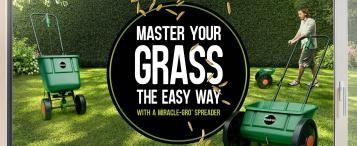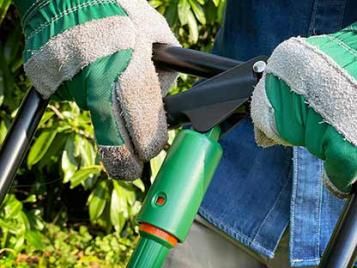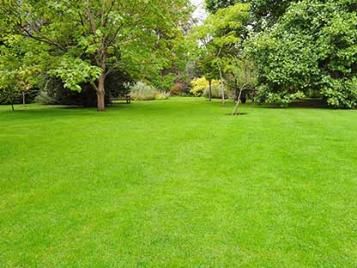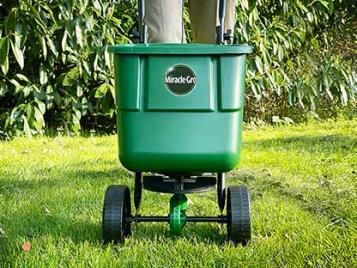 How to use
The Miracle-Gro® Rotary Spreader throws the granules evenly in front of the moving spreader covering a broad strip approximately 3 metres (10 feet) wide, so you can quickly treat large lawns, paddocks, orchards evenly and accurately.
Simply adjust the setting according to the product you are using (see our spreader settings table) and away you go. There's an on/off grip handle so starting and stopping the application of the granules is easy and accurate when you get to the end of a strip.
Because the outer edges of each broad strip receive slightly less granules than the core centre, you should overlap the strips by approximately 30cm (1ft). This will ensure even greening to the whole area.
Download the full instruction booklet for this spreader (PDF)
Where to use
Large areas - such as large lawns, paddocks, and orchards. Always use a spreader for an even and easy application of granular lawn seed and lawn care products.
When to use
Spreaders can be used throughout the year. They can be used for a range of lawn care tasks such as; seeding a new area of the lawn, feeding/fertilising your lawn as well as treating moss and killing weeds. Always read the pack instructions.
Always read the label and product information before use.
Q1: What setting do I use?
A1: You can find most spreader settings in our spreader settings table.
Q2: What speed do I need to walk when using the spreader?
A2: The recommended walking speed is approximately 8.3m in 10 seconds.
Q3: How do I maintain the spreader?
A3: After each use, pour any leftover product back into the original packaging and wash the spreader thoroughly over the lawn to remove all product clinging to the spreader, particularly around the axle. Hot water may be required to remove stubborn residues. Allow the spreader to dry before safe storage. Lubricate the axle bushings regularly using a light spray lubricant. Do not use heavy oils or grease as they can attract debris, which can cause premature wear.
Health and Safety
Always read the pack label and product instructions carefully before use. For further information relating to product safety please review the product data safety sheet link below.

Miracle-Gro® Rotary Spreader
1 unit (other sizes available)