Miracle-Gro® Orchid Concentrate Plant Food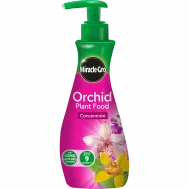 Miracle-Gro® Orchid Concentrate Plant Food
Miracle-Gro® Orchid Plant Food Concentrate contains a unique mix of 9 nutrients for healthy growth and improved flowering. High in Phosphate and Potassium formula to encourage heavy flowering. 
HOW TO USE
Before first use, remove the security clip and turn the pump to open position.
Add 1 pump per litre of water and use at every watering or add 2 pumps per litre of water and apply every other week. Use in addition to the Miracle-Gro® Orchid Mist.
Close the pump after use.
WHERE TO USE
For use on orchids.
COVERAGE AREA
Spot treatment.
FERTILISER ANALYSIS
NPK 4-4.5-8
CAUTIONS
Keep out of reach of children. Wash splashes from skin straight away.
Always read the label and product information before use.