Kitchen
The kitchen tends to be a warmer room in the house and can get quite humid when cooking. Many have large windows, which are perfect for growing microgreens and crops such as chillies on.
For houseplants suited for kitchens, Asplenium nidus (bird's nest fern) is a low-maintenance pick with waved and crinkled textured fronds. They thrive in a warm and humid environment with medium or bright but indirect light. Although they will tolerate low light spots too, if your kitchen doesn't have a window. With this fern, it's ideal to let the soil dry out before watering again too.
A firm favourite houseplant for many are orchids. They are tropical plants, so will greatly appreciate the humidity of the kitchen. Orchids are epiphytes, meaning in their natural habitats they grow clinging to trees or rocks. Their roots are used to anchor them to these structures, and they get their moisture and nutrients from the air. For extra nutrients when growing as a houseplant, Pump & Feed Orchid can be conveniently used once a week. When indoors, they grow best in bright but indirect light, although they can tolerate lower light levels. Every week, spritz around the roots and leaves using Spray & Spritz to lock in moisture for happier and healthier looking plants.
Bedroom
Having houseplants in your bedroom is a great way of incorporating nature into your daily life, as they'll be one of the first things you see when you wake up. Not only this but it will encourage you to open the curtains and windows to let in fresh air and natural light. The fresh air itself will boost your mood and improve bodily functions with higher oxygen levels. Then of course, on a practical level, the sunlight will help your plants to survive and thrive.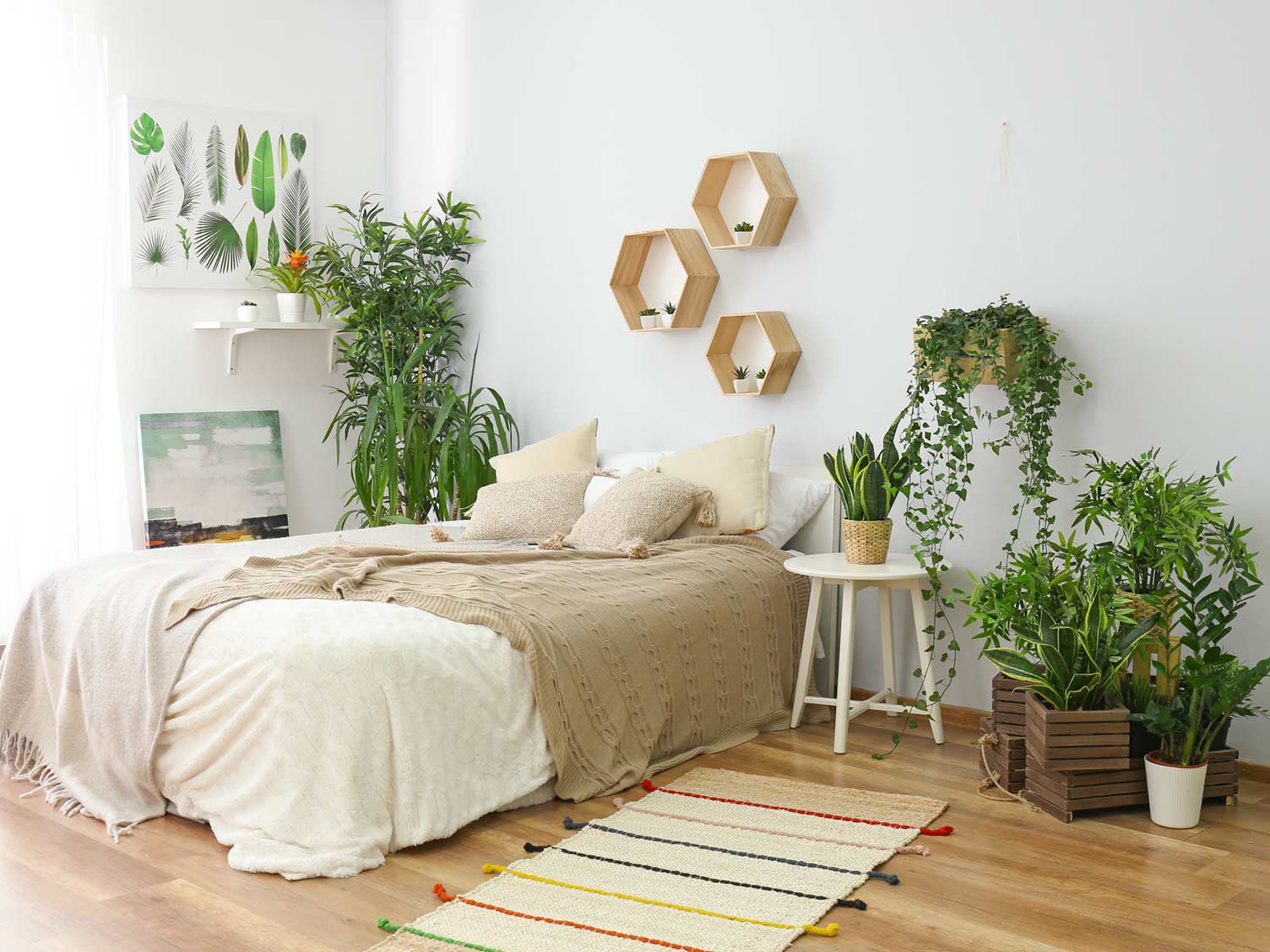 Attach a hook to the ceiling for a hanging basket to plant a Philodendron scandens (sweetheart plant). From the ceiling, its heart-shaped leaves will cascade down or trail along shelves. Although it grows best in medium light, it can also tolerate bright light as well as shady spots. Water regularly to keep the soil moist and your Philodendron will be quite content. Push & Feed All Purpose is an easy way of feeding plants in hanging baskets as they're simply pushed 5cm into the compost and will feed the plants for 6 months.
If your bedroom has low light levels due to window positioning or the direction of the house, there are plenty of plants to choose that thrive in a shadier spot. Peperomia obtusifolia (baby rubber plant) has thick waxy leaves and thick stems and lovely compact growth. This one is perfect for a bedroom or office space that's a little low on light, because too much sun can damage the leaves. As with most houseplants, the baby rubber plant won't tolerate overwatering, so water when the soil has mostly dried out.
Bathroom
Like houseplants for the kitchen, pick humidity-loving plants for the bathroom. There are so many ways to get creative with displaying plants in the bathroom. Air plants can be tied together to create a unique hanging plant in a chandelier style, which has a magical impact.
Dracaena fragrans (corn plant) make great bathroom plants. They are well suited to clean cut contemporary bathroom styles due to their striking straight leaves. They like high humidity levels, so the bathroom is very fitting. Position in a spot with medium to bright, indirect light.
The extremely popular Boston fern is the perfect pick for your bathroom. The feathery fronds suit the warm and wet environment. However, bear in mind that they do need a good amount of indirect light to thrive. They look great in a hanging basket, which will add some height to your bathroom. You can even position them in the shower itself.
Living room
As a place for relaxing and entertaining guests, the living room is an important room in most houses, so you want houseplants that bring impact. Yucca elephantipes (spineless yucca) is an upright plant that is great for a contemporary home. The strikingly thick stems and straight sword-shaped leaves will make quite a statement in the living room.
A sun-lover, they should be placed in a brightly lit area and turned slightly every now and then to ensure all of the plant gets sunlight. Water when the top couple of inches of Peat Free Premium Houseplant Potting Mix have dried out, as overwatering can harm the plants.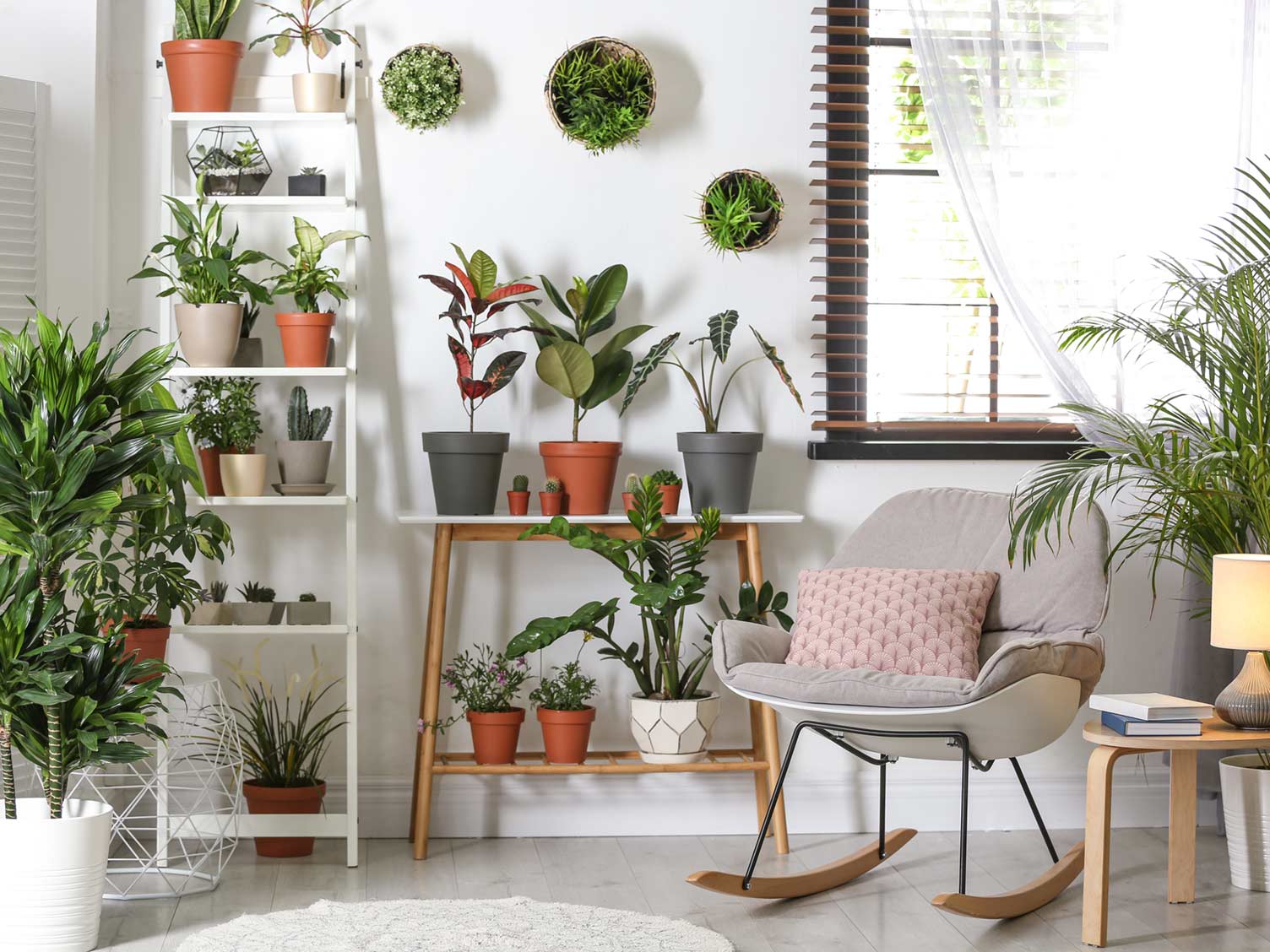 Choose the best houseplants to suit the spots available in your home. Consider the exposure to light and positioning near windows or doors – this can increase circulation but lead to cold chills that can have a negative impact on some plants.