Roundup® Lawn Weedkiller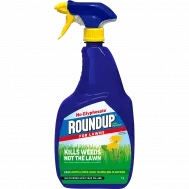 Roundup® Lawn Weedkiller
Roundup® Lawn Weedkiller kills broad leaved weeds growing in lawns without harming the grass. Specially formulated to kill the broad leaved weeds that invade lawns and suffocate grass.
HOW TO USE
Although not a requirement, as good practice, we recommend wearing waterproof gloves and gardening footwear.
- Push the security tab until it breaks from the trigger.
- Rotate nozzle to 'spray' or 'stream' position Hold the sprayer approx. 50 cm away from the target weed and spray to lightly wet the weeds - avoid run-off.
- Rotate nozzle to stop after use.
- Apply at no more than 50 ml/m²
For best results: treat weeds at the start of flowering to give best results. 
Do not apply when rainfall is expected within 6 hours of application. Do not apply when flowering weeds are present. Direct spray away from ponds and other surface water bodies. Do not empty into drains. Use appropriate containment to avoid environmental contamination. Allow the spray to dry before walking or playing on treated areas. Treated areas can be re-planted or re-seeded the day after treatment.
HOW OFTEN TO APPLY
Repeat application after 14 days if weeds are not completely dead.
WHERE TO USE
For use to kill weeds in the lawn. Kills weeds, not the lawn.
COVERAGE AREA
Spot treatment.
CAUTIONS
Keep out of reach of children. Do not eat, drink or smoke using this product. Do not contaminate water with the product or its container. If medical advice is needed, have product container or label on hand. This material and its container must be disposed of in a safe way. 
Use weed killer products safely. Always read the label and product information before use.
Health and Safety
Always read the pack label and product instructions carefully before use. For further information relating to product safety please review the product data safety sheet link below.