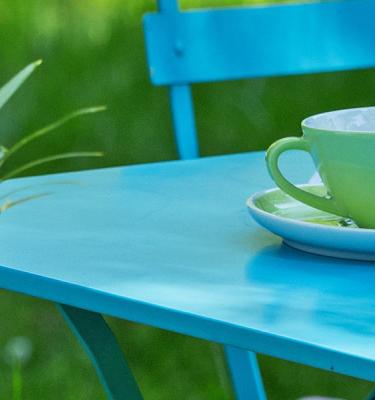 Your Monthly Planting Guide
Gardening in May
May can be a mixed bag as far as the weather goes, with warm sunny days followed by rainy days and even the occasional late frost. It's a busy month in the garden, with everything starting to grow, and it's also a great chance to get lawns in shape for summer. Keep an eye on the weather forecast and be prepared to protect young plants with fleece or cloches if the temperature drops suddenly.
What to plant and do in May?
There's plenty to do in the garden in May, with seeds to sow and young seedlings to plant out. Whatever your big May garden project – whether you're growing your own fruit and veg, or planting flowers for a spectacular summer display – choose a category below and read our essential growing and planting tips for May.
Vegetables
What vegetables to plant in May
May is a busy time for seed sowing, especially in the vegetable garden. Although the weather is much warmer, there's still a chance of cold snaps in early May, so some seeds are still better sown in pots or modules indoors and placed in a greenhouse or on a sunny windowsill to germinate and grow on until June. For seeds sown directly outdoors, prepare the ground first by digging it over, clearing weeds and stones, and raking it smooth.
To harden off tender seedlings before planting them out, place them outdoors during the day and move them back inside at night. Do this for between 7-10 days before planting out.
Sow indoors:
Sweetcorn
Courgettes
Squash
Pumpkins
Lettuce
Cucumbers
Runner and French beans
Kale
Sow outdoors:
Beetroot
Broccoli
Brussels sprouts
Carrots
Parsnips
Radishes
Swiss chard
Swede
Turnips
Plant out:
Leeks
Tomatoes in greenhouses
What vegetables to harvest in May
May is a great time in your vegetable garden. You'll really start to see all the hard work paying off, with the following vegetables ready to harvest in May.
Asparagus
Salad leaves
Garlic
Spring cabbage
Artichokes
Vegetable plant maintenance in May
Transplant Brussels sprouts plants to their final cropping positions.
As the weather warms up, weeds start growing and garden pests like slugs and snails become more active. Watch out for early signs of pests and disease and tackle them before they get out of hand.
Remember that insects such as ladybirds help to tackle garden pests, so use pesticides with caution to avoid harming beneficial wildlife.
Potatoes - earth up potatoes, drawing soil up around the lower part of the plant to exclude light from the developing tubers, which become green and poisonous if exposed to light.
Tomatoes - start hardening off tomato seedlings for planting outdoors in June.
Broad beans - pinch out the tips of broad bean plants once beans start to appear, to reduce the risk of blackfly.
Weed beds regularly.
Put up supports for climbing beans and pea plants.
Fruit
What fruit to plant in May
Plant soft fruit in May including:
Blueberries
Raspberries
Blackberries
Strawberries
Gooseberries
What fruit to harvest in May
You can pick rhubarb throughout May and into June. At the end of June you should stop to give plants time to build up their strength for next year.
Fruit plant maintenance in May
Soft fruit bushes like blackcurrants, gooseberries and summer-fruiting raspberries are flowering and starting to develop fruits this month. Keep an eye on progress – while the plants are in flower.
It's important that pollinators are able to get to the flowers, but once fruit starts to develop you may need to cover it with nets to stop birds stealing it before you can enjoy it!
Soft fruit bushes can still be planted in May but remember to water them regularly during the first year after planting while they are getting established.
Strawberries should be protected with netting against birds.
When harvesting rhubarb, leave at least half the stems on each plant.
Check gooseberry bushes for sawfly and squash any caterpillars you see.
Hang pheromone traps in plum and apple trees to control pests like plum moth and codling moth.
Thin out excess and overcrowded raspberry canes.
Roses
What roses to Plant in May
May is a great month for roses, with so many of them just starting to come into bloom.
All container-grown roses can be planted in May but remember to water them regularly for the first year after planting, while they are getting established.
Rose maintenance in May
While you're enjoying the colours and fragrances of your favourite flowers, keep an eye out for pests like aphids and rose sawfly, as well as any signs of disease, and tackle problems early before they have a chance to build up. Avoid spraying pesticides once the roses are in flower, as this can harm bees and other pollinators.
Tie the new shoots of climbing and rambling roses in to a support framework as they grow.
Check rose leaves for signs of black spot and spray with a fungicide if needed.
Wipe off early signs of aphid infestations from buds and shoots.
Check for signs of rose sawfly larvae attack (tiny green caterpillars, often along the leaf edges, leaves eaten right back to the veins), and squash any caterpillars you see.
Ornamental plants
What flowers and bulbs to plant in May
May is when many of our favourite garden plants burst into flower. Spring bulbs like daffodils and tulips are almost finished, but it's not long until the summer bulbs like lilies take over. All hardy perennials can be planted in May. Wait until the end of the month to plant tender plants like summer bedding and climbing annuals, to avoid any last frosts.
Sow outdoors:
Sunflowers
Nasturtiums
Poppies
Cornflowers
Nigella
Plant:
Hardy perennials
Summer bedding including petunias, begonias, geraniums and Impatiens (busy lizzies)
Climbing annuals including Ipomoea lobata (Spanish flag) and Cobea scandens (cup-and-saucer plant)
What flowers to prune in May
Deadhead daffodils and tulips but leave the foliage to die back before cutting it down.
Prune penstemons now, cutting back to new growth or strong buds lower down the stems.
Clematis - prune spring-flowering clematis after flowering is finished, removing overcrowded stems.
Flower maintenance in May
Spring bulbs - lift and divide overgrown clumps of spring bulbs like daffodils and snowdrops.
Summer bulbs - harden off dahlias and cannas by leaving them outside during the day and moving them in at night. Do this for 7-10 days before planting out.
Lift and divide overgrown clumps of perennials.
Sweet peas - tie in sweet peas to supports as they grow.
Feed container plants with a liquid feed every fortnight.
The weeds are busy growing in May, so keep on top of them now and you'll have less to do in summer.
Water plants regularly in dry spells, watering in the morning or evening to avoid water loss through evaporation.
Plants and shrubs
What trees and shrubs to plant in May
Trees and shrubs are growing strongly in May, so any new trees or shrubs planted will need extra care to ensure they get the water and nutrients they need.
Aim to plant trees and shrubs early in the month rather than later, and water regularly after planting, giving at least a bucket's worth of water per tree twice a week, and more if the tree looks as though it is struggling. If the soil is very dry, apply the water slowly to give it a chance to soak in.
All container-grown trees and shrubs can be planted in May, but it is essential to water them regularly during their first year after planting, while they are getting established, especially in hot dry summers.
What plants and shrubs to prune in May
Prune early spring-flowering shrubs, including:
Forsythia
Chaenomeles
Viburnum x bodnantense
Choisya
Plants and shrub maintenance in May
Take stem cuttings of half-hardy perennials and patio plants, such as fuchsias and pelargoniums.
Trim evergreen hedges, but always check first for nests and never disturb nesting birds.
Water newly-planted trees and shrubs regularly, especially during dry periods. Try to use rain, grey or recycled water where possible.
Keep the area around tree and shrub roots clear of weeds and grass that would compete for water and nutrients.
Look out for damage on deciduous trees, including bacterial canker.
Check for signs of blight on box and holly trees.
Herbs and spices
What herbs and spices to plant in May
As the weather warms up in May, it's time to start thinking about sowing tender herbs like basil and coriander.
All hardy herbs and spices can be planted in May, including:
Thyme
Rosemary
Sage
Parsley
Chives
Mint (in pots)
Sow indoors:
Basil
Coriander
Lemon balm
Sow outdoors:
What herbs and spices to harvest in May
Hardy herbs like rosemary, thyme and sage can be harvested all year round, and regular harvesting from spring to autumn will encourage them to produce fresh new growth, ideal for cooking.
Herbs and spices plant maintenance in May
Mint can be invasive, spreading vigorously by underground runners, so it's best grown in pots.
It is also essential to water herbs regularly during dry periods – if you experience any in May.
The likes of coriander, dill, basil and wild rocket can be quick to bolt when overcrowded or in poor and dry soil. Keep your soil well fed and thin out where required.
Things to do this month
Check plants regularly to see if they need watering. If they do, give them a thorough soaking.
Apply shade paint to greenhouse windows or fix blinds to provide shade for the summer.
Open greenhouse vents on warm days.
Control slugs and snails by putting down beer traps, using copper tape around pots or spreading environmentally-friendly pellets.
Clear weed out of ponds and leave it lying at the side of the pond for a day before disposing of it, to allow any wildlife living in it to escape.
Feed wild birds daily with suitable bird food. They have young that need a lot of feeding.
Keep secateurs and hoe blades sharp, so they cut well. Always have a tool sharpener handy.
As the weather warms up, stock ponds with new plants and fish.
Put in supports for tall perennials like phlox, delphiniums and asters.
Feed the lawn with a high-nitrogen fertilizer to encourage strong, healthy growth.
Sow lawn seed to repair bare patches and water regularly until the new grass is established.
Dig up dandelions and other lawn weeds by hand or apply a selective lawn weedkiller to tackle heavy infestations.
Mow the lawn regularly (at least once a week), lowering the mower blades to their summer level.
Give your garden an instant facelift by using edging shears to trim the lawn neatly at the edges of borders.
Control plant pests before they get out of hand and become a problem.
Keep on top of weeds as they appear, and deal with them quickly - either by hoeing or spraying with a suitable weedkiller.
Spray perennial weeds with a weedkiller containing glyphosate or completely dig out the roots.
Mulch borders with bark to help retain essential soil moisture and keep down weeds.
What to do in your garden in May