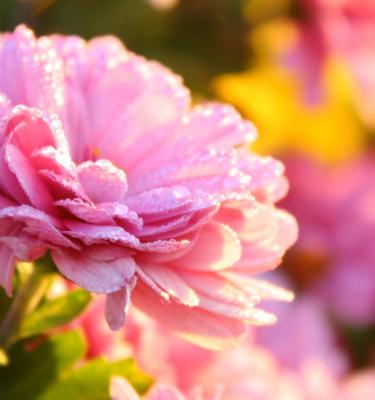 Discover and Grow Your Birth Month Flower
You probably know your Zodiac sign, and possibly your birthstone, but did you know that there is a flower specific to your birth month too?
These 12 flowers represent different personality traits, and it's fun to see if you recognise yourself or your friends and family in the birth month flowers and meanings. Plus, knowing the flower of the month is very useful when choosing flowers for a loved one's birthday. What a thoughtful gift that would be!
Discover each birth month's flower and what they mean below!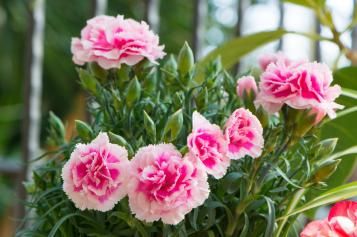 January
Carnation
Symbolising devotion, loyalty and love, carnations – the January birth month flower – are popular cut flowers and are ideal to present to someone born in this month in a mixed bouquet or in a simple spray of one colour.  
With petals ranging from white through pale lemon to pink, dark crimson and even green, the flowerheads of these pretty flowers form a shredded-edged, clove-scented sphere above greyish foliage and straight stems.
The carnations that we grow in our gardens and buy from florists are bred from Dianthus caryophyllus and other species of Dianthus, a name which comes from the Greek for divine and flower.
Originating in Mediterranean areas, you should grow this plant in a sunny position in well-drained soil or in a container filled with a free-draining potting mix. You can raise your carnation plants from seed sown in late winter/early spring into a seed tray of seed potting mix. You should prick out into individual 9cm pots once the true leaves emerge above the seed leaves, and expect your carnations to flower about 18 months later.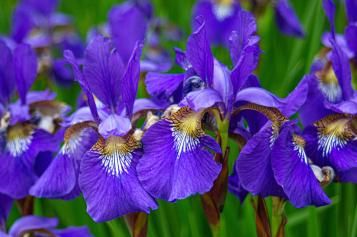 February
Iris
In the language of flowers, the iris is said to mean eloquence, faith, wisdom and hope.
In colder climates, the dainty Iris sibirica is the species that flowers in February, but here in the southern hemisphere, it's the flamboyant bearded iris or Iris germanica that is in flower. Think of Monet's vibrant canvases where he captures the vibrant colour and profusion of the flowers of this stately plant. The petals of a bearded iris are composed of upper 'standards' above 'falls', often of a contrasting colour, with a distinctive yellow 'beard' emerging between the two.
Plant iris rhizomes in an open, sunny site where the soil drains sharply. The base of a wall or fence is an ideal location. When the iris has finished flowering, cut the stem to the base and cut the leaves on the diagonal by at least two-thirds. To extend your iris bed and prevent it from becoming congested, lift the rhizomes after flowering every couple of years and divide them into individual plants, before re-planting them. Be sure to keep part of the rhizome above soil level, to enable the sun to bake it.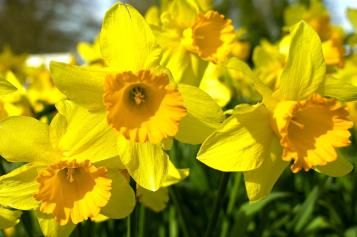 March
Daffodil
The daffodil signifies rebirth, hope and resilience: appropriate for a flower that spends much of the year underground in the form of a bulb, before emerging into the early spring sunshine to brighten our gardens.
With cultivars in every shade of yellow from pale lemon to deep butter, there is also a wide variation in height. Stately 'Fortune' grows to 40cm, perky 'Tete-aTete' to only 20cm. 'Hawera' is a good daffodil to naturalise in semi-shaded parts of the garden with its canary-yellow petals which swoop backwards.
Daffodils are good bulbs to plant in containers: try 25cm tall 'Jetfire' which has a distinctive orange trumpet and is slightly scented. You can find advice about planting bulbs here. You might wish to place a chicken wire cloche or cage over the pot until the leaves emerge about three months later, to stop the bulbs being dug out by mischievous small mammals. Remember that all parts of the daffodil are poisonous, so be sure to place them out of reach of pets and small children.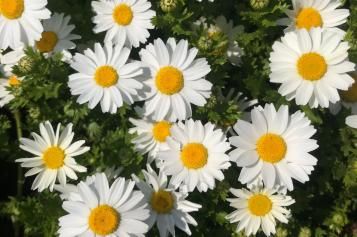 April
Daisy
Meaning innocence, loyalty and transformation, the April birth flower (the daisy) comes from one of the largest plant families, distinctive for their rays of petals surrounding a central disc.
Spring and early summer bedding displays often feature the pastel buttons of Bellis perennis, only 10cm tall and pretty paired with pink tulips. They are a good subject for window boxes filled with a potting mix or planted near the edge of a border and though often treated as annuals, they do in fact flower year after year.
For sunny, dry sites and even between paving slabs, the Mexican daisy (Erigeron karvinskianus) takes some beating. The small white, sometimes pink-tinged flowers resemble lawn daisies and flowers all summer long and well into autumn.
For a taller display in border gardens, there are several varieties of classic yellow-centred white daisies which can grow to heights of between 50cm and 1m. Like all daisies, they prefer to be in full sun and should be deadheaded regularly to encourage more flowers. They include:
Marguerite daisies (Argyranthemum). This woody-based perennial is about 60cm tall and flowers from spring to autumn.
Shasta daisies (Leucanthemum x superbum) are bred in both single and double flower forms and make great cut flowers.
May
Lily of the Valley
The waxy white bells of the lily of the valley (Convallaria majalis) nod downwards gracefully and are sweetly perfumed, appropriate for a birth month flower that symbolises humility and sweetness. This flower is also emblematic of motherhood and was traditionally a popular subject for a Mother's Day posy, as well as, perfuming soap and talcum powder.
Happiest growing in moist woodland settings in full or partial shade, the paired leaves of lily of the valley die back each year. It flowers in spring to be followed by red berries. Mulch in the autumn with leaf mould or a couple of centimetres of soil improver. Once established, the lily of the valley can grow into extensive colonies and provides excellent ground cover in the right setting. Do bear in mind that all parts of the plant are highly toxic if ingested.
Equally pretty but less common is the pale pink flowered variety, rosea, commonly called rosy lily of the valley. To bring a lighter accent to a shady site, grow Convallaria majalis 'Albostriata', the leaves of which are striped lengthways in deep cream.
June
Rose
Roses are the birthday month flower for June, but in the language of flowers the rose carries a different meaning for each of its colours.
Red roses are the classic symbols of love and passion whereas pink roses convey admiration and femininity.
Peach roses meaning gratitude and sincerity they make the perfect subject for a thank you gift.
Warmth and happiness are the qualities associated with yellow roses.
White roses are often used in wedding bouquets symbolising purity and grace as well as fresh beginnings.
An orange rose signifies energy and enthusiasm and the rare mauve rose means enchantment
For more information on growing roses, download our Expert's Guide to Growing Roses. There are so many rose cultivars to choose from, but we hope you find these colour suggestions helpful:
Red: 'Camp David', a hybrid tea rose the crimson flowers of which bloom all summer long.
Pink: 'Queen Elizabeth' has clear pink flowers on a tall and vigorous plant with dark green leaves.
Peach: 'Princess Charlene de Monaco', intensely perfumed with pale peach double flowers.
Yellow: 'St Patrick' has bright yellow flowers tinted with green. A bush rose with a mild fragrance.
White: 'Full sail' is a bush rose bred in New Zealand with a great perfume and large white petals.
Orange: 'Brandy' is a golden apricot bush rose which grows to approximately 1.85m.
Mauve or purple: 'Dusky Moon' is a shrub rose with scented mauve petals shading to white.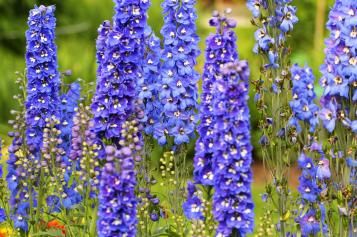 July
Delphinium
With a botanical name derived from the Latin for dolphin, supposedly because the flower buds resemble a dolphin's nose, the July birth month flower is one of the bluest flowers you can grow in your garden.
The delphinium signifies an open heart and positivity as well as the qualities of dignity and grace; the latter is very appropriate for this tall stately perennial which will thrive situated at the back of a sunny border - many cultivars can reach heights of 1.5m to 2m!
Construct a plant support with pliable woody material such as willow early in the spring around the crown of the plant. This will support the plant as it starts growing and should mean that no further staking will be needed later in the summer. Young delphinium foliage seems particularly tempting to slugs and snails, so be sure to pick these off the plant if you catch them about to munch through the leaves.
Did you know that the centre of a delphinium, often a contrast in colour to the rest of the flower, is called an 'eye' or 'bee'?
Delphiniums have been bred in an array of shades of blue and there's even a pink flowered cultivar. Try these beauties:
Delphinium elatum 'Starlight' has double violet-blue flowers with dark centres.
Delphinium 'Gute Nacht' flowers are a blend of purple and blue.
Delphinium 'Centurion Sky Blue' is light azure blue with a white centre.
Delphinium 'Sweetheart' has rose pink flowers.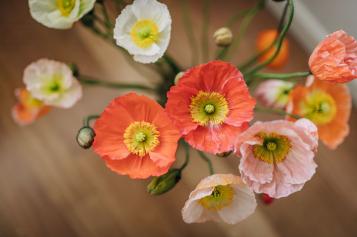 August
Poppy
Poppies are associated with imagination and dreams and are a popular garden annual with colours ranging from white and pink to red, mauve and purple.
'Lauren's Grape' has purple petals blotched with black. It can be raised easily from seed scattered in the place it is to grow and thereafter will self-seed to colonise a site. The scarlet red flowers of the common poppy (Papaver rhoeas), bloomed on the First World War battlefields and have been used ever since to commemorate the fallen of that and subsequent conflicts. These too are easy to grow from seed.
A taller plant with larger flowers, the oriental poppy, Papaver orientale, will add drama to your planting scheme and attract pollinators as long as it is sited in full sun in well-drained soil. Invariably blotched with darker shades at the base of the petals, here's a selection of some of the variety of colours of this beloved herbaceous perennial.
'Queen Alexandra': light salmon-pink and a burgundy centre.
'Patty's Plum': dusky purple blotched with black at the base.
'Beauty of Livermere': deep scarlet and black.
'Snow Goose': white with a dark purple centre.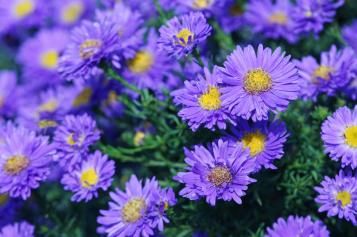 September
Aster
The September birth month flower resembles a star with its bright centre and radiating petals like rays of light, hence its Latin name meaning 'star'. The aster signifies love, wisdom, faith and innocence.
For a list of reliable herbaceous perennials to grow for late summer splash of colour: 
Aster x frikartii - 'Mönch' sports large lavender blue daisy-like flowers about 5cm across.
Eurybia diviricata - the wood aster can reach heights of 1 metre and is grown for its clouds of small white daisy like flowers.
Symphyotrichum novi-belgii - 'Blue lapis' with its violet flowers is a good source of nectar in the late summer garden for butterflies and other pollinators.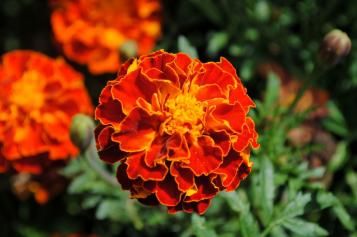 October
Marigold
Marigold flowers represent stubbornness and determination, reflecting their sturdy growth. The glowing yellows, oranges and reds of their petals are indicative of the warmth and creativity which they also symbolise.
As well as bringing a cheerful accent to your garden, the October birth month flower is a useful natural control against pests, particularly in the vegetable garden. Yellow flowers tend to attract beneficial pollinators and insects, like hoverflies, which feed on sap-sucking aphids. Plant a row of marigolds around your vegetable plot to look good and benefit your crops. It is also said that the scent of French marigolds repels aphids!
Three annual plants are commonly called marigolds, all members of the daisy family and easy to grow:
English or pot marigolds (Calendula officinalis). This can be sown straight into the ground and should flower even if the soil is poor, provided it's a sunny spot. What's more these flowers are good for us! Discover more benefits here.
French marigolds (Tagetes patula). Grow these yellow, orange, red or brown flowers from seed, sowing them in early spring into seed trays filled with a seed-raising mix. Prick out into 9cm posts when the seedlings develop the first true leaves and plant out in late spring.
African marigolds (Tagetes erecta). The tallest marigolds, some reaching a metre high, with double flowers of yellow, orange or white. Less useful in attracting insects due to their double flowers.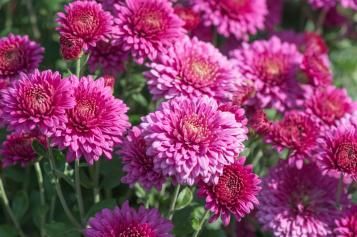 November
Chrysanthemum
For centuries the Chrysanthemum, also commonly known as 'mums', has been cultivated in China and Japan, where there are festivals dedicated to this symbol of friendship, honesty and happiness.
The flowers grown for cutting are called "florists' chrysanthemums" and are categorised according to;
The flower head forms of which there are at least ten including single, pompom and the perfectly spherical 'fully reflexed'. More unusual forms include spider-form and spoon-shaped.
The flowering season: early (late summer and early autumn), mid-season (mid-autumn) and late (mid-autumn to midwinter). Early chrysanthemums are the best group for growing outdoors. The late flowering varieties come into flower when brought into a warm greenhouse. 
Some passionate amateur growers enter their prize blooms into horticultural shows where gardeners compete keenly to display the largest and most spectacular Chrysanthemum flowers - this could be you!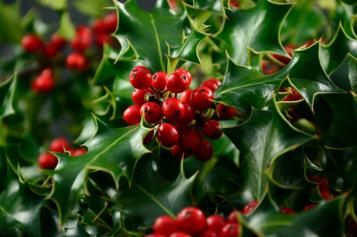 December
Holly
Holly's shiny prickly leaves and distinctive red berries are as evocative of the festive season as Christmas trees and reindeer. Although not technically a flower, in the language of flowers, holly represents good fortune, peace and merriment. 
Popular as a specimen shrub or tree, holly is sometimes also used for hedging, either on its own or as part of a mixed hedge. To produce berries, both male and female hollies need to be present. Holly prefers to grow in full sun or in a semi-shaded position in moist but well-drained soil.
Generally speaking two species of evergreen holly are commonly grown:
Ilex aquifolium is the common or English holly with classic dark green spiny leaves and long-lasting red berries. Leaf variations can be found in numerous cultivars such as the female holly 'Argentea Marginata' which bears leaves edged with white. The confusingly named 'Golden Queen', is a male holly with gold-margined leaves.
Ilex x altaclerensis or Highclere holly is named for the location of the popular TV drama Downton Abbey! The cultivar 'Golden King' is a compact female shrub with bright gold margins to its leaves.