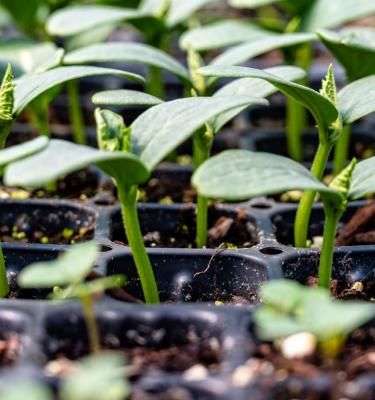 How To Germinate Seeds: A Beginners Guide
Growing a plant from seed is an incredibly satisfying achievement. Some seeds germinate easily and quickly while other seeds are trickier.
 
What is seed germination?
Seed germination is the process by which seeds produce new plants. It's a cost-effective and time-saving alternative to taking cuttings or buying mature plants. For most plants, you can begin the germination journey inside as it better allows you to control the growing environment. This means that you can start them earlier in the season so that they can grow to a reasonable size before being planted out. 
 
How long does it take for seeds to germinate? 
Different seeds take different lengths of time to germinate, so it is always worth checking how long it typically takes. Some are quick to germinate, taking 1-2 weeks at most, such as chillies, beans, sunflowers and pumpkins. Some seeds take more like 2-4 weeks, such as mango and parsley. Others, depending on how warm/cold it is, take closer to 2 months, for example avocado.
If seedlings haven't appeared after the typical length of time for a particular seed, it's worth trying again with seeds from a different source. It's possible that the seed was simply an unlucky dud from the parent plant. Give it another go.
 
Did you know?
You can harvest seeds from your own plants once they have finished flowering or buy certified seeds from your local hardware or garden centre. Did you know that some seeds lose their viability very quickly, for example most parsnip seeds will not germinate after a two-year period? Most seed packets will have a 'use by' date on them, and although you can try to grow them after that date, germination rates will decline as time goes on. 
If you have collected the seeds yourself, then you will know how old they are, and should be able to collect fresh seed from year to year. Keep seeds dry until you are ready to use them. 
---
How to Germinate Seeds
1. Start with the best
It's important to give seeds the best possible start, and this begins with a great quality potting mix. Fill a tray or small pot with Scotts Osmocote Seed & Cutting Potting Mix to  1cm of the rim of the container. Gently firm the potting mix in, and make a hole in the mix which are double the width and depth of the seeds.
2. Sow and cover seeds
Place your seeds in the holes of the potting mix, making sure there is space between the seeds so that when they germinate they can easily be separated for transplanting.  
Lightly cover the seeds with another layer of potting mix. Water the container gently so that the seeds are not dislodged from their carefully placed positions. 
3. Keep them at the best temperature to germinate seeds
Insert 3-4 sticks or similar props around the edge of the pot. Place a clear plastic bag or upturned clear container over the props to produce a warm and moist greenhouse effect. Secure with an elastic band or string.  
You may be thinking what the best temperature is to germinate seeds? Some seeds have a very specific temperature range in which they will germinate. Most will germinate at 15-20°C, but it does vary. Place the container near a windowsill where it will receive indirect sunlight and heat. Seeds do need sunlight to germinate.
4. Monitor the seedlings 
Using a spray mister, keep the potting mix moist whilst seeds are germinating. Once seeds have germinated, remove the covering to ensure good air circulation. Seeds should be thinned out so that they do not crowd one another, competing for moisture and light. Use a pair of scissors to snip off and remove unwanted seedlings, so that the soil is not disturbed. Once the seedlings are large enough to handle, prepare to transplant them to larger containers or into the garden. 
---
Help with seed germination
If germinating the seed is still proving challenging, check whether it is of the type that needs a period of 'stratification' or 'scarification': 
'Stratification' fools a seed into thinking it has been through a hot or cold season. Seeds which need stratification will only germinate if you artificially recreate those conditions, but it's easily done, for example by placing the seeds in your home freezer for a few weeks or months. Once this process has been completed, they will germinate just like other seeds.  
 
'Scarification' is a process that usually happens naturally to crack a hard outer layer. This is most often done by animals eating and passing the seeds through their digestive system. You can replicate the process of damaging the outer coating by gently nicking the seed surface with a knife, or gently sandpapering it. Seeds with a hard surface can benefit from this, for example nasturtiums, sweet peas and avocados.