15 inspiring BBQ design ideas
Summer is upon us, and therefore of course, the barbecue season is in full swing! You may be having a number of guests over to your house for a few barbecues in the coming months. So why not have a quirky or unique barbecue area for your garden!
To help get some ideas flowing, we have compiled a number of different designs that may work for you!
---
1. All-stone grilling area
Why not try this old rustic style barbecue area design?! This design would fit in perfectly with a stone based patio design, and would almost bring about a medieval or mediterranean feel to your garden!
---
2. Concrete dining table
This design may actually fit in with number 1 in our list- so why not build or install a concrete table?! This design could be any shape, but in our opinion, you cannot go too far wrong with a sturdy square design!
---
3. Indoor/outdoor living
This would be ideal for those humid, but rainy days, or even to act as shade on a hot, sticky day! Why not create an outdoor space, with a covered roof, acting as an extension to your home interior? Ensure your barbecue is sitting just inside the roofed area.
---
4. Pergola barbecue
Barbecuing under a pergola can bring about a real sense of style. The size of the pergola will really depend on your garden size, of course. But if you only have a small space, there are still some lovely designs around!
---
5. Alfresco dining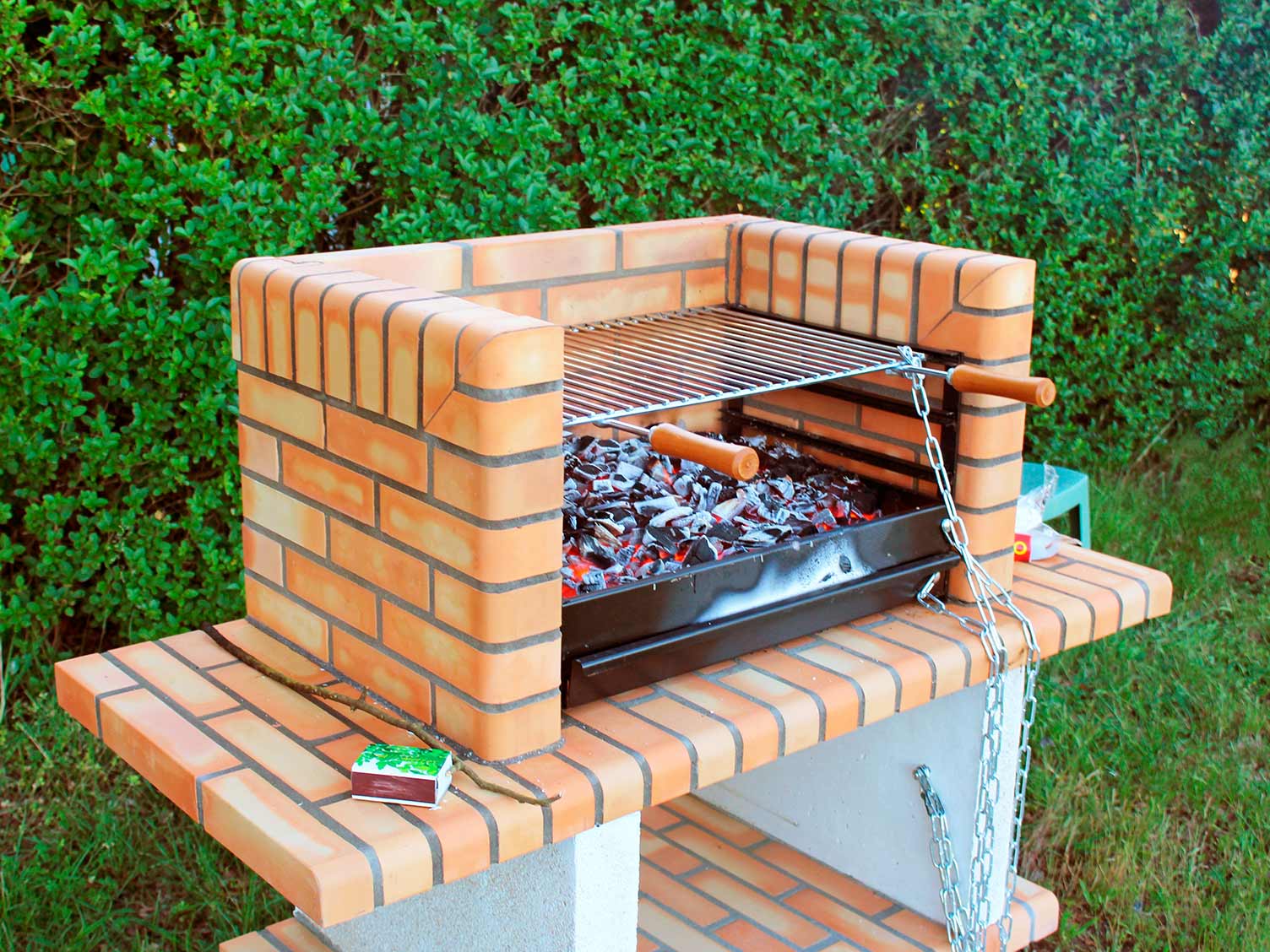 This could be slightly daring, especially with our unpredictable British weather- but why not build your very own, uncovered barbecue station. Perhaps allow some room for an umbrella to be erected! Of course, there may only be a select few days a year in which this can be fully utilised, but when that sun hits, you won't regret it!
---
6. Barbecue entertainment centre
Perfect for mixing a couple of social occasions up. Perhaps you want to host a movie night for your friends with a couple of chicken kebabs and burgers on the grill. Install a TV right in your outdoor dining area for the ultimate summertime evening in!
---
7. All-in-one family dining
This would be the perfect dining spot for your family barbecue's throughout the summer. An adjoining table to the barbecue station would allow for the whole family to spend some quality time whilst the food is on the grill!
---
8. The cooks' corner
Perhaps you want your cooking station to be away from the guests, and have its own separate area of the garden. Let your friends socialise while the cook is hard at work!
---
9. Split level cooking
You may have split level decking in your garden, and really want to make the most of the space. Create a barbecue area on the top level, and enjoy some social time on the bottom.
---
10. Hanging lighting all around
With the night drawing in, and the party still going, why not turn on some hanging lighting that will give you barbecue that magical summer feel!
---
11. Contemporary dining
Not fussed with the classic, rustic look?! Why not go modern with your barbecue space. Install your barbecue with a synthetic limestone finish, with some modern alfresco seating to top the look off.
---
12. Barbecue station with a view
Have you got an outstanding view from your garden? Perhaps you're looking out to sea or over some rolling countryside. Place your barbecue with a great viewpoint and give the cook the best seat in the house (or garden!).
---
13. Funky wooden barbecue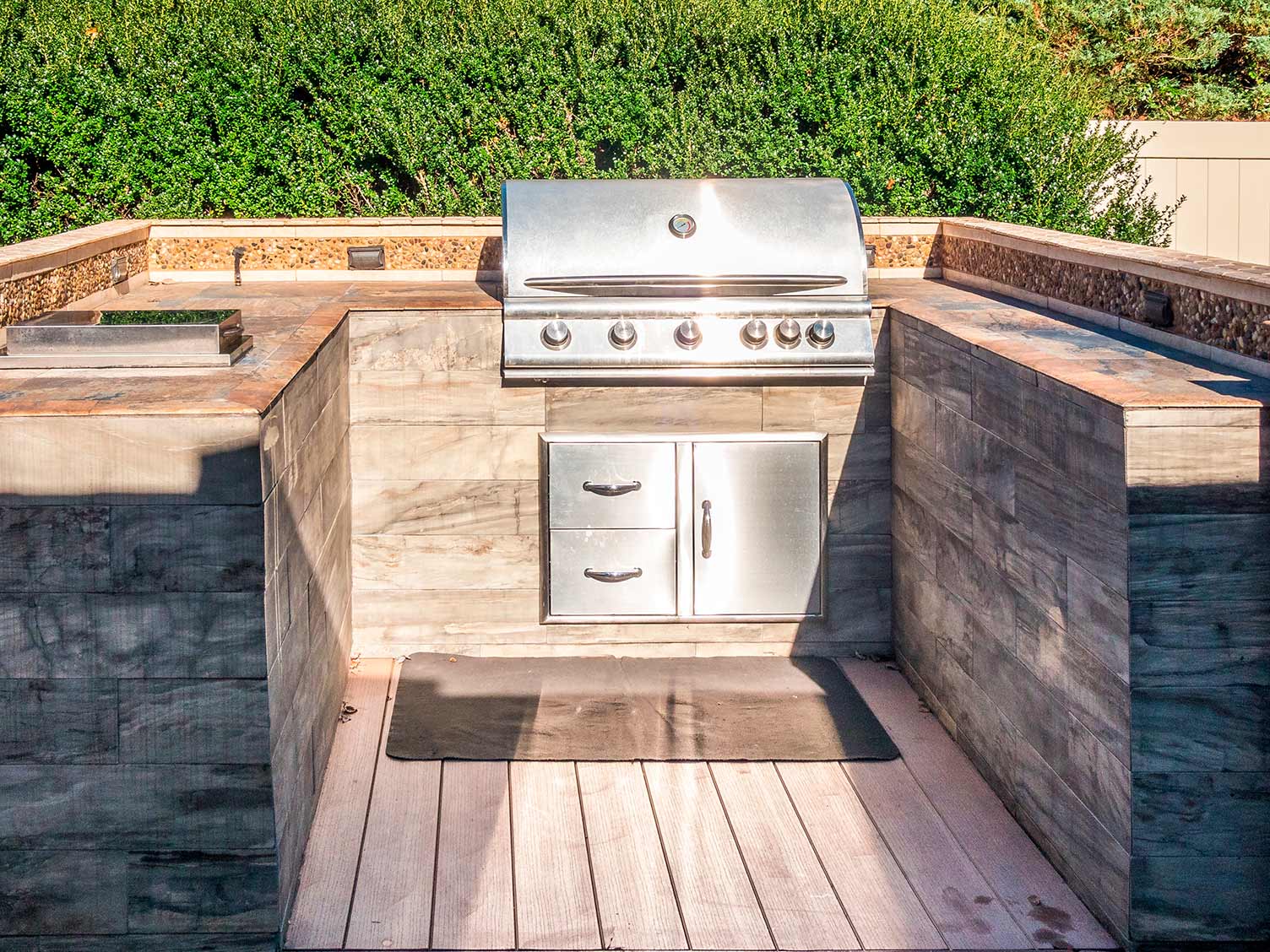 Feeling like many barbecue designs are very much the same? This funky design will definitely have heads turning with its alternative look, as well as being convenient for all of your cooking with its connected prep table.
---
14. The ultimate dining experience
If you have the space for this, then why not build an adjoining bar to your barbecue station. This could provide your guests with a great area for chilling out before the food is served, and allow for a couple of drinks between friends (we would recommend soft drinks only, of course).
---
15. Poolside retreat
If you are fortunate enough to have a pool, why not have your deck area equipped with barbecue station adjoining the pool area! It can be your very own retreat away, especially on those balmy summer days.
Have you got any great ideas for a barbecue area, or perhaps you have a couple of pictures to show off your station? Then get in touch with us via our social media sites.