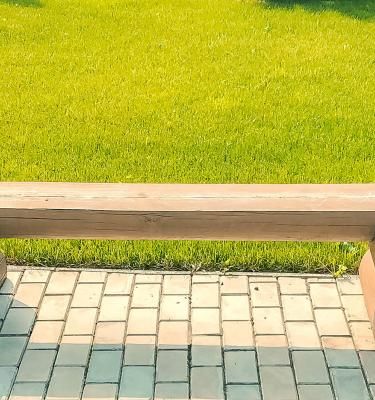 19 outdoor seating ideas from recycled items
One of life's great pleasures has to be sitting outside in your garden, be it reading a book, having a chat or just soaking up the fresh air and nature. And outdoor seating doesn't have to be a vast expense this year with our 20 fabulous seating ideas made from recycled items.
1. Old Railway Sleepers
Often used to create raised beds and borders, old railway sleepers are also good for creating rustic seating. Bind them together and build them up, mount them on stone legs or just use them as low benches for little visitors.
---
2. An Old Bath Tub!
Yes, really. Cut away one of the long sides and you have the beginning of a sofa. Now fill it with brightly coloured cushions and you're good to go. Baths mounted on legs are particularly good for this type of seating.
---
3. Breeze Blocks
Hollow breeze blocks can be used to make seating in a number of ways. Cement them together in the shape of a chair, stack them and secure them as stools or tables. You can also feed wooden planks into the hollow parts so that the blocks form the arms and the planks form the base of a bench.
---
4. Fallen Tree Trunks
Use them as stools and a table or with some clever carpentry, carve out a chair shaped basin in large tree trunks and just add some cushions.
---
5. Garden Forks And Spades
For the creative, use the metal dish of the spade as seating and fork prongs as a stool back, finished off with a strip of wood across the tops of the prongs. Now just use the wooden shafts of the spade and fork as legs and you have a truly unique, gardener's stool!
---
6. A New Era For Deck Chairs
If old wooden deck chairs start to buckle, remove the mainframe and fabric. Then, attach a rope to each corner and create a new hanging seat.
---
7. An Old Bed
Remove the frame of an old bed from its legs and attach a rope to each corner to create a hanging bed. Keep the mattress but jazz it up with some waterproof fabric and cushions for those afternoon naps.
---
8. Wooden Cable Reels
Old cable reels can also be put to good use. Adapt the round ends and turn them into the chair ends and then insert and fix a flat wooden base as the chair seat. You can just turn the reels on their end and use as stools.
---
9. Metal Tractor Seats
Visit your local farm and turn old metal tractor seats into stools. Using old industrial springs as a centre leg makes for a real fun factor.
---
10. Gabion Seating
Metal framed cages or gabions filled with stones or even old wine bottles makes for fun and funky seating and can also be used for tables.
---
11. Tyres!
Take old tyres and attach four short stocky legs. Give the tyre a base and fill with cushions for a little stool.
---
12. Shop Signs Or Easels
Take a freestanding A-shaped shop sign or easel and decorate in bright colours. Now just use old sun lounger cushions and you have a free-standing chair back.
---
13. Old Skateboards
Another one for the creatives, make stool legs out of cut down skateboards and use another one to form the stool seat.
---
14. Old Wooden Pallets
You know we love recycling old wooden pallets here at Love The Garden and there are 101 one ways you can adapt them and turn them into garden seats, sofas, beds and tables. The sky is the limit.
---
15. Wooden Wine Barrels
These take a bit of skill to adapt but look really fantastic. You want to keep the top and base intact but cut away half of the body of the barrel. Then fill in space with a cut to size old wooden crate or pallet. The top and base of the barrel then form the round chair arms and all you need is some cushions.
---
16. Old Pots And Containers
Liven up old pots by painting them in bright colours and then turn them upside down. These are particularly fun for small children who love them decorated as toadstools.
---
17. Hay Bales!
Stack them up and make giant chairs, leave them as impromptu seats or cover them in pretty fabric and make them into benches.
---
18. Old Car Seats
Take old car seats out and create a motoring style theme in your garden.
---
19. Old Kitchen Chairs
Take the backs and legs of two old kitchen chairs and join together with the base of an old wooden pallet or sheet of wood to create a chaise longue style bench for your garden.
We hope our DIY seating ideas have got your inspired! Why not share your photos of you relaxing in your DIY chairs, we'd love to see what you've made! Get in touch with us via our social media sites, or alternatively leave a comment below!