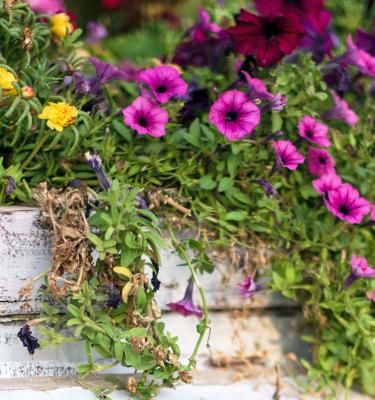 25 inspiring DIY garden ideas
As summer approaches most of us can't wait to get outside in the garden but could yours do with a revamp? Are you looking for a bit of inspiration and some new DIY garden challenges and ideas? Well, look no further because here are 25 cracking ideas to inspire your garden this summer.
---
Up The Garden Path
1. Garden paths have so much potential so why not revamp yours? If children use or visit your garden why not turn paving stones into your very own game of hopscotch. Paint or draw on numbers right up to 10 and plant with rockery style plants in between.
2. Are you really creative? Why not use ornamental stones and pebbles to create your own art and mosaics in your garden path. Swirly patterns or different textures can all look really good.
3. If you've got any pebbles left over, create decorative stepping stones across the lawn in your own unique designs. Make the shape of a butterfly, a heart or a moon and the stars if that's what you fancy.
---
Recycling Heaven
4. A bit of recycling can go a long way in your garden so have a look round and a think about what you can re-use. We love the idea of planting some trailing ivy and summer plants in an old birdcage or lantern for a really romantic effect.
5. Not planning to travel this summer? Plant up an old suitcase full of brightly coloured flowers or lean your bicycle against the wall and plant up the basket for a touch of France.
6. What about those old children's toys? You could use fairy dolls in your rockery, plant up chunky old toy cars or vamp up a sandpit with toadstools and gnomes.
7. Old household furniture can create a delightful feature in your garden. Take a chest of drawers, paint it in a bright colour and then open and plant up some of the drawers with trailing plants and flowers. Decorate the top with different sized pots and plants.
8. Create a magical tea party by planting small rockery plants and trailers in an old teapot and cups.
---
Shed The Old Look
9. We've nearly all got a shed or summer house in the garden and a little garden DIY can transform them and give them a new lease of life. Start by painting your shed in a bright colour perhaps with a contrasting colour around the window and doors.
10. Can you plant a garden on your shed roof for a really eco affair? You'll need a special lining and the right kind of plants but a mossy or grassy roof has a real wow factor.
11. Turn your shed into a den. Clear out all that junk, and paint the inside. Add an old rug and some flowing fabric as curtains and visit charity shops to see if you can find any old furniture which you can do up and use in your den. The sky is the limit with this one.
---
Furnishing Your Garden
12. Old garden furniture can look tired but if you have any wooden furniture you can give it an instant lift with some bright paints, some decorative patterns or just some garden cushions.
13. Why not create your own garden furniture? Old wooden pallets are brilliant for this as they give you the basic structure and you can make sofas, bookshelves or seating for giants if you fancy it.
14. What about other garden materials? Can you craft a garden seat out of a fallen tree or old branch or maybe just make a little wooden table. The textures of old wood can look really stunning.
15. Recycled material can also make great garden furniture. Old barrels can be turned into tables or even planters and can you create seats out of old railway sleepers.
16. You can always invest in stone. Smaller stones bound together in metal frames can shape a bench or what about splashing out on larger stone shapes fashioned into furniture for you.
---
Going Up The Wall
17. If you're lucky enough to have a wall (or high fence), try fixing some French-style shutters to it. Add a window box for an extra dimension.
18. Fix your shutters in the open position on your fence and paint a scene "through the window" or if you haven't got shutters just get artistic and paint a scene of choice on your fence.
19. Use your fence or wall as a place to plant. There are all sorts of things you can attach to a fence such as baskets, shelves, old tyres, an old ladder or planted up old drain pipes. Once they are firmly fixed, they are a great place to put pots and containers.
---
Getting Creative With Your Veggies
20. If you are planning on growing runner beans this year, why not shape your canes into a wigwam for the kids to use. Fresh snacks on demand.
21. What else could you grow up canes to add some colour and height to your veggie plot? An archway of tomatoes, small pumpkins or coloured berries?
---
Don't Water It Down
22. No space for a water feature? Create a miniature one. You can make really tiny water features out of old dishes or kitchen containers dug into a bed or rockery.
23. Fix a watering can with a piece of fine wire so that it looks like it is permanently pouring.
---
Let In The Animals
24. Try your hand at topiary and craft your hedge into the shape of an animal.
25. Look around your garden to see what you could use to create your own animal sculptures. Old bits of wood and stone, combined with small clever planting or perhaps a broken pot and old garden toys.
We hope you've enjoyed some of our DIY garden ideas and we'd love to see how you get on. Share your photos with us via our social media sites, or alternatively leave a comment below! Be inspired this summer.