Happy houseplants
The popularity of houseplants is soaring, with them becoming a focal point in interior décor. However, it's not just the visual aspects that make houseplants so great. There are some beautifully aromatic choices that will ensure you'll never have to buy another air-freshener. A classic fragrance is Gardenia jasminoides (Cape jasmine) which has pure white, strongly scented flowers that contrast with the dark, glossy evergreen foliage.
Stephanotis floribunda (Madagascar jasmine) has snowy white flowers and will be a great fragrant addition to your social spaces, and they are also non-toxic to dogs. Meanwhile Jasminum polyanthum (many-flowered jasmine) has perfumed star-shaped flowers which are predominantly pronounced at night, so they are well suited to a room where you relax and unwind in the evening.
Encourage your plants to flourish by feeding them weekly with Miracle-Gro Performance Organics All Purpose Concentrated Liquid Plant Food which will give you visibly healthier looking plants in 7 days, whilst helping them to grow twice as big. What's more is you can use this feed for all your indoor and outdoor plants, simply dilute the mixture and apply to the base of the plant.
Cut above the rest
For some vibrant vase flowers to brighten up your table, these cut flowers will offer a charming cologne. The sweet scent of freesia will bring joy to your home, not just through their smell but through the vibrant choices of pink, yellow, red, and violet flowers, although yellow and white varieties tend to be more fragranced.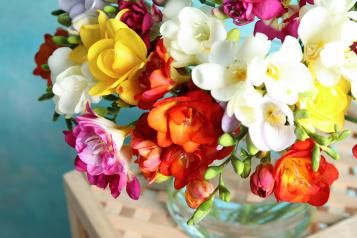 Stargazer lilies are a variety of Oriental lily and have large bright flowers with a scent to match. The strong exotic perfume of the pink flowers will definitely brighten up your interior. In autumn and winter, be sure to look out for paperwhite daffodils which are amazingly fragrant with a peppery scent which will last in your home for weeks.
Handful of herbs
Having fragranced plants at different levels means you will have rooms full of fresh fragrances wherever you walk. Having a herb garden on your windowsill full of chives, oregano, mint, rosemary and basil is a great idea for so many reasons. All your senses will benefit from this mixture, their wonderful scents will fill the air whilst the silver and green foliage look striking as they all sit together.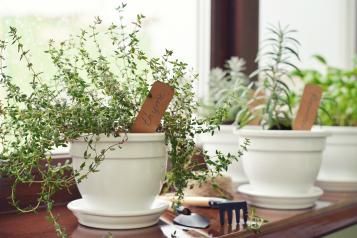 Not only that, but they will be at hand height for them to be easily picked to go straight into your cooking. Snip a bit of mint to go with your roast lamb, some basil for your pasta dish, or a little bit of parsley for your omelette. Practical, purposeful and perfumed, you can have fresh herbs all year round.
Hang in there
To get some fragrance at nose height, plant some delightful varieties in a hanging basket right by your front or back door. That way, whenever you return home or step into the garden you are greeted by a refreshing smell that will instantly relax you, which will be the perfect transition between inside and outside.
Sweet alyssum is a great pick for a hanging basket, with their delicate clusters of while flowers that will have a cascading effect. 'Snowdrift' are extremely fragrant and are a recommended plant for pollinators, so they'll be loved by you for their beauty and heavenly scent, but also by wildlife.
To ensure that your hanging baskets aren't left hungry, using Miracle-Gro Drip & Feed All Purpose couldn't be an easier and more convenient source of nutrition. No need for mixing, measuring or mess, simply cut the top off, and stick it in the soil where it will feed your plant for 1 month. You'll be able to relax knowing that your plants are being taken care of and getting the necessary nutrients.
Climb the walls
The heavenly aroma of trailing honeysuckle is instantly recognisable, and their flowers will add interest to the exterior of your home to achieve a cottage look. The trumpet-like blooms are present in summer to autumn and are usually followed by clusters of glossy berries, making the plant a perfect addition to a wildlife garden.
Climbing roses are another classic choice for a cottage inspired garden, and if grown around your windows, they'll be sure to carry their rich scent into your home. 'Madame Alfred Carrière' has flushes of double, cream-white flowers in summer and autumn that are very fragrant, they are an almost thornless variety and will create a striking impact.
There is an abundance of refreshingly scented plants for inside your home as well as outside, so there is no need to pollute your house with air fresheners. Choose plants to satisfy all of your senses and you will be instantly transported to a relaxing place, whilst the pleasant aromas remind you of happy memories.