Acid-loving life
Acid loving or lime-hating plants like rhododendrons, heathers, azaleas, camellias, Pieris and Skimmia will really appreciate being given a head start by being planted in a specialist ericaceous compost like Miracle-Gro Peat Free Ericaceous Compost. This compost is enriched with plant food with Smart Release feeding for up to 3 months, so there's plenty of nutrition.
The compost is fortified with iron to keep the leaves gloriously green and the pH balance ensures that the acid-loving plants don't develop yellow colouring on their leaves. If you're short on time, the Miracle-Gro Ericaceous Continuous Release Plant Food removes the need for regular feeding because one application to the base and leaves of the acid-loving plants will feed them for 6 months!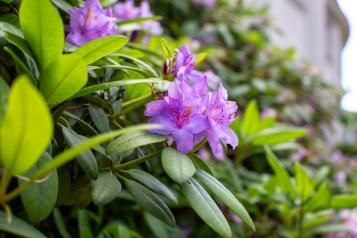 For well-fed plants that look brilliant in your containers, beds and borders, it's ideal to use a combination of instant and slow release feeds which will ensure your plants stay healthy and thrive all season long. Not only will the balanced and well-fed plants look marvellous, but they'll also be more likely to survive fungal attacks.
Brilliant bulbs
Planting bulbs in borders or containers can make fantastic displays as they emerge through the soil, gracing the garden with their bright colours, and it's a great project for the kids to get involved with too. The pretty colours and fresh scent of Hyacinth 'Pink Pearl' alongside Iris 'Gordon' with its grass-like foliage and purple-blue flowers will be a welcome sight early in the year.
To encourage the roots of the bulbs to grow quickly and strongly, planting them with Miracle-Gro Premium Peat Free Bulb Fibre will get them off to a cracking start, they'll also need good drainage to prevent the bulb rotting. The Fibre Smart™ technology hollow wood fibres in the compost mean that there's an optimum balance of air and water for healthy root growth alongside a combination of the essential 14 minerals. Perfect for busy gardeners with plenty of plants to care for, the compost feeds for up to 3 months.
Not just for outdoors gardeners, bulbs can be planted indoors to make the most of their bright colours and fragrances. Hippeastrum is best grown inside between October and January; they should be planted with one third of the bulb in the soil and the top two-thirds sticking out the top. Around 6 weeks after planting, the beautiful trumpet-shaped blooms will flower.
Tropical tips
Bring the holiday atmosphere into your home and garden by introducing the climber, Jasminum officinale (common jasmine) which will bring flowers and fragrance to the space. Or bring the delightful scent indoors with Jasminum polyanthum which is aptly known as sweetly scented jasmine that is a fantastic choice for a conservatory where its evergreen foliage and fragrant flowers can be enjoyed from late winter to spring.
Chamaerops humilis (dwarf fan palm) is from hotter climes, originating in the Mediterranean, and these plants will thrive when a specialist compost is used. Miracle-Gro Peat Free Mediterranean & Citrus Compost caters for the exact needs of these plants, with a unique formulation of the vital minerals as well as the pH balance that will ensure glossy green leaves that are evoke holiday memories.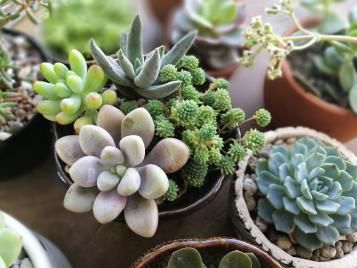 Alternatively, if you want to bring the tropical ambience indoors, adding plenty of succulents and cacti may be the way to go. Kalanchoe (flaming Katy) and African violets are two great choices for indoor plants that will bring a burst of colour to complement your décor. If they are planted up with a Miracle-Gro Peat Free Cactus, Succulent & Bonsai Compost they'll have the right blend of potting mix to provide the sandy conditions to improve the drainage that these plants need.
Grown-up
Just like how in the human life-cycle babies have different requirements to adults, established plants have different requirements to seedlings and baby plants. Whilst seeds may be planted up with a seed and cutting compost which gives a great start to a plant by providing the ideal balance of nutrients, established plants need slightly different conditions.
Perfect for the final potting of plants into containers once they are fully grown, Levington John Innes No.3 will deliver the vital minerals needed to maintain the plants growth and health. Easy to use, it can be applied straight from the bag into the container ready for repotting – once it's in it will feed the mature plant for 6 weeks. To keep the mature plants alive and well, applying a feed during growing season will keep them healthy.
Just like us, plants have different needs and requirements, and by giving them the best conditions to grow in and supplying them with the right nutrients when they need them will ensure they are growing happily and healthily.