Chrysanthemums (Chrysanthemum)
Chrysanthemums are a big group of plants – with varieties producing flowers in all colours of the rainbow, from a few centimetres across – all the way up to the size of a football! They flower for months on end, throughout summer and autumn.
---
Types of chrysanthemums
The large-flowered chrysanthemums need a lot of care and attention if you want to grow them well. Chrysanthemum exhibitors who you'll see at flower shows up and down the country in late summer and autumn spend a lot of time on getting perfect blooms. The late-flowering varieties, which flower in October and November, are grown under glass, in a greenhouse.
Most of us want something a bit simpler, varieties that are easy to grow and provide lots of flowers throughout summer and autumn.
Without doubt, spray chrysanthemums are the easiest to grow, give the best value for money and are the best types for providing masses of garden colour throughout summer and into autumn. And they're excellent for cutting for indoor decoration too.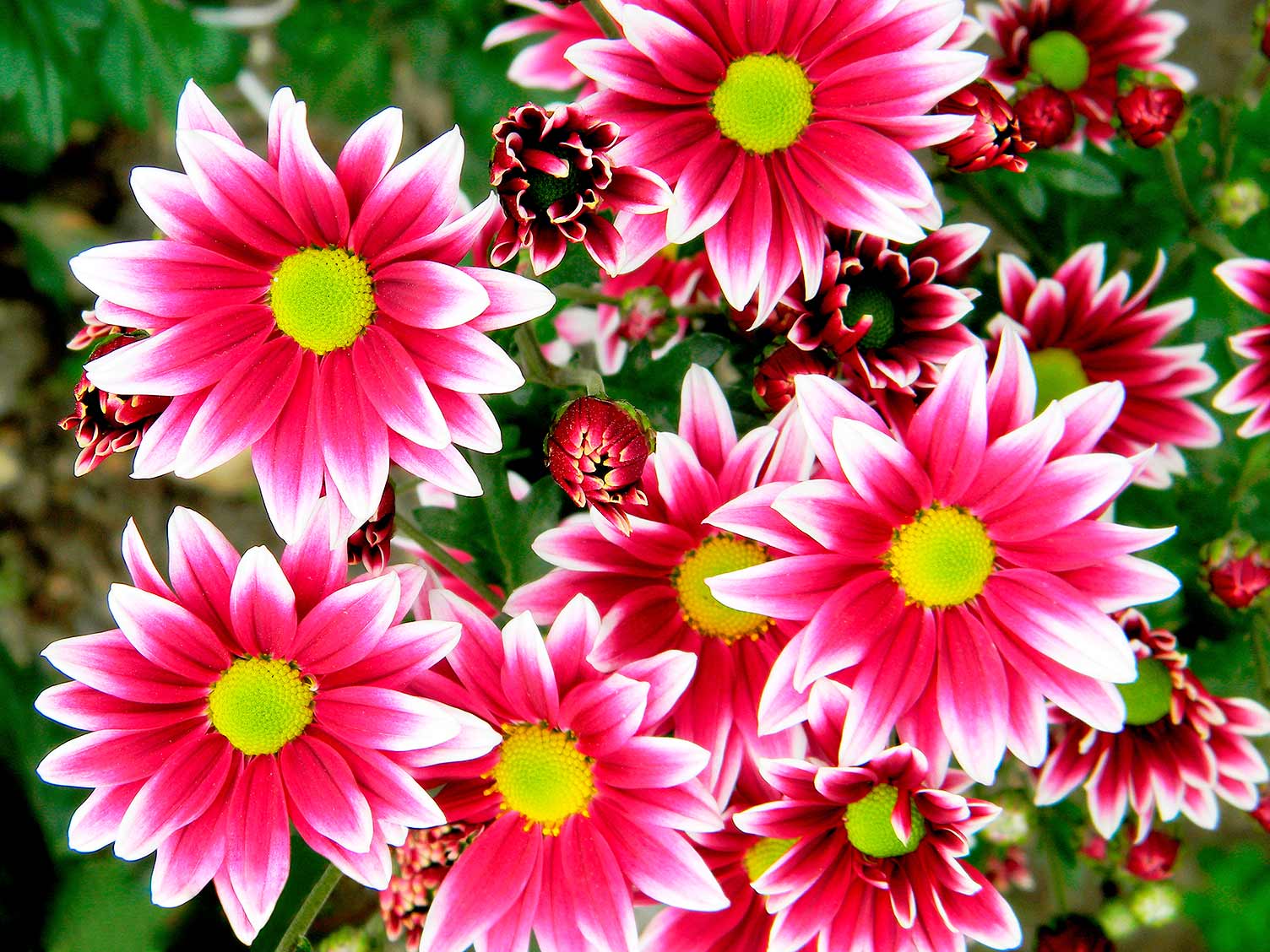 ---
How to grow chrysanthemums
Cultivation
Chrysanthemums need a sunny position, preferably sheltered from cold winds, and good, humus-rich well-drained soil. They will also grow perfectly in containers.
Planting chrysanthemums
Plants can be grown from cuttings from overwintered roots – called 'stools' – or you can buy young plants from garden centres, nurseries and mail order suppliers.
Plant out young plants from mid-May to early June, once the risk of frost has passed. Space plants 45cm (18in) apart and water in well.
Apply a 7.5-10cm (3-4in) thick mulch around the plants to conserve soil moisture and help keep down weeds. Before planting out, improve the soil with bulky organic matter, a soil conditioner or all purpose compost to hold plenty of moisture, which they need for a continuous supply of blooms. Then lightly fork in a general plant feed.
Suggested planting locations and garden types
City and courtyard gardens, cottage and informal gardens, patios, containers.
---
How to care for chrysanthemums
To produce bushier plants with more flowers, when they are 20-25cm (8-10in) high in late May to mid-June pinch out the top 5cm (2in) of the main shoot.
When the flower buds develop and start to open, begin feeding with a high potash plant food.
Tall plants, and any grown in a windy position, will need staking. You can tie the individual stems of large-flowered varieties individually to bamboo canes. For smaller and more bushy varieties, use a plastic or metal support ring to help hold the whole plant together.
Regularly deadheading will help ensure continuous flowering and a long-lasting display.
Growing in containers
Spray chrysanthemums are perfect container plants – providing masses of colour to brighten up patios and other areas.
Ensure you use a good potting compost and keep the plants well fed throughout summer and early autumn. Feed fortnightly with a high potash soluble/liquid plant food.
Overwintering
On average, chrysanthemums will tolerate a minimum temperature of -5°C (23°F). In mild areas they can be left outside over winter with a good covering of bark mulch to protect the roots. In cold, exposed or badly drained sites, lift and store the plant roots ('stools') over winter in frost-free conditions, such as a greenhouse, a cool conservatory or even a shed.
Some chrysanthemums, known as hardy garden 'mums' are even more tolerant of the cold.
| | |
| --- | --- |
| Flowering season(s) | Summer, Autumn |
| Foliage season(s) | Spring, Summer, Autumn |
| Sunlight | Full sun |
| Soil type | Chalky, Clay, Loamy, Sandy |
| Soil pH | Neutral |
| Soil moisture | Moist but well-drained |
| Ultimate height | From 15cm (6in) to 1.5m (5ft) |
| Ultimate spread | From 15cm (6in) to 90cm (3ft) |
| Time to ultimate height | 6 months |