Jurassic jungle
The large foliage of some houseplants can have a striking impact and give a jungle-like atmosphere to the room. Whether you have a family home or an apartment to fill, bringing fantastic foliage that's reminiscent of pre-historic ages will undoubtedly bring a sense of wonder to your space.
It wouldn't be right for me to mention large-leaved houseplants and not talk about Monstera deliciosa (Swiss cheese plant). The large leaves have holes in them and are an icon in the houseplant world and they have this fantastic characteristic to help them survive in their native locations. These plants hail from tropical forests, so rain and wind pass through the holes rather than putting pressure on the leaves.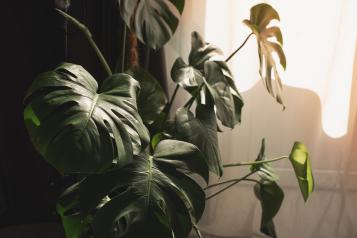 In our homes, these large-leaved plants can make quite the statement, and when complemented by other large leaved houseplants such as the Ficus lyrata (fiddle leaf fig) and Calathea, they are sure to put on a show.
Leave them hanging!
In ceramic pots or macrame baskets suspended from the ceiling, there are many ways to dynamically display your plants at home.
Philodendron scandens (heart-leaf philodendron) is a great plant to have in a hanging basket with their heart shaped leaves cascading down into the room. Alternatively, place them on a shelf where the foliage will trail with a lovely effect.
In spring and summer this plant will appreciate a feed, and thankfully there is a perfectly practical solution for your houseplants in hanging baskets. Miracle Gro Drip & Feed All Purpose comes in handy because all that's needed is to cut the top off the bottle, turn it upside down and stick it into the soil, leaving it to release food over the next 4 weeks.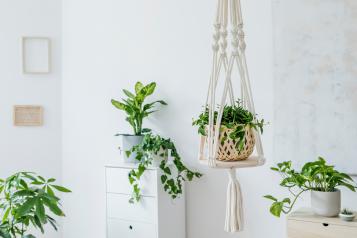 So, if you haven't got much floor space to spare, hanging houseplants is a great way to add some height to your room and bring some nature indoors without compromising space.
Groups to grow
To create a lively display, it's great to group together plants that complement each other with varying colours, textures, and sizes. It can have a great impact in a corner of the room, a side table, or shelf to have a collection of perfectly matched plants. For example, for contemporary and clean-cut style Sansevieria trifasciata (snake plant), Chlorophytum comosum (spider plant), and Yucca elephantipes (spineless yucca) will add some drama to your interior.
Alternatively, if you are looking for plants to soften the surroundings, Chamaedorea elegans (parlour palm), Nephrolepis exaltata (Boston fern), and Curio rowleyanus (string of pearls) may be more suitable.
Stick together
Many houseplants prefer a humid environment, as lots of them originally come from climates that are quite a bit warmer than the UK. So, it's important that when we have houseplants in our home that we meet their needs by trying to mimic their natural environment.
To achieve the right levels of humidity, you can mist plants regularly, invest in a humidifier that pushes steam or water vapour into the air, or huddle plants together. One of my top tips for increasing humidity is to place the plants on trays filled with a layer of gravel and water so the water evaporates to add humidity to the surroundings.
Also, you can help these houseplants by avoiding placing them in spots where there is a draught such as near a doorway, or near hot spots such as radiators as these can dry out the air.
Plants such as Epipremnum aureum (golden pothos) and orchids thrive in a humid atmosphere, and an environment that isn't humid enough can cause damage to their foliage.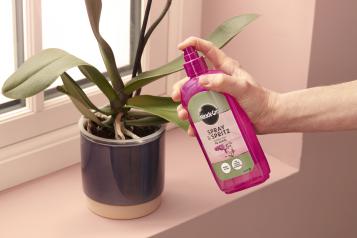 With your orchid, another method of giving it a little something to make it feel at home is to use Miracle-Gro Spray & Spritz which provides the plant with a little bit of extra hydration as it locks in more moisture for longer lasting flowers. Simply spray it around the leaves and roots and leave your orchid to enjoy.
With these recommendations, your indoor jungle can be thriving, full of foliage and flowers that will continue to bring you joy. Whether you have a large space to fill or want to deck out your flat with houseplants, there are large houseplants and small houseplants to fit the bill.