Elders are deciduous trees or large shrubs of woodlands and other wild areas. The common species, Sambucus nigra, isn't often purposely grown in gardens – except in wildlife areas and those who love making elderflower wine, cordial or champagne or elderberry wine.
Young seedlings of common elder often appear in gardens, thanks to birds dropping the seeds after eating the fruit.
The prize for growing elderberries is the fragrant, edible flowers and the delicious dark purple/black berries. The berries are quite bitter, and shouldn't be eaten raw, but they can be used in juices, jellies and jams as well as wine.
There are also several ornamental varieties that are well worth growing at home.
---
How to grow elder
Cultivation
Elders are very easy to grow. They grow perfectly well in full sun or shade. Sambucus racemosa Tenuifolia is susceptible to leaf scorch in very hot, sunny sites.
Elders tolerate different soil conditions, including those that are in poor condition, very wet or extremely chalky, but prefer moderately fertile, humus-rich, moist but well-drained soils.
One thing elderberries cannot tolerate is drought.
Elder varieties
Sambucus nigra Aurea: Golden elder with golden-yellow leaves and purple-black berries.
Sambucus nigra Black Beauty: Purple foliage, lemon-scented pink flowers and dark purple fruit. Grows to 2.4m (8ft) high.
Sambucus nigra Black Lace: Dark purple, deeply-cut foliage, pink flowers and dark purple fruit. Grows to 2.4m (8ft) high.
Sambucus nigra f. laciniata: Cut-leaved elder with deeply dissected, fern-like leaves and purple-black berries.
Sambucus racemosa Plumosa Aurea: Cut-leaved golden elder with deeply-cut bright golden foliage. Best grown in light shade. In sunny positions, grow Sambucus racemosa Sutherland Gold. Grows to 1.8m (6ft).
Sambucus racemosa Tenuifolia: Red elder with finely cut leaves and relatively few flowers followed by red berries. Only grows to 1.2m (4ft).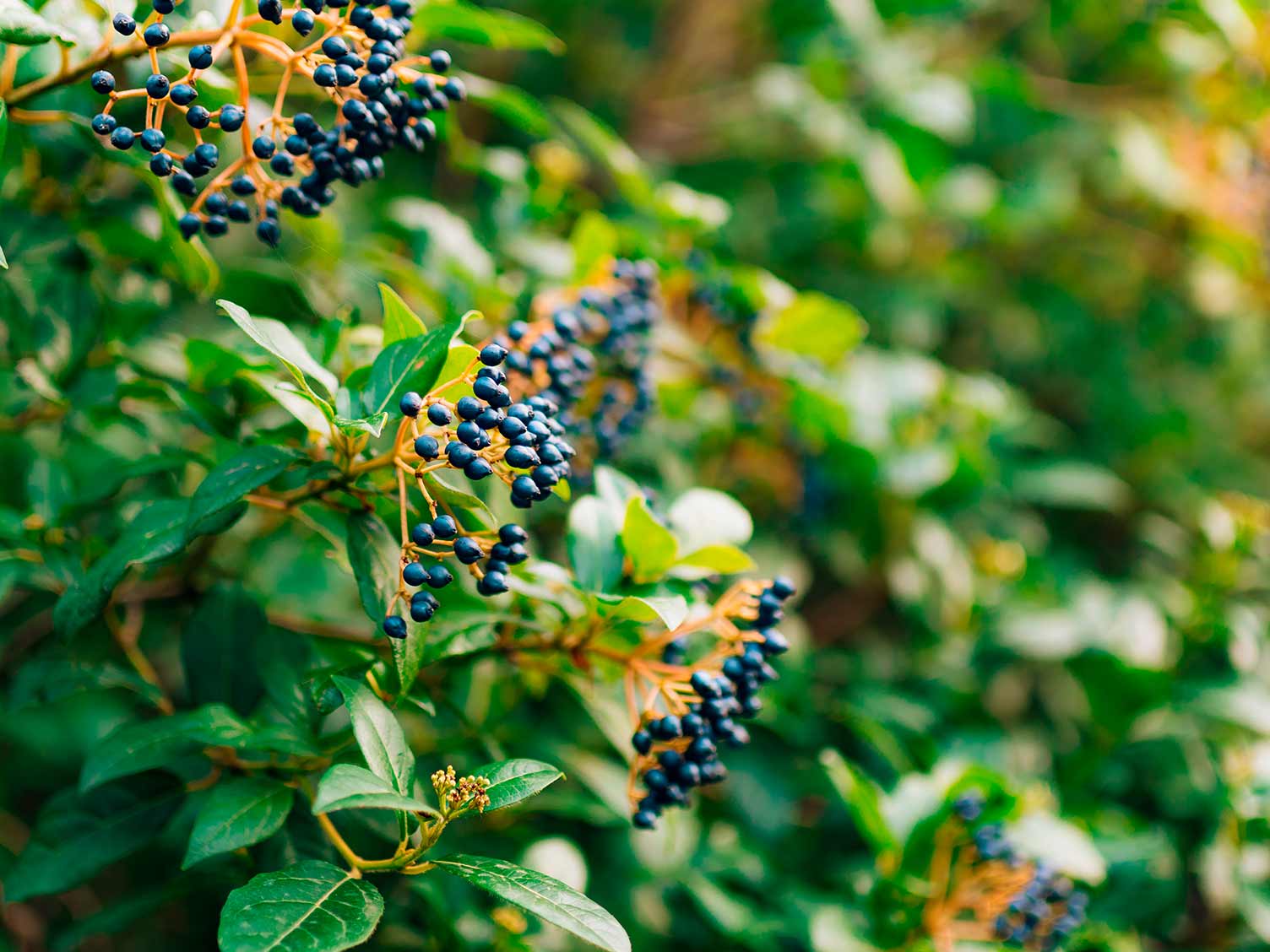 Planting elder
Plant bare-root plants between November and March, and container-grown ones preferably in autumn or spring.
Dig a hole 60x60cm (2x2ft) and 30cm (12in) deep. Add a layer of organic matter – such as compost or well-rotted manure – to the base of the hole and dig in. Place the roots of the tree in the planting hole and adjust the planting depth so that the rootball or old soil mark on the trunk is level with the soil surface.
Now mix in more organic matter to the soil and fill in the planting hole. Tall plants/trees may need staking with a rigid tree stake and two tree ties.
Water in well, apply a general granular feed over the soil and add a 5cm (2in) deep mulch of well-rotted garden compost or bark chippings around the root area.You can also grow elders in large patio pots (minimum of 40-50cm/16-20in in diameter). Use John Innes No 3 Compost, as its weight will help with stability of the container.
Suggested planting locations and garden types
Flower borders and beds, patios, containers, focal point, city and courtyard gardens, cottage and informal gardens, wildlife gardens, hedging and screening.
---
How to care for elder
Once established, elders may need watering during prolonged dry conditions, especially when the fruit is developing to help ensure a bumper crop.
Plants growing in containers, however, will need regular watering in spring and summer to prevent the compost drying out.
Add a controlled-release granular plant food to the soil surface each spring to ensure the plant is fed throughout the growing season.
No routine pruning is necessary. Remove dead, diseased, damaged, congested or crossing stems and those growing in unwanted directions can be pruned out in winter or early spring. Common elder can also be coppiced every 3 to 4 years.
Elders are hardy, but Black Lace and Black Beauty may be damaged in a hard winter and may need to be heavily pruned. Hard pruning of these and the golden-leaved elders, even back to ground level, in early spring will ensure you get the best coloured leaves.
Harvest elderberry fruit from August to September, depending on the variety. Let the fruit ripen to a dark purple colour, but don't leave it too long or the birds will get them first! Prune off the entire cluster and strip the berries into a bowl. The fruit doesn't store well, so keep it refrigerated and use them as soon as possible.
| | |
| --- | --- |
| Flowering season(s) | Spring |
| Foliage season(s) | Spring, Summer |
| Sunlight | Full shade, Partial shade, Full sun |
| Soil type | Chalky, Clay, Loamy, Sandy |
| Soil pH | Neutral |
| Soil moisture | Moist but well-drained |
| Ultimate height | Up to 4m (13.5ft) depending on variety |
| Ultimate spread | Up to 4m (13.5ft) depending on variety |
| Time to ultimate height | 5-10 years |