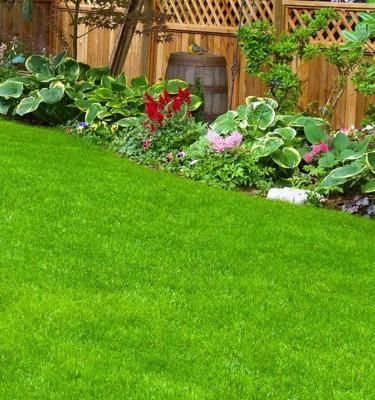 A well-nourished lawn is a happy lawn
Spring is the go-ahead season for lawn care as our gardens become a hub for barbecues or summer sports days with the family. In this case, you'll want a glorious green lawn that is ready to enjoy. Here are the top ways you can care for your lawn to keep it fed and nourished.
'Tis the season
The warmer months mark the time to start mowing and taking care of any areas of the lawn that were damaged over the colder months. It's also the ideal time to control any weeds or moss that appeared over that time too. So, using a product that can help you achieve a healthier lawn whilst ridding any weeds is a sure win.
Miracle-Gro EverGreen Complete 4 in 1 is a powerhouse product that results in a thicker and healthier lawn that is visibly greener in 7 days, whilst at the same time killing weeds and moss, so they are able to be raked out. This is a granular feed, so it needs to be watered in, meaning it is best to plan to spread the feed when there is rain due, however if there is a dry spell, simply water in so that the feed can work its magic. Once the treated area is completely dry, children and pets are safe to go back onto the area.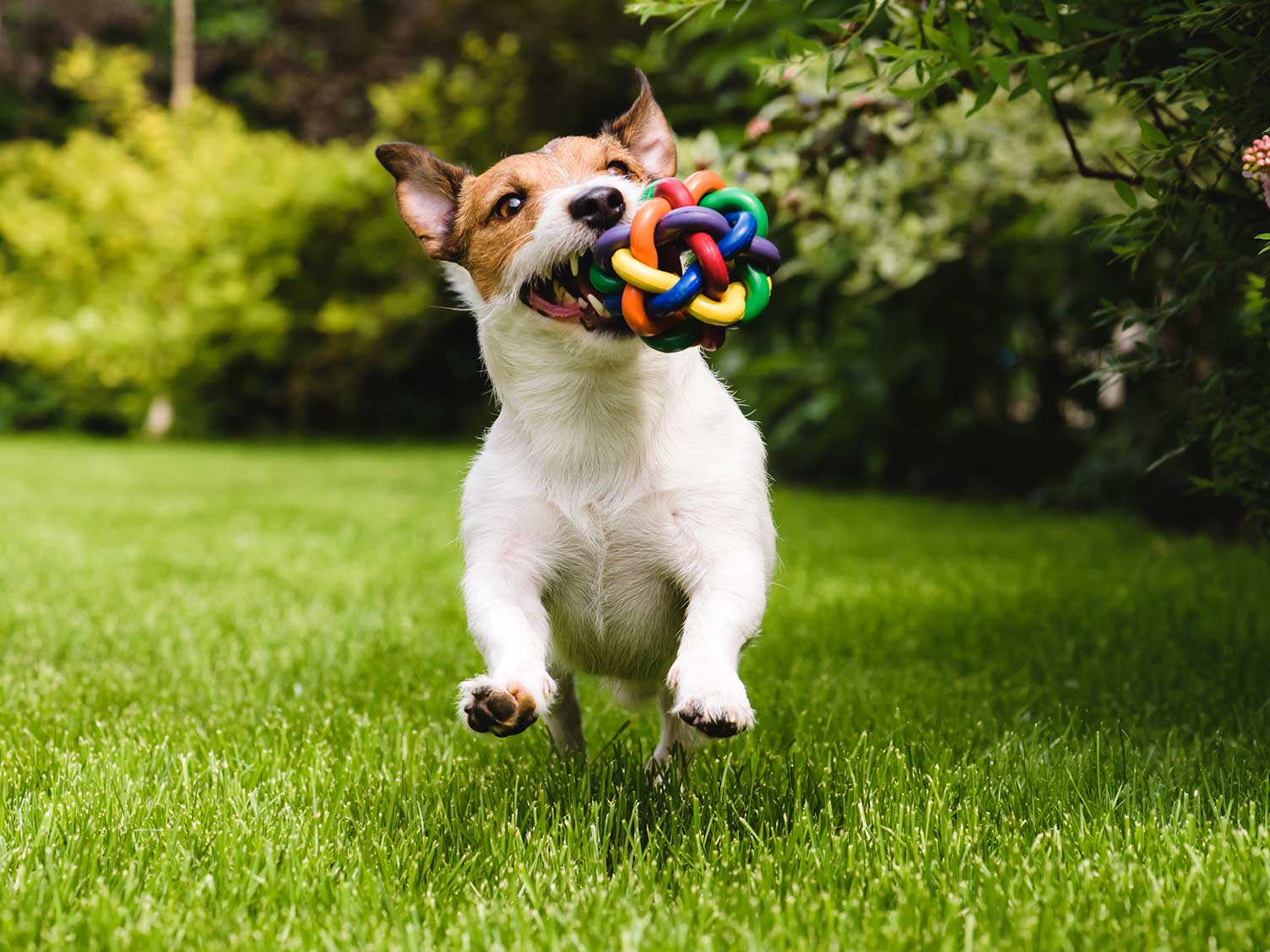 For larger lawns, the Miracle-Gro Rotary Spreader will make the task of spreading granular feed even easier with the convenient mechanism for sophisticated dispensing to ensure the feed is spread evenly.
Find the feed
A big question is always whether to use liquid or granular feeds, and the answer is that you can use both. Once your weeds are under control, a granular lawn feed like Miracle-Gro EverGreen Fast Green will do the job by making grass greener in just 3 days, whilst the added iron helps the lawn to grow thicker with strong roots. This is great for when the soil is moist, and the weather isn't scorching hot.
On the other hand, the Miracle-Gro EverGreen Fast Green Spray & Feed is a liquid version, which conveniently attaches to the end of the hose, so the lawn is fed and watered at the same time, providing loads of nourishment to help it grow healthier and thicker. The results will be visible for up to 6 weeks, and you can re-apply afterwards up until September, however be sure not to apply this feed in autumn or winter because the nitrogen isn't suitable for that time of the year.
Care and repair
For those bare patches in the lawn that need a little bit more tender loving care, there are solutions to transform them back into thriving green spots once again. Miracle-Gro Patch Magic Grass Seed, Feed & Coir is really effective, showing results in days. Simply shake and spread the mix over the mowed and cleared spot, using a criss-cross pattern, and raking it in. Once watered in, be sure to keep the soil moist for the next few weeks.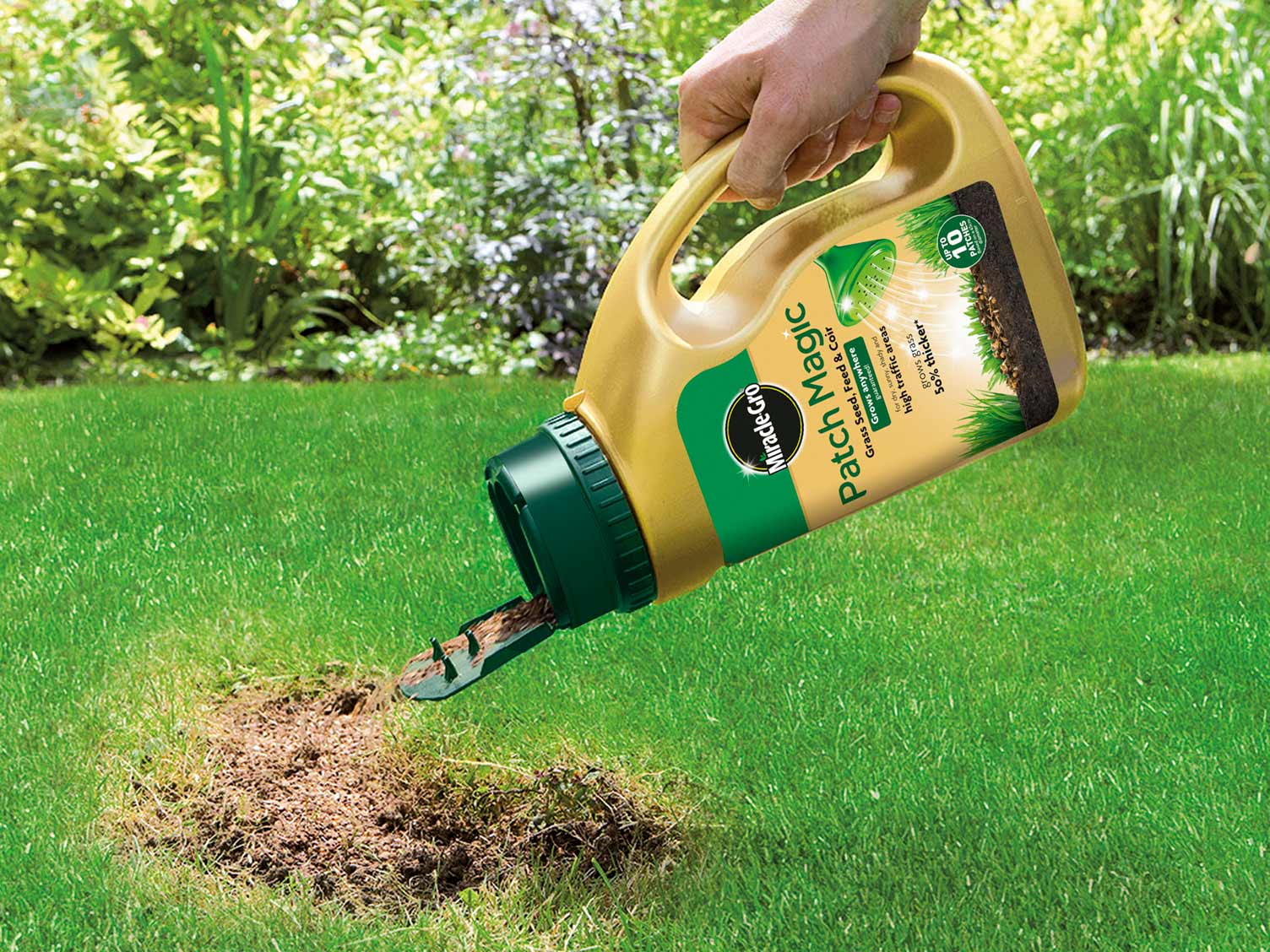 Dogs may be man's best friend, but they aren't always the lawn's best friend. When dogs urinate in a concentrated area, the high amount of nitrogen in their urine can burn the grass, therefore turning the luscious green grass into a brown patch. Fortunately, Miracle-Gro Patch Magic Dog Spot Repair is fast-acting and the seed sprouts in days. The mix is made up from lawn seed, coir and gypsum which repairs the burnt areas. All you need to do to prepare is rid the spot of any dead grass, loosen the soil, and give it a water, then simply apply the mixture and water in.
Keep up
Remember that lawn care isn't just a spring and summer job, by caring for your lawn in autumn it will ensure that your lawn bounces back quicker and stronger once winter is over. After the stress of summer from the heat, heavy use and drier soil, lawns need that bit of time to develop roots to give it a head start for next growing season.
Miracle-Gro EverGreen Autumn Lawn Care is a specialised feed and moss control method that is low in nitrogen, meaning it won't encourage any new growth on top, however it will encourage the roots to grow stronger and healthier. For use between September and November, the mixture will not only encourage robust roots, but it will also kill moss which can be raked out after 2 weeks.
With these tips, your lawn will continue to be its glorious green self. It will be ready to be used as a barbecue area, a classroom for the kids, the stage for a sports day or the place for a picnic in the sunny months.