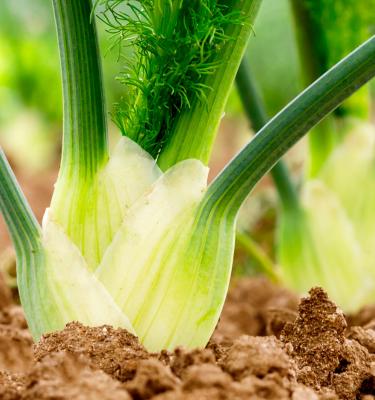 Fennel (Foeniculum vulgare)
There are two types of fennel, herb and Florence, both of which are extremely popular – as well as highly ornamental – and much loved by cooks for use in the kitchen for their aniseed-liquorice flavours.
The perennial herb, leaf fennel or sweet fennel is grown for its aromatic, aniseed-flavoured feathery leaves and its seeds, both of which are used to flavour dishes. The foliage is also very attractive and ornamental, and looks great in beds and borders. Florence fennel (Foeniculum vulgare var. dulce) is grown as a tender annual vegetable, loved for its crunchy, swollen stems. The leaves can also be used as a herb.
---
How to grow fennel
Cultivation
Herb fennel will grow perfectly well in a position in full sun or in partial shade. Florence fennel needs a position in full sun. Both grow best in a fertile, moist but well-drained soil. Dig in plenty of organic matter – such as garden compost, well-rotted manure or other soil improver – especially in very well-drained sandy soils to hold moisture.
Fennel varieties
Herb fennel
There are only two varieties. The straight species, Foeniculum vulgare, with green leaves and bronze fennel, Foeniculum vulgare Purpureum, with purple-bronze coloured leaves.
Florence fennel
There are a few excellent varieties, including Amigo, di Firenze, Sirio and Victorio.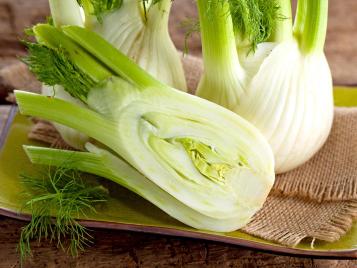 Sowing fennel
Herb fennel
Sow seeds directly outdoors from March to May in well-prepared soil where you want them to grow. When seedlings are large enough to handle, thin them out to 30-45cm (12-18in) apart.
Alternatively, sow indoors in spring in pots or modules filled with good seed sowing compost and transplant out 45-50cm (18-20in) apart after hardening off.
Florence fennel
Direct sow seeds thinly outdoors from March/April to July into well-prepared soil when temperatures reach around 13-18°C (55-64°F). Sowing in cold soil or during cold weather can induce bolting (running to seed prematurely) before the crop is ready to harvest. When seedlings are large enough to handle, thin them out to 30cm (12in) apart.Water well until plants are established.
Make regular sowings for successional cropping.
Planting fennel
You can buy young plants of herb fennel – both green-leaved and bronze – from garden centres, which are best planted outside in spring or early summer.
Dig over the planting area, incorporating some organic matter – such as compost or leafmould, especially if the soil is heavy clay. Dig a good sized hole big enough to easily accommodate the rootball.
Place the rootball in the planting hole and adjust the planting depth so that the crown of leaves is at soil level.
Mix in more organic matter with the excavated soil and fill in the planting hole. Apply a general granular plant food over the soil around the plants and water in well.
Florence fennel doesn't always transplant well and it is best grown from seed, sown direct where you want it to crop.
---
How to care for fennel
Herb fennel
It may be necessary to keep the soil moist by watering regularly during prolonged dry periods in summer.
Feed with a general granular plant food each spring.
Removing developing flower heads will prolong the supply of leaves, but the seeds themselves are also useful and can be used in cooking.
Fennel is a hardy perennial herb, which will die back to ground level in winter. When this happens, tidy up the plants by cutting back flower stems and removing dead and dying foliage.
Florence fennel
Florence fennel can bolt (run to seed prematurely) if there is a check in growth. Keep the soil moist by watering regularly particularly during hot, dry periods in summer.
Feed every two to three weeks in summer with a high potash plant food.
Keep the soil around plants weed free and earth up around the bulbs during the growing period to make them sweet and white.
Harvesting
Herb fennel
Fennel leaves can be harvested at any time they are available.
For fennel seeds, allow the flowers to fade and harvest once the seed heads have fully ripened and the seeds have turned brown. Seeds can be used fresh or dried for winter use.
Florence fennel
Harvest at ground level once the stems are sufficiently swollen in size and are roughly tennis ball size.
If you leave the roots in the ground they may re-shoot and the small shoots can be used in salads.
| | |
| --- | --- |
| Flowering season(s) | Summer |
| Foliage season(s) | Spring, Summer, Autumn |
| Sunlight | Full sun |
| Soil type | Chalky, Clay, Loamy, Sandy |
| Soil pH | Neutral |
| Soil moisture | Moist but well-drained |
| Ultimate height | Up to 1.8m (6ft) |
| Ultimate spread | Up to 1.5m (5ft) |
| Time to ultimate height | 1-2 years |