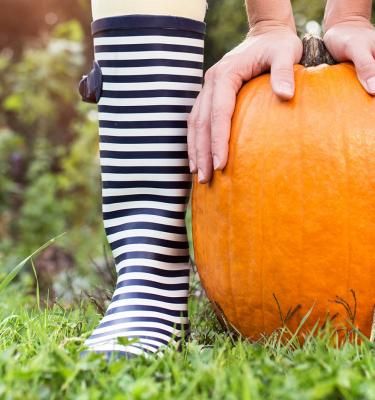 How to grow pumpkins for Halloween
When Halloween comes, most you may be heading out at the last minute seeking a pumpkin or two, only to find that they are nowhere to be seen. Bare shelves in every supermarket, except for a sorry little pumpkin at the back – not going to make the best Halloween deco is it? Once again, kicking yourself that you didn't grow your own back in spring.
To make sure that you're picking from your future vegetable patch, as opposed to the shelves of the supermarket next year, make a note to grow your own pumpkins. Growing as well as carving pumpkins is great fun for all the family!
History of pumpkins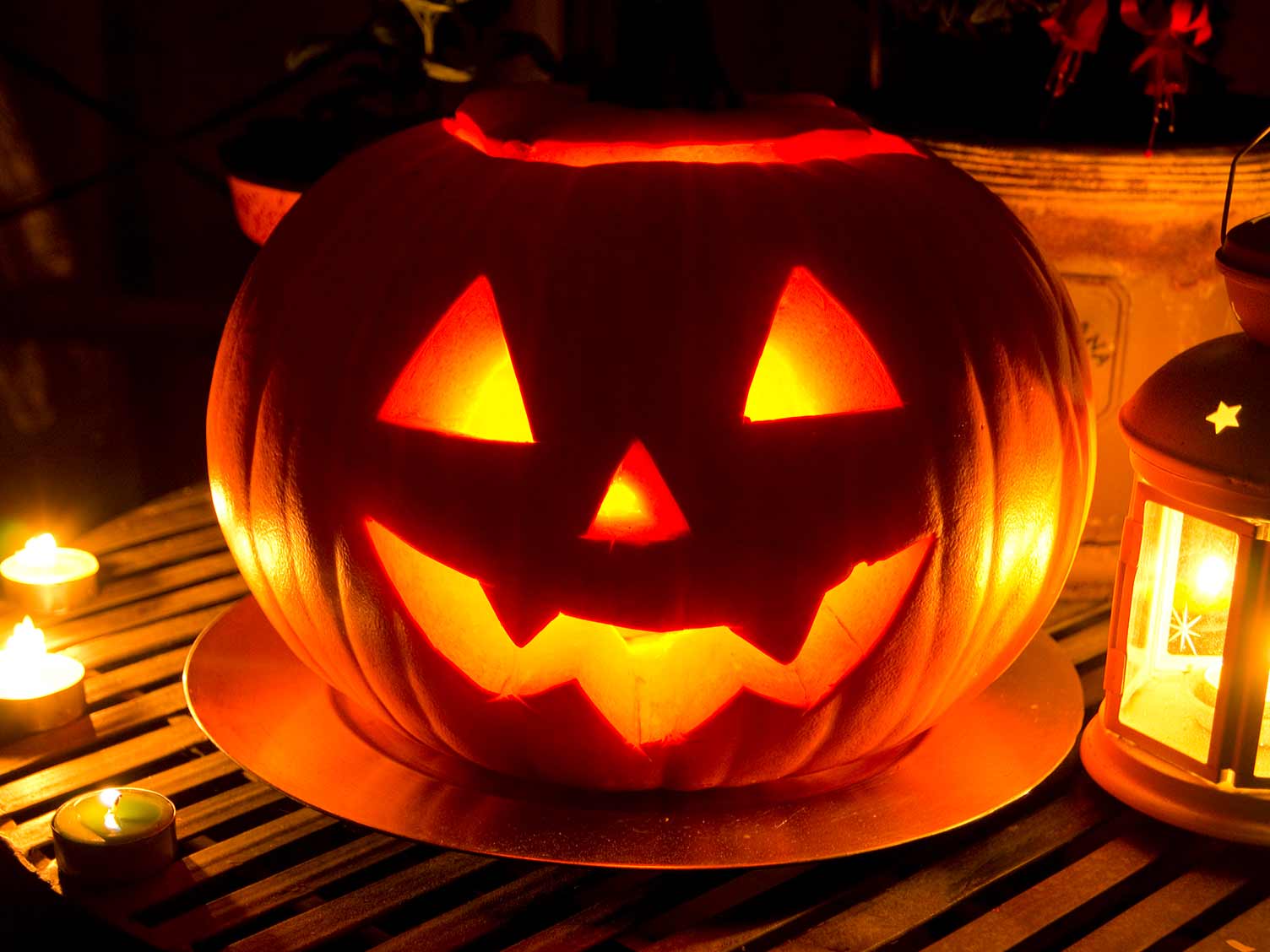 The word 'pumpkin' originates from the Greek word 'Pepon', which translates to 'large melon.' Native Americans introduced pumpkins and squashes to the Pilgrims. Pumpkins were an important source of food during the cold winters, with the pumpkins saving many of the early settlers from potential starvation. It is documented that pumpkins were served at the second Thanksgiving. Today 'Jack-o-lanterns', as they are known, are symbolic of harvest celebrations.
Different pumpkin types
Depending on what you want, and how much space you have, pumpkins can vary in size and weight with the monsters reaching weights of more than 500kg (1,000lb)! You can grow smaller pumpkins, such as 'Windsor', which only reaches 15cm (6in) in diameter, all the way up to the huge 'Dill's Atlantic Giant.' One of the most common pumpkin varieties is 'Jack Of All Trades', which is a traditional pumpkin, perfect for carving and cooking.
When is the best time to grow pumpkins?
While late spring may be dedicated to planting summer flowers, pumpkins need to be planted at this time too. They need warm daytime temperatures of around 18-30°C (65-86°F), with lows of 16°C (60°F) at night.
Where is the best place to grow pumpkins?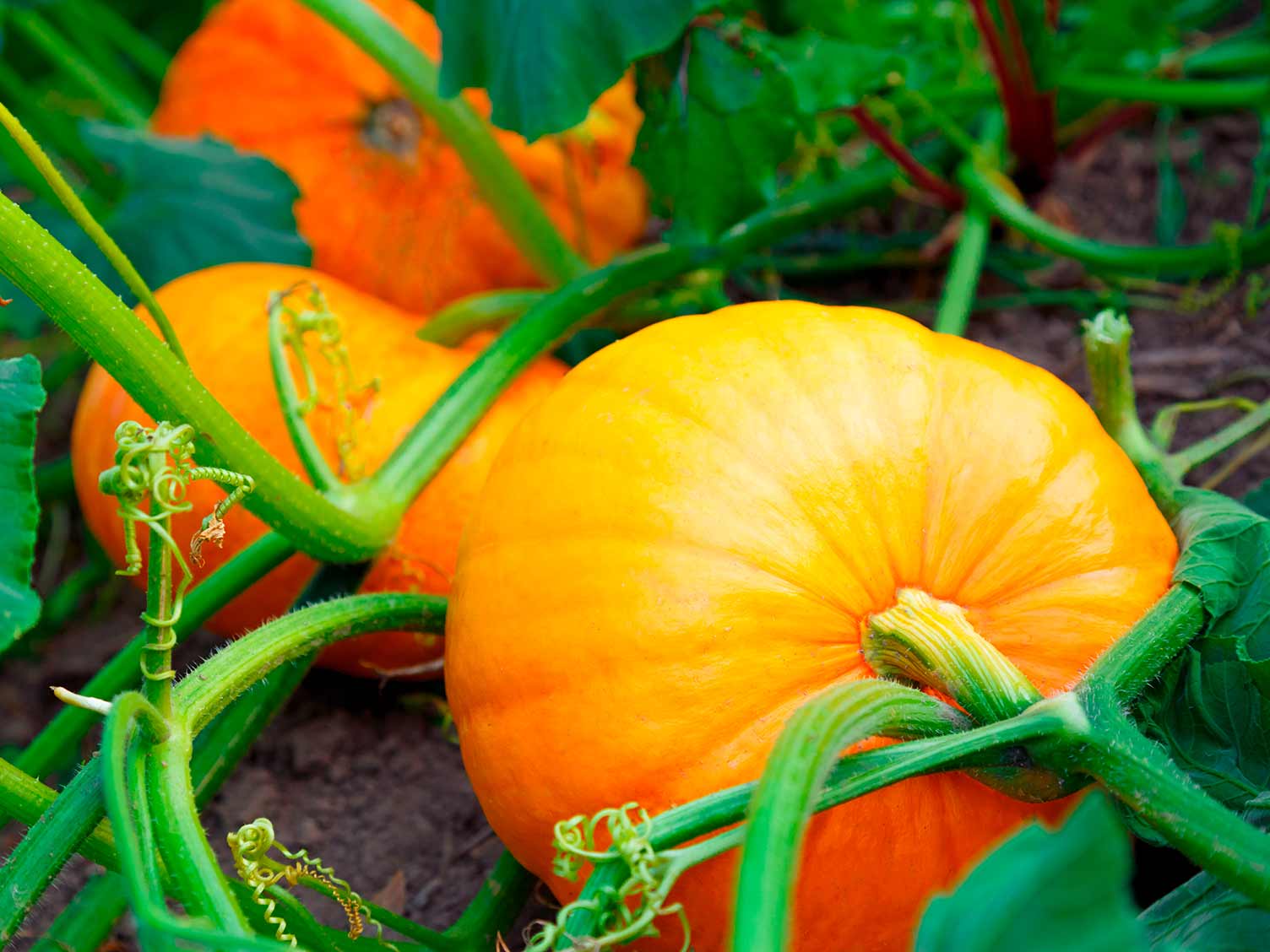 Pumpkin seeds can be sown as early as April and May indoors with heat and then transplanted outside after the temperature has warmed up.
If you want to wait and sow your pumpkins seeds directly outside, you will need to wait until the end of May or early June.To give them the best start, begin them under cloches.
Or you can buy young plants, ready to plant outside in late May or early June, after the last frosts.
In terms of harvesting, leave the pumpkins until the outer skin has hardened and the fruits starts to visibly crack near the stem. Preserving your pumpkins will ensure your pumpkin displays last all through the Halloween season.
How can I grow my own pumpkins?
Begin by sowing the seeds on their side in small pots of compost, approximately 2.5cm (1in) deep. Seal the pots inside a plastic bag and keep at around 30°C (85°F) for 5-7 days to germinate. Next, grow for approximately 4 weeks so that they are large enough to be transplanted in the garden. The process of allowing the pumpkins to adjust to the new outdoors condition must be gradual – between 7-10 days before transplanting.
The soil must be well drained, but moisture retentive, warm and in sunlight, plus sheltered from strong winds. Planting distance can range from 90cm (3ft) to 3m (10ft) dependent on variety. It is a good idea to plant each pumpkin plant on top of a mound of soil to ensure sufficient drainage. A few weeks after planting, feed with a high potash fertiliser to encourage flowering and fruiting. Remember, Caring for your pumpkins is very similar to some other vegetables.
What can I use pumpkins for? Pumpkin pie!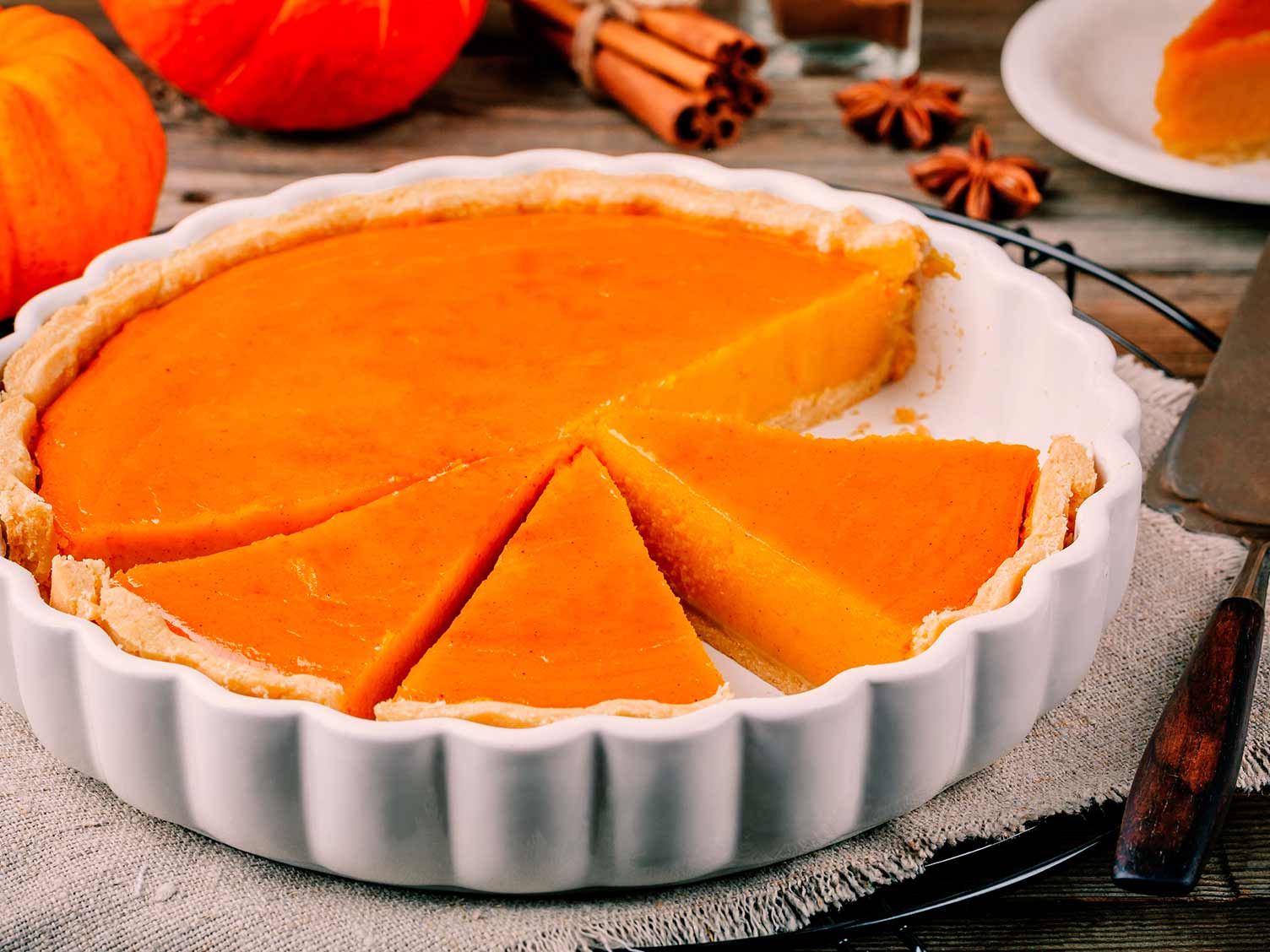 There are many uses for pumpkins – from cooking to decorating (the Pilgrims even made pumpkin beer). Below is our favourite recipe for Pumpkin Pie served with a splash of sherry and presented in a hollowed-out pumpkin for you to enjoy.
30 mins to hour prep time. 1-2 hours cooking time. Serves 8-10
Ingredients
1 x 4kg/8lb 13oz pumpkin
125g/4oz butter
2 medium onions, peeled, finely chopped
1 cinnamon stick
freshly grated nutmeg
salt and freshly ground black pepper
1.7 litres/3 pints chicken stock (substitute vegetable stock if necessary)
3 tablespoons sherry
Preparation method
Cut the top off the pumpkin and set aside. Scoop out the seeds from the centre and discard.
Using a sharp knife and a spoon, carefully hollow out the vegetable, removing the flesh and setting aside (do not cut right up to the inside of the skin or pierce it. Make sure to leave 2cm (¾in) of flesh all around the inside).
Chop the scooped-out pumpkin flesh.
Melt the butter in a large pan with a lid over a low heat and then add the onions. Cook the onions gently for 10-15 minutes, until they are softened and golden-brown.
Add the pumpkin flesh, the cinnamon and nutmeg, and season with salt and ground black pepper. Increase the heat to medium and cover with the lid. Cook for 40-45 minutes, stirring occasionally until the pumpkin is cooked through.
Add the stock and bring to the boil. Remove from the heat and allow to cool slightly. Transfer the soup to a food processor and blend until smooth.
Return the soup to the pan and bring to a low simmer and cook for a further half an hour.
Preheat the oven to 170°C/335°F/Gas Mark 3 forty-five minutes before eating.
Pour the soup into the hollow pumpkin shell, add the sherry and stir.
Place the reserved pumpkin 'lid' onto the pumpkin and place onto a large baking tray. Cook in the oven for about 45 minutes. To serve, carefully remove from the oven and serve the soup in the pumpkin at the table. Ladle into bowls and serve.
You can do so much with pumpkins: pumpkin pie, pumpkin bread, pumpkin spice latte - there's so many great pumpkin recipes available (remember: the pumpkin seeds can be used for cooking as well). As well as eating and drinking your pumpkins, you may wish to use them for decorative purposes.
Of course, Pumpkins can also be carved to make beautiful table centrepieces, porch Halloween displays and spooky stairways!