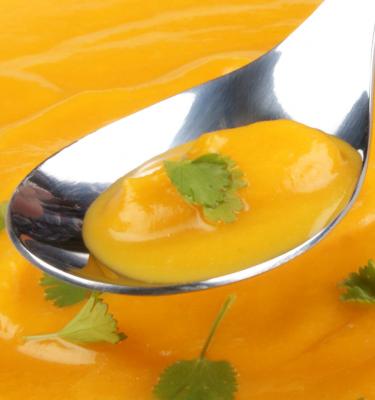 From chunky soups to winter salads, there are so many ways to use winter vegetables. Including yummy creamy pumpkin pasta and roast chicken dishes, here are our top picks of winter comfort foods to keep you warm this winter.
Chicken with roasted vegetables
Ingredients
Serves 4
1 small celeriac, peeled and cut into 2½ cm/1in chunks
400g swede, peeled and cut into 2½ cm/1in chunks
2 large sweet potatoes, scrubbed and cut into 2½ cm/1in chunks
2 medium parsnips, scrubbed and quartered lengthways
2 large garlic cloves, thinly sliced
2 tbsp olive oil
½ tsp cumin seeds
A few sprigs of sage
4 skinless boneless chicken breast fillets, weighing about 140g/5oz each
4 slices prosciutto
Method
Preheat the oven to 200C/gas 6/fan 180C. Put the celeriac, swede, sweet potato, parsnips and garlic in a large roasting tin. Sprinkle with the olive oil and cumin, and season with salt and pepper. Toss the vegetables together so they are lightly coated in oil. Put in the oven towards the top and roast for 30 minutes.
Meanwhile, lay a couple of sage leaves on each chicken breast, then wrap each with a slice of prosciutto to enclose.
Take the roasting pan from the oven and turn the vegetables over. Now lay the chicken on top. Roast for 30- 35 minutes more, until the vegetables are tender and the chicken is done. Serve with steamed broccoli or lightly cooked Savoy cabbage.
Edited from: BBC Good Food
---
Butternut squash soup
Ingredients
Serves 4
butternut squash, diced
1 litre vegetable stock
1 tbsp chopped garlic, try ready Gourmet Garden Garlic
2 tbsp chopped ginger, try Gourmet Garden Ginger
Method
Place all ingredients into a saucepan and cover with water. Bring to the boil, then reduce heat and simmer for approx. 15 minutes or until soft and tender. Blend until smooth. Serve with a swirl of cream if desired.
Edited from: UK TV
---
Creamy pumpkin pasta
Ingredients
Serves 4
1 small onion, finely chopped
2 garlic cloves, minced
2 tablespoons butter
2 cups pumpkin puree
2 cups chicken broth, made from bouillon
1/4 cup heavy cream
1/2 cup sour cream
1/4 teaspoon nutmeg
1 teaspoon salt
1/4 teaspoon white pepper
2 tablespoons fresh parsley, minced
1/4 cup romano cheese, shredded
1 lb penne or 1 lb rotini pasta
Method
In a large skillet, saute the onion and garlic in butter, over medium heat, until soft, not brown. Whisk in the pumpkin, broth, creams and seasonings to taste. Simmer 10 minutes, stirring occasionally. Meanwhile, boil the pasta in salted water until al dente. Drain pasta and stir into the pumpkin, simmering 2-3 minutes more until thick. Stir in parsley and garnish with romano, more parsley and pumpkin seeds if desired.
Edited from: Food.com
---
Mustard chicken with winter vegetables
Ingredients
Serves 4 - 6
1 chicken, about 1.8kg/4lb in weight
2 onions
6 celery sticks
6 carrots
2 bay leaves
2 thyme sprigs
1 tsp black peppercorn
50g butter
100g smoked bacon lardons
3 small turnips, peeled and cut into wedges
1 tbsp plain flour
2 tbsp wholegrain mustard
3 rounded tbsp crème fraîche
A handful of parsley, chopped
Method
Put the chicken in a large pot. Halve 1 onion, 1 celery stick and 1 carrot. Add to the pot with the herbs, peppercorns and a sprinkling of salt. Add water to come halfway up the chicken, bring to the boil, then cover tightly and simmer for 1½ hrs. Cool slightly, remove the chicken to a dish, then strain the stock into a bowl.
When the chicken is cool enough to handle, strip the meat from the bones and tear into pieces with your hands.
Chop the remaining onion, and cut the celery and carrots into thick slices. Heat the butter in the same pot, add the onion and lardons, then gently fry for 5 mins until just starting to brown. Add the remaining veg, then fry for 2 mins. Stir in the flour, then cook for 1 min. Measure 900ml stock (if you don't have enough, make it up with water), then gradually add to the pan, stirring. Cover, then simmer for 20-25 mins until vegetables are tender.
Return the chicken to the pan with the mustard and crème fraîche, then return to a simmer, stirring gently. Season and sprinkle with parsley
Edited from: BBC Good Food