Blousy blooms with colourful, almost paper-like, petals are the hallmarks of many true poppies – particularly the perennial Oriental poppy – Papaver orientale. These flowers, swaying in the breeze, are the very essence of the British summer.
Most poppies also produce ornamental 'pepper pot' seed heads, which can be cut and used for indoor decorations.
There are several types of poppy, from the annual Papaver rhoeas, called the field poppy, corn poppy or Flanders poppy, and which includes a specific type called Shirley poppies, to those large-flowered, perennial Oriental poppies.The wild corn poppy brings a bright splash of red to fields, but it looks great in gardens too. It is perfect for providing colour in a sunny situation where little else will grow, and for creating cottage gardens and is excellent for attracting bees and other pollinating insects.
Papaver rhoeas is used as a modern-day symbol of hope every autumn and especially on Remembrance Sunday.
Other plants have the name poppy in their name, such as the blue poppy (Meconopsis) and Californian poppy (Escholzia), but true poppies are species and varieties of Papaver.
---
How to grow poppies
Cultivation
Poppies will grow well in either a sunny or partially shaded position.
Annual and biennial poppies will grow in a wide range of soils, including very poor and even stony ones, where little else grows well. The perennial, Oriental poppies prefer deep, fertile, well-drained soils.
Poppy varieties
Papaver rhoeas, the field poppy, is a hardy annual, growing up to 40cm (16in) high and flowering from June into September.
Papaver somniferum, the opium poppy, is also a hardy annual, growing to 60cm (2ft) high and flowering throughout summer. Cultivated varieties are safe to grow in the garden as they don't produce opium!
Papaver nudicaule, the Arctic poppy or Icelandic poppy, is a hardy but short-lived perennial, usually grown as a biennial or even an annual. It grows up to 60cm (2ft) high and flowers from late spring to mid-summer. The perennial Oriental poppy, Papaver orientale, makes large, substantial plants up to 90-105cm (3-3.52ft) high. The flowers are up to 15cm (6in) across and produced in late spring and early summer. Lots of named varieties are available with flower colours from white all the way through shades of pinks and plum to deep red.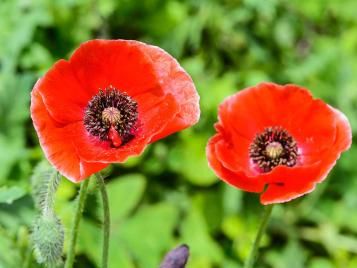 Sowing poppies
Hardy annuals
The hardy annuals are incredibly easy to grow, as you can sow them directly outside where you want them to flower. Sowing time is usually from late March to mid-May. You can also sow in August and September to give plants that will flower earlier the following year.
Sow the seeds in well-cultivated soil that has been raked to a fine tilth in drills 30cm (12in) apart. Water the soil regularly, especially in dry periods. When large enough to handle, thin out seedlings to 15cm (6in) apart.
Seeds can also be sown indoors in March/April in cell or plug trays filled with seed sowing compost at a temperature of 21-24°C (70-75°F). Lightly cover the seed with more compost and keep moist. Grow on the seedlings in cooler conditions of around 10°C (50°F) and plant outside in late May or early June when the last frosts are over, after hardening off – gradually acclimatising them to outdoor conditions – for 10-14 days.
Icelandic poppy
Sow Icelandic poppy seeds from February to April or August and September on the surface of moist seed sowing compost and cover with a fine layer of vermiculite at a temperature of around 18-21°C (65-70°F). When large enough to handle, transplant the seedlings into 7.5-9cm (3-3.5in) pots or module trays. Grow them on in cool, well-lit conditions and, when well grown, plant outside 30cm (12in) apart after hardening off.
Sowings made in August and September can be overwintered in a cold frame and planted out the following spring. Or you can sow them directly in the soil outside in late spring.
Planting poppies
Container-grown Oriental poppies can be planted at any time of year, but autumn to spring are the best times. Bare-rooted plants are also available from mail order suppliers for planting from late autumn to late winter.
Dig a good sized hole, big enough to easily accommodate the rootball. Add a layer of organic matter – such as compost or well-rotted manure – to the base of the hole and fork it in.
Place the roots in the planting hole and adjust the planting depth so that it is planted at the same depth as it was originally growing and the top of the roots are level with the soil surface.
Mix in more organic matter with the excavated soil and fill in the planting hole. Water in well, apply a granular general feed over the soil around the tree and add a 5-7.5cm (2-3in) deep mulch of well-rotted garden compost or bark chippings around the root area.
Suggested planting locations and garden types
Flower borders and beds, patios, containers, cut flowers, city and courtyard gardens, cottage and informal gardens, wildlife gardens.
---
How to care for poppies
Annual poppies
Monthly feeds with a liquid plant food during the summer will help increase flowering.
The annual poppies will flower for longer if they are deadheaded after flowering to remove the developing seed heads. Follow this up with a feed with a high potash liquid plant feed.
If the seed heads are left on some plants after flowering, they will self seed for future years.
Perennial poppies
For perennial Oriental poppies, water well during the first year whenever the weather is dry. In subsequent years, watering during prolonged dry periods may be needed to keep plants growing well. Mulching around the plants in late spring will help to conserve soil moisture and keep down weeds.
For the best displays, feed in early March with a general controlled-release feed.
After flowering, cut down the flowering stems and remove any old or damaged foliage to keep the plants looking good and tidy.
| | |
| --- | --- |
| Flowering season(s) | Spring, Summer |
| Foliage season(s) | Spring, Summer |
| Sunlight | Partial shade, Full sun |
| Soil type | Clay, Loamy |
| Soil pH | Neutral |
| Soil moisture | Moist but well-drained |
| Ultimate height | Up to 1.2m (4ft) depending on variety |
| Ultimate spread | Up to 60cm (2ft) |
| Time to ultimate height | 2-3 years |