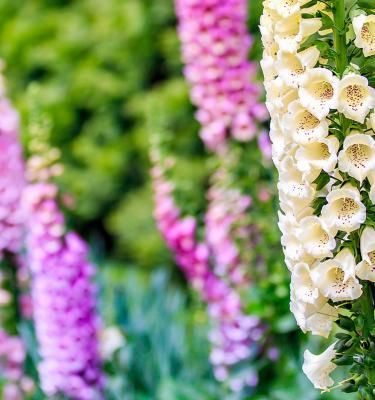 The common foxglove, Digitalis purpurea, is a common wild plant growing in woods and hedgerows. It is easy to spot with its large, purple-pink spikes of trumpet flowers in summer. It also makes an excellent garden plant, especially for shady positions.
But Digitalis purpurea isn't the only foxglove. There are lots of other species growing to a range of heights and with flowers in a wide range of colours, many beautifully spotted and speckled in contrasting colours. The flowers are very nectar-rich and are like magnets to bees and butterflies.
Most foxgloves are beiennials, flowering in their second year from seed,  or short lived perennials. Most are more or less evergreen so their rosettes of green leaves remain throughout the winter.
The flowers are very nectar-rich and are like magnets to bees and butterflies.
Just be aware that foxgloves contain the chemical digitalin which is used in medicine to treat heart conditions and all parts of the plant are toxic if eaten. Contact with the foliage may irritate the skin and eyes so wear gloves, especially if you have sensitive skin.
---
How to grow foxgloves
Cultivation
Most foxgloves thrive in light or shade, although some species come from the Mediterranean so need a sunny position.
Although foxgloves prefer lighter soils, they will grow well on heavy clay soils with added organic matter, such as compost.
Foxglove varieties
As well as the common foxglove, Digitalis purpurea, the following are some of the other excellent garden plants:
Digitalis ferruginea (right) Biennial or short-lived perennial. Yellowy-rusty-brown flowers.
Digitalis grandiflora Perennial. Creamy-yellow flowers.
Digitalis Illumination Pink Half-hardy, semi-evergreen perennial. Flowers vivid pink on the outside and honey-amber within.
Digitalis x mertonensis Semi-evergreen perennial. Soft pink flowers.
Digitalis parviflora Hardy perennial. Brownish-red flowers.
Digitalis purpurea f. albiflora Biennial or short-lived perennial. Creamy-white flowers.
Digitalis purpurea Primrose Carousel Biennial or short-lived perennial. Primrose-yellow flowers with claret speckling.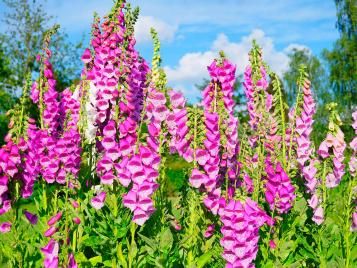 Sowing foxgloves
Sow seeds outdoors in late spring/early summer in a well-prepared seed bed. Keep the soil moist until germination takes place. Thin out the seedlings to 15cm (6in) apart when they're large enough to handle. Then either thin out to 60cm (2ft) apart, or transplant them 60cm (2ft) apart into their positions for flowering in autumn the following year.
Indoors, sow seeds from March to early June on the surface of compost in pots or seed trays at around 20°C (68°F). Don't cover the seeds as they need light to germinate. Ensure that the soil is kept moist. Prick out seedlings when large enough to handle into 7.5-9cm (3-3.5in) pots. Gradually acclimatise to outdoor conditions for 10 to 15 days before planting out after all risk of frost.
If you are collecting your own seed sow it immediately when fresh, and sow thinly, as overcrowded seedlings are prone to fungal diseases. Self-sown seedlings should be thinned out to give each plant room to develop.
Planting foxgloves
Foxgloves can be planted at just about any time of year but avoid planting when the soil is frozen solid, waterlogged or extremely dry.
Dig over the planting area, incorporating some organic matter such as compost or leafmould. Dig a good sized hole big enough to easily fit the rootball.
Place the rootball in the planting hole and adjust the depth so the top of the rootball is level with the soil surface. Fill the hole with mixed soil and compost then water in well to settle the roots. 
Suggested planting locations and garden types
Flower borders and beds, patios, containers, city and courtyard gardens, cottage and informal gardens, woodland gardens, wildflower gardens.
How to care for foxgloves
Water foxglove plants regularly until they are fully established.
Feed every spring with a balanced granular plant food.
Mulch around plants in spring with a 5-7.5cm (2-3in) thick layer of organic matter, such as compost or composted bark .
After the first flowers have finished cut back the faded flower stems to ground level and give them a good feed with a liquid plant food . This may encourage a second flush of flowers, especially with early flowering perennials.  
After flowering you can cut back the faded flower stems to ground level. If you want to collect seed from them, cut down the stems after the seed has been collected or shed.
 
| | |
| --- | --- |
| Flowering season(s) | Summer |
| Foliage season(s) | Spring, Summer, Autumn, Winter |
| Sunlight | Full shade, Partial shade, Full sun |
| Soil type | Chalky, Clay, Loamy, Sandy |
| Soil pH | Neutral |
| Soil moisture | Moist but well-drained |
| Ultimate height | Up to 1.8m (6ft) depending on variety |
| Ultimate spread | Up to 90cm (3ft) depending on variety |
| Time to ultimate height | 1 year |