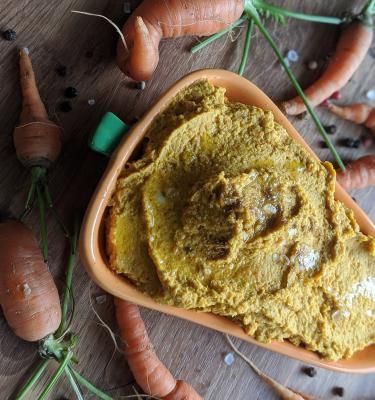 Recipe: roasted carrot hummus
Carrots are one of the easiest veg to grow - whether it's your first time dabbling with homegrown or whether you're a seasoned gardener. They can either be picked as young carrots or left to develop into big ones - this recipe works for both!
Growing carrots
Carrots can be started out from seed or seedling in pots in a greenhouse until the shoots come through and they're no longer too delicate to handle - then it's a case of moving them into the soil sometime around mid-spring. Otherwise they can be sown directly into the soil at the start of spring. We have a full guide on how to grow carrots on our website.
For us, this recipe is a bit about celebrating 'ugly veg'! These carrots were grown at our Love The Garden allotment and it seems like our soil might be a little stony - so many of the carrots came out looking rather weird an wonderful! Another reason ours are so small is that a rabbit got into the caging and chomped all the tops off - so they weren't going to keep growing much more. These kinds of things happen to all gardeners, and we decided to just roll with it and whip up a tasty hummus with them.
Recipe: roasted carrot hummus
You will need:
350-400g carrots, washed and chopped (no peeling necessary, homegrown is best!)
1 tin of chickpeas, drained
2 garlic cloves
3 tbsp olive oil
4 tbsp tahini
salt & pepper
water, for consistency
optional cumin & lemon juice
Method:
Place the chopped carrots onto a baking tray, drizzle with olive oil and roast at 180 degrees for around 35-40 minutes. When ready they should be darkening at the edges and soft. Leave on the side to cool.
Once cool, add all the ingredients together except for the water into a food processor and blend to desired consistency. If the hummus is too thick, gradually add water about 20ml at a time until you have a smooth texture.
Transfer to a bowl to serve and top with an additional drizzle of olive oil and rock salt!