Recipe: sautéed garlic rainbow chard
Rainbow chard is an easy, rewarding crop to grow from spring through to the end of Autumn, and as an ingredient can be used in a variety of tasty ways.
How to grow chard
You can grow chard either in containers or borders, or part of your veggie plot. Make sure you sow the seeds in well-drained soil with plenty of sun and once the leaves start to come in, feed around once a week and you'll have fresh chard in no time. With regular harvesting, your crop will keep growing back every few weeks so that you can enjoy your harvest for months at a time.
Using chard in the kitchen
Packed full of green-goodness vitamins such as vitamins K, A, E and C, as well as rich in iron and magnesium, chard is a welcome ingredient in the kitchen when it comes to health.
It's also really diverse to prepare - the young leaves are almost sweet in a salad, the mature stalks sautee to a lovely tenderness, and the grown leaves make a great addition to stir fries, soups and stews.
Recipe: sautéed garlic rainbow chard
This easy recipe only takes one pan and about 15 minutes in total to make, including preparation. Our photos feature rainbow chard grown at our Love The Garden Allotment, and the plants were fed with Miracle-Gro's Performance Organics Fruit & Veg Liquid Feed to give them an extra boost.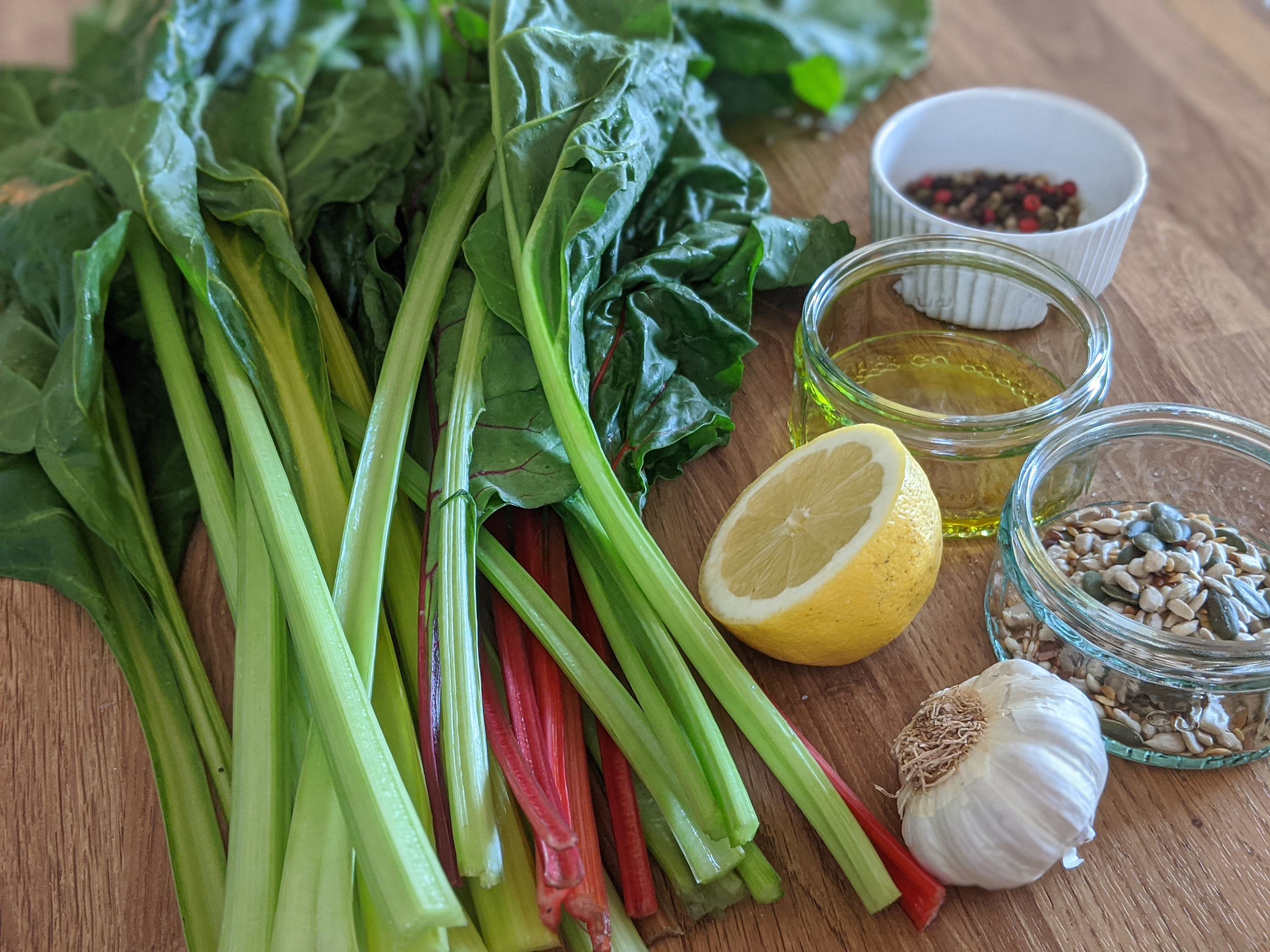 You will need:
Large bunch of fresh rainbow chard (homegrown if you can!)
4 garlic cloves, finely sliced
Mixed seeds (we used pumpkin and sunflower, pine nuts are great here too)
Juice of half a lemon
3 tbsp olive oil
20ml water
Salt and pepper
Method:
Trim and discard the last half-inch or so off the stalks and rinse the chard well under cold water. Separate the leaves from the stems and chop the stems into even 2-inch pieces.
Heat the olive oil in a large frying pan and add the garlic, browning gently.
After a few minutes, add the seeds and nuts to the oil until the garlic turns golden brown and then remove from the pan to a small bowl.
Add the stalks to the pan and pour the water on top. Simmer gently on a low heat while stirring until the water has evaporated.
Shred the leaves to bitesize pieces and add to the frying pan on a low heat until the leaves have wilted (should take about 5 minutes).
As the leaves wilt, add back in the garlic and seeds, season with salt and pepper and pour on lemon juice, stirring regularly.
s soon as the leaves are soft, remove from pan and serve hot. Enjoy!