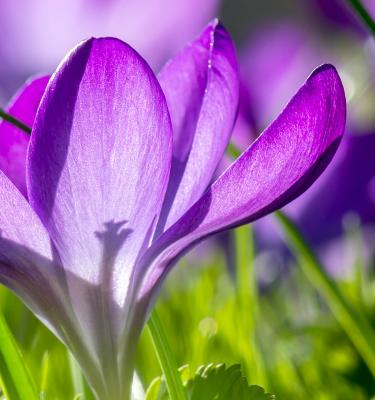 Saffron is, weight for weight, one of the world's most expensive spices. And you can easily grow your own at home! It is the perfect seasoning for paella and many other Mediterranean dishes, and for adding to rice for that authentic Indian curry taste.
Saffron comes from the colourful red stigmas (female part of the flower) – referred to as threads – of a very hardy autumn-flowering crocus. But don't get too carried away – you'll need to grow lots of plants to get a good harvest of saffon. For 450g (1lb) of dry saffron, you'll need to harvest 50,000-75,000 flowers! But 24-30 plants will supply enough of the precious spice in their first year for a few memorable dishes. The bulbs will then multiply each year producing more flowers and saffron.
Even if you don't want to harvest your own saffron, you can just enjoy the gorgeous autumn flowers!
How to grow saffron
Cultivation
Saffron crocus bulbs must be planted in a sheltered, warm, sunny place, especially one that gets good sunshine in autumn during flowering. They need a humus-rich, moist, but well-drained soil that remains dry in summer. Too much moisture in summer, when the bulbs are dormant, will lead to the bulbs rotting.
If growing in containers, these are best moved to a greenhouse or shed between April and September, or at least allowed to dry out during this time.
Saffron varieties
The true spice saffron is the species, Crocus sativus.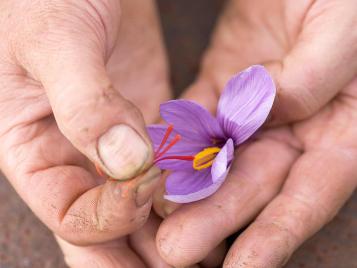 Planting saffron
Plant the bulbs 10-15cm (4-6in) deep and the same distance apart in late summer in well-prepared soil with lots of added bulky organic matter, such as planting compost. Heavy clay soils may need the addition of sharp grit or gritty sand to improve drainage.
Bulbs can also be planted in containers, using a good potting compost.
Suggested planting locations and garden types
Flower borders and beds, patios, containers, city and courtyard gardens, cottage and informal gardens.
How to care for saffron
Saffron needs plenty of moisture when in leaf, but must be kept dry when dormant at all other times.
When in leaf, feed with a high potash liquid plant food, such as a tomato feed.
Allow the leaves to die down naturally in spring – don't cut them off or remove them until they have turned yellow or gone brown.
New bulbs are produced above the old ones, and will slowly creep towards the soil or compost surface, so you should lift, divide and replant them every few years. This can be done in August or as soon as the foliage dies down.
Harvesting
Harvesting saffron is easy. Pick the red stigmas/threads with thumb and forefinger or tweezers in the morning, preferably mid-morning on a sunny day, as soon as the flowers are fully open. Each flower only lasts a day.
Dry the stigmas on kitchen paper in a warm, dark place and then store in an air-tight container.
| | |
| --- | --- |
| Flowering season(s) | Autumn |
| Foliage season(s) | Spring, Winter |
| Sunlight | Full sun |
| Soil type | Chalky, Clay, Loamy, Sandy |
| Soil pH | Neutral |
| Soil moisture | Moist but well-drained |
| Ultimate height | 10-15cm (4-6in) |
| Ultimate spread | 5cm (2in) |
| Time to ultimate height | 2-3 months |