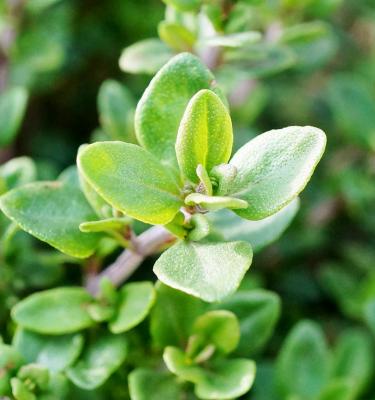 Thyme has many uses in cooking and elsewhere in the kitchen. It is perfect in many poultry, meat and fish dishes, as well as casseroles and stews, and a main ingredient of Italian dishes and bouquet garnish.
Thyme is a highly ornamental and colourful herb that deserves its place in the garden – let alone for its culinary uses. The aromatic foliage fills the garden with scent on a sunny day. Many are low-growing, creeping plants that are perfect for ground cover. The colourful flowers not only look great, but will also attract beneficial insects.
How to grow thyme
Cultivation
Thyme needs a warm, sunny position. The more sun it receives, the stronger the flavours. It is fairly drought tolerant and needs a well-drained, preferably alkaline, soil. It will grow well in fairly poor, even stony, soil.
As plants will die in overly wet soils, and if your soil is heavy, poorly draining clay, thyme is perfect for growing in containers of John Innes No 2 compost.
Thyme varieties
There are several species and many varieties to choose from. The following are some of the most popular and commonly available:
Thymus vulgaris: Common thyme is the most popular for culinary use. Green leaves and mauve flowers
Thymus pulegioides (T. citriodorus): Lemon thyme has large, lemon-scented leaves and lilac pink flowers
Thymus pulegioides Archer's Gold: Lemon thyme with golden leaves and pink flowers
Thymus Golden King: Lemon thyme with golden-edged leaves and lilac pink flowers
Thymus Red Carpet: Dark green leaves and magenta-red flowers
Thymus serpyllum Pink Chintz: Early flowering, salmon-pink flowers in spring
Thymus Silver Posie: Silvery-white variegated leaves and pale pink flowers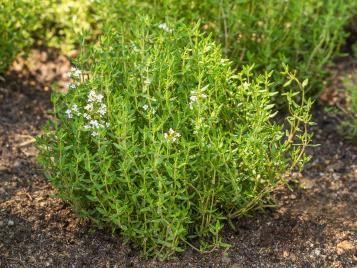 Planting thyme
Plant small plants in very well-drained soil, with added compost and/or grit to improve drainage.
Although plants are fairly drought tolerant when established, they need watering in until well established.
Add a mulch of horticultural grit or gravel around plants to prevent moisture sitting at the base of the plant.
Suggested planting locations and garden types
Flower borders and beds, patios, containers, city and courtyard gardens, cottage and informal gardens, ground cover.
How to care for thyme
Thyme will rarely need watering apart from during very prolonged periods of dry or drought conditions in summer. Ensure plants in pots are not allowed to completely dry out.
Thyme doesn't like rich soil, but will benefit from a light feeding of a high potash plant food in spring.
Give plants a liquid feed during summer to improve growth, flavour and flowering.
Trim plants after flowering with secateurs or shears to keep them compact and to promote fresh, new growth.
Thyme is rarely troubled by any pests or diseases. Soft growth, promoted by rich soils or overfeeding with high nitrogen plant foods, may encourage aphids.
Harvesting
Thyme can be picked all year round, but the flavour is strongest during summer.
Cut off small sprigs with scissors for immediate use as needed. Take care to avoid spoiling the overall shape of the plant.
It is best to cut larger quantities for drying or freezing before the plants flower.
| | |
| --- | --- |
| Flowering season(s) | Spring, Summer |
| Foliage season(s) | Spring, Summer, Autumn, Winter |
| Sunlight | Full sun |
| Soil type | Chalky, Loamy, Sandy |
| Soil pH | Neutral |
| Soil moisture | Well-drained |
| Ultimate height | Up to 30cm (12in) depending on variety |
| Ultimate spread | Up to 60cm (2ft) depending on variety |
| Time to ultimate height | 3-4 years |