Sunflowers (Helianthus annuus)
Sunflowers are fabulous for providing a superb summer centrepiece and masses of colour in the garden and for cutting for indoor displays.
There are lots of different types of sunflowers – from the popular tall summer-flowering annuals with huge flower faces, to perennials that come back year after year, but have much smaller flowers.
Annual sunflowers will bloom from midsummer into autumn – the dead flower heads containing the seeds can then be used in winter as a bird feed, as many bird species love sunflower seeds.
They come in a wide assortment of sizes. Some varieties grow as tall as 4.5m (15ft), and the flower heads can be as large as 30cm (1ft) across. The dwarf types are more bushy and only grow 30-60cm (1-2ft) tall, and there are plenty of choices in between. Some varieties produce a single large flower, others form several, smaller ones.
Although yellow is the common flower colour, often with a contrasting darker centre colour, sunflowers also come in whites and a range of ruby reds, maroons and reddish-oranges.
---
How to grow sunflowers
Cultivation
Sunflowers need a position in full sun in well-drained soil. They will need around 6 hours of direct sunlight, and thrive in most soil types.
Before sowing seeds directly outside or planting out, improve the soil by digging in lots of bulky organic matter, such as compost, well-rotted manure or composted bark, into the soil. They also need a steady supply of nutrients, so add a slow-release or controlled-release feed to the soil.
Most varieties can be grown in pots, providing they have plenty of root space, dwarf varieties are much happier in smaller pots.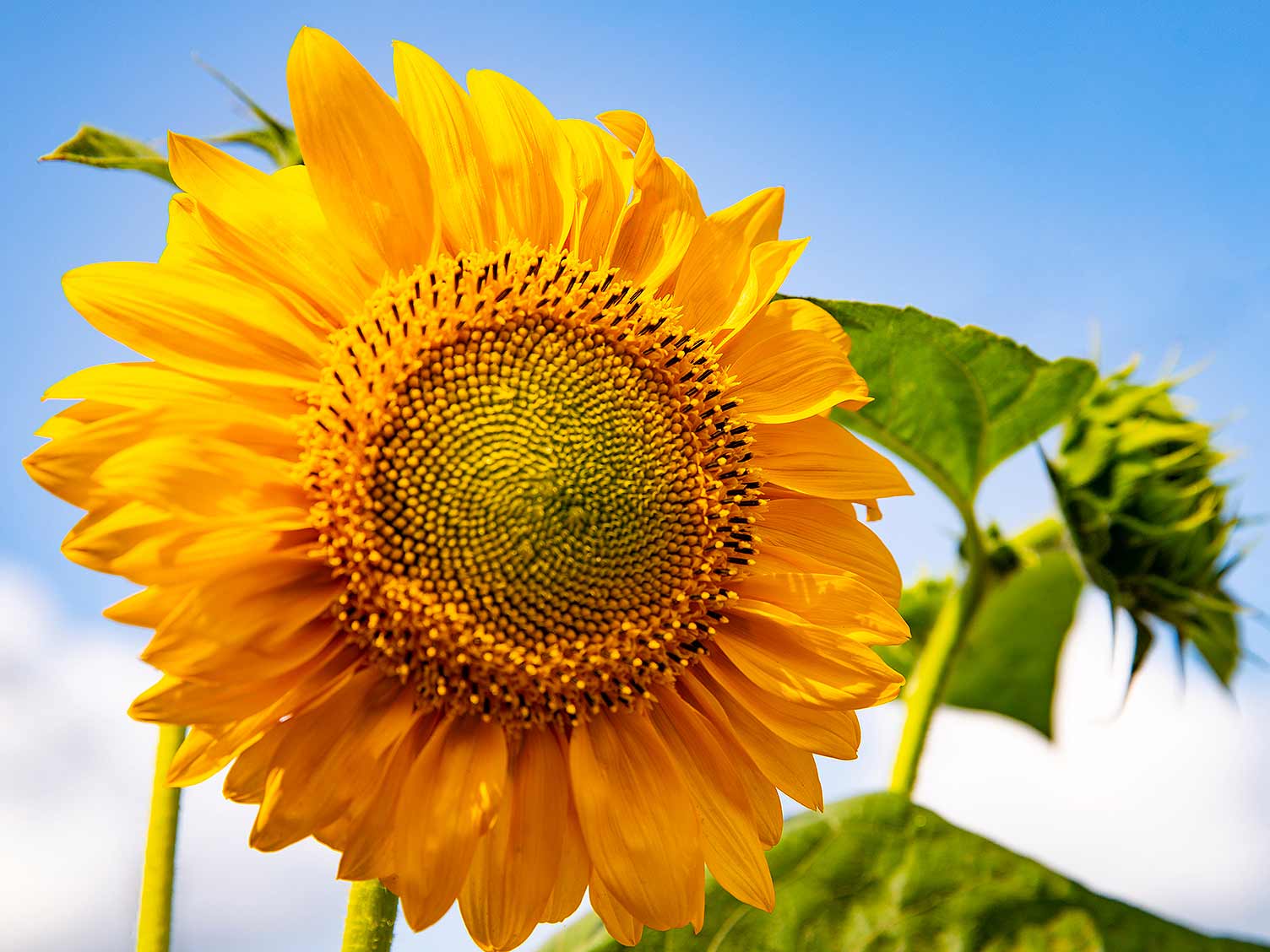 Sowing sunflowers
Annual sunflowers are easy to grow from seed – and because they grow so quickly, they're the perfect choice for young children – especially so they can try and grow a skyscraper of a plant!
Seeds of annual sunflowers are mainly sown from mid-April to the end of May, but they can be sown earlier if necessary for earlier flowering.
Sowing outdoors
Sunflower seeds can be sown straight into the soil where they are going to flower.
Sow the seeds 25cm (1in) deep, 10-15cm (4-6in) apart. When the first true leaves appear (the second set of leaves), thin out taller varieties to about 45cm (18in) apart, dwarf or medium-sized varieties to 30cm (1ft), leaving the strongest plants to grow on.
Sowing indoors
Sow 1 seed into a 7.5-10cm (3-4in) pot filled with seed sowing compost. Sunflower seeds germinate reliably and form large seedlings. Place the pot in a heated propagator to keep the compost and seedlings warm.
Plant outside in late May or early June when the last frosts are over.
Suggested planting locations and garden types
Flower borders and beds, patios, containers, cut flowers, city and courtyard gardens, cottage and informal gardens, wildlife gardens.
---
How to care for sunflowers
Sunflowers are fairly drought resistant, but they'll grow and flower better if you water regularly from the time the flowers begin to develop until they're mature. Apply a 7.5-10cm (3-4in) thick mulch or mulching material to conserve soil moisture and keep down weeds. They will also need plenty of food - feeding regularly throughout summer with a liquid feed when you water will help promote continuous flowering.
Supports
While dwarf or bushy sunflower varieties do not need any staking, it is a good idea to support plants that grow taller than 90cm (3ft) or are multi-branched/multi-headed. Their branches are fairly brittle, especially at the points where they join the stems, and the large flower heads make them vulnerable to wind and rain. Place a stout bamboo cane near the stem and loosely tie in the plant with soft garden twine or other similar material as needed.
| | |
| --- | --- |
| Flowering season(s) | Summer, Autumn |
| Foliage season(s) | Spring, Summer, Autumn |
| Sunlight | Full sun |
| Soil type | Chalky, Clay, Loamy, Sandy |
| Soil pH | Neutral |
| Soil moisture | Moist but well-drained |
| Ultimate height | Up to 5.4m (18ft) |
| Ultimate spread | Up to 90cm (3ft) |
| Time to ultimate height | 6 months |