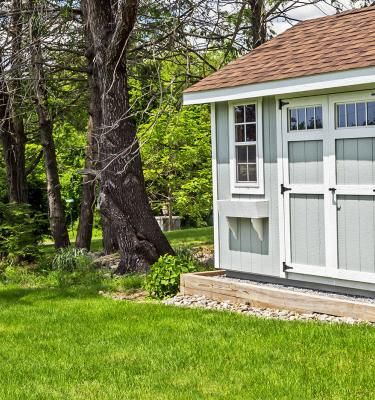 Do you want to make your shed the focal point of your garden? Then read on for a few tips and ideas on amazing garden sheds.
Of course, the most logical function for a shed is to house gardening equipment. What about the people who think a little 'outside the box'?! From looking at a fair few examples across the world, people are really utilising the idea of using the garden shed as an extra room or retreat area aside from the domestic home. Guesthouses, garden offices, playhouses and even a bathroom are just some of the ideas that have turned into a reality for some. There are plenty of ways in which you can be a little more creative or even original with your new or existing shed. Why not make a structure that is the talk of the town!
---
Make your shed the envy of your friends
There is plenty to consider when looking into designing your 'ultimate shed' and you can be as innovative as you like! There are a number of unique or even fashionable ways of turning your wooden structure from a regular looking shed into a classy, stylish or even a comically designed construct. Even if you still want to use your shed primarily for tools and storage but would like to transform the overall look, then you can still impress people with your design. Why not move away from the traditionally designed 'square shed' and transform your garden structure into a quirky wooden cabin similar to the one that you would find in a Swiss ski resort.
If you don't have much space in the garden but would still like to have a shed that turns heads, it can be done. If you are having trouble with space in your house and need a place to crash after a long day in the office, or even if you need a place to work away from the house, then why don't you turn your shed into your own little getaway.
Make your shed into a stylish extension of your house, with contemporary décor and furniture. Fancy a place to bring your friends around, play some pool and unwind with a few drinks? Turn your shed into your hangout spot. Move a television in and buy a sofa with some armchairs and make sure your shed is the first choice for movie night. Looking at turning one of your rooms into a home office? Why not turn your shed into your own headquarters, away from the house.
---
What to keep in mind when designing your 'ultimate shed'
You should be aware that if your design is particularly large or elaborate, then you may have to be granted planning permission for your structure. This may prove to be a big hurdle. Make sure that you are looking to begin building after correct legal clearance. Also, if you are looking to move any gadgets or equipment that will need mains electricity then you will need to find a route for cables to link up from your home to the shed. Pathways are a suggested route to link the house to the shed electrically. And of course, please be careful…! Security of such equipment should also be considered as your shed could be at risk with expensive equipment in the structure. You may need to ensure the security of your shed. Make the most of your garden and ensure your 'ultimate shed' is the focal point of your garden.