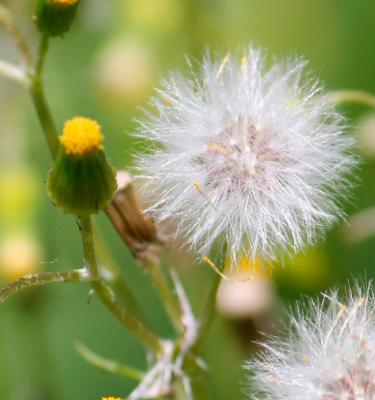 What is groundsel?
Groundsel (Senecio vulgaris) is an annual weed frequently found on wasteland, in fields and hedgerows, and in gardens. It grows and sets seed in just 5-6 weeks, producing several generations in one year, so can spread fast, taking over areas of bare soil. You'll likely see groundsel flowering throughout the year.
Its name effectively means 'ground swallower' due to its ability to grow in abundance whenever given the opportunity.
How to identify groundsel?
Groundsel is a bushy plant that grows to around 60cm (2ft) tall, with toothed green leaves and yellow flowers. Groundsel leaves are stalked low down the stem, but unstalked as you go further up the stem. The stems then branch to form clusters of yellow flower heads that appear to emerge from little tubes.
The flowers develop into fluffy, dandelion-like seedheads, each producing thousands of seeds that are dispersed by the wind.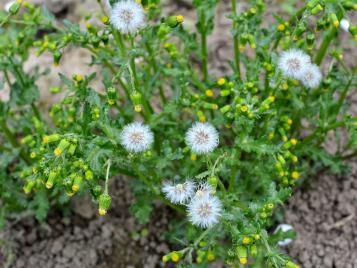 Groundsel damage
Groundsel spreads quickly through self-seeding, competing with other plants for nutrients and water. The plants often harbour rust fungus, which appears as orange pustules on the leaves and can spread to other plants.
Many birds and rabbits enjoy eating the leaves and seeds of groundsel, and it is also a good source of food for caterpillars of moths and butterflies.
Groundsel control
Groundsel is relatively easy to pull up by hand, so can generally be controlled by regular weeding, without the need for chemicals.
Getting rid of groundsel without chemicals
Hoe beds regularly to remove young groundsel seedlings. Do this on a hot, dry day, so that the cut-off seedlings will wither and die.
Pull up any larger plants by hand before they have a chance to set seed.
Don't put groundsel plants on a compost heap if they are in flower, as they can still set seed even after being pulled up.
Using weedkiller to get rid of groundsel
To clear groundsel from heavily infested beds and borders, use a contact weedkiller. Take care to avoid weedkiller drifting onto other plants and always follow the manufacturer's instructions.
How to prevent groundsel?
To avoid groundsel in your garden, make sure that you: