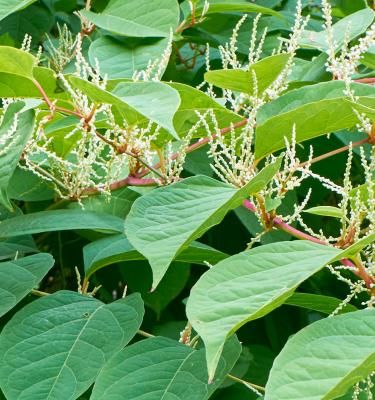 What is Japanese knotweed?
Japanese knotweed (Reynoutria japonica) spreads very quickly thanks to its strong underground roots called rhizomes, which send up dense clumps of stems every year. Because its distinctive bamboo-like shoots are strong enough to cause structural damage, Japanese knotweed hit the headlines in 2008 when developers had to take extreme measures to eradicate it before construction could begin on London's Olympic Park, burying the waste up to five metres deep in specially designed root membranes.
Sometimes called Chinese knotweed, this plant is native to Japan, Taiwan and northern China. Japanese knotweed was originally introduced as an ornamental plant because of its attractive heart-shaped leaves and white flowers. Now classified as an invasive species, it is notoriously difficult to kill Japanese knotweed because it can re-grow and spread when just a small piece of its root is left in the soil.
How to identify Japanese knotweed
What does Japanese knotweed look like?
Spring: look out for purple speckled hollow shoots pushing up through the ground, with regular joints a bit like bamboo.
Early summer: shoots reach heights of up to 2.5m and send out finer zig-zag leaf stems.
Japanese knotweed leaf: broad, up to 15 cm long with a flat base and distinct tip.
Late summer:  Japanese knotweed flowers appear. They are creamy white and feathery.
Autumn: tall stems turn brown and form a dense clump.
Winter: Japanese knotweed doesn't grow in winter but the fresh shoots appear at the base of the clump in spring.
Japanese knotweed roots (rhizomes) are dark brown with short white shoots and are bright orange inside.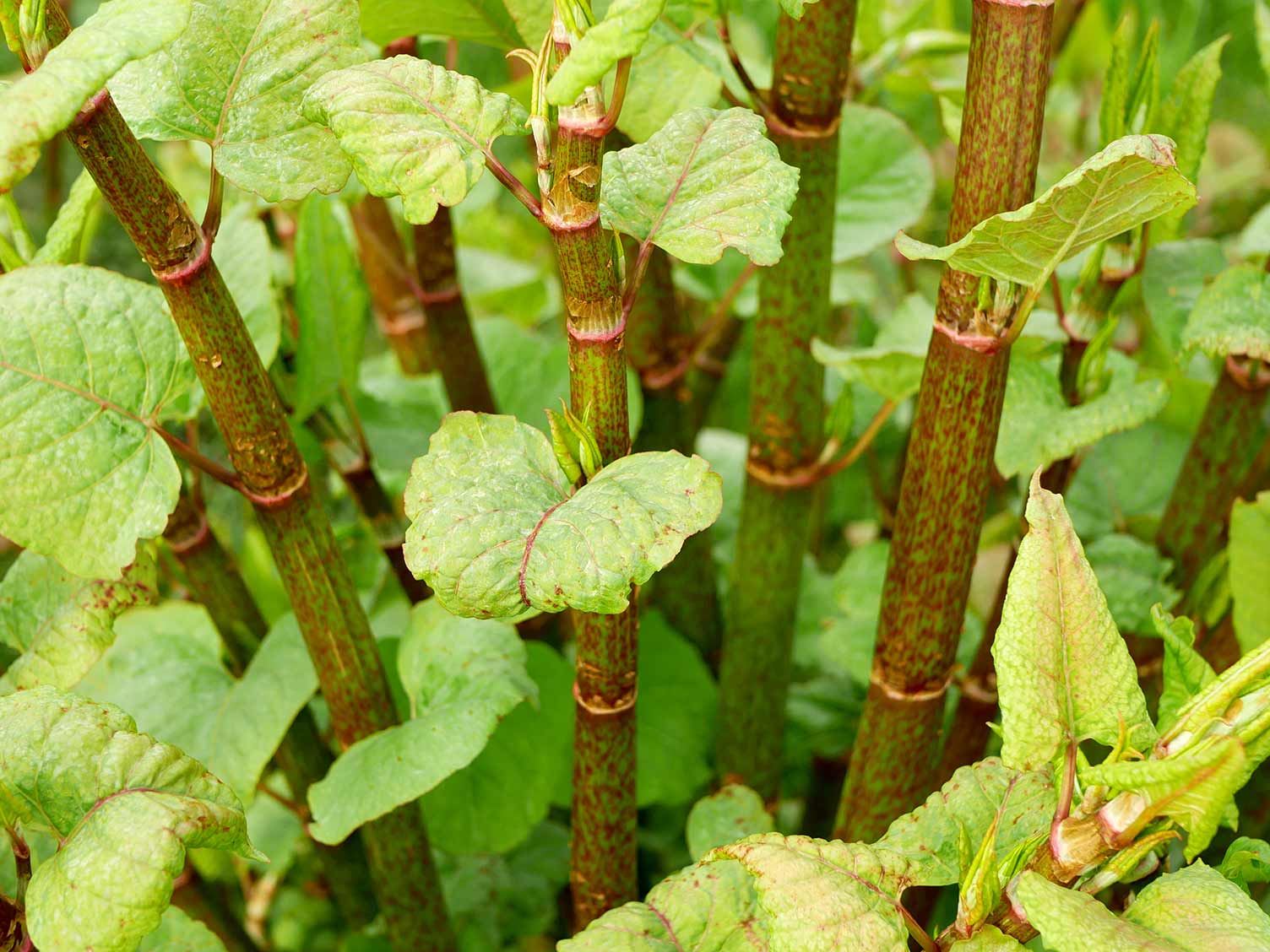 Japanese knotweed damage
Why is Japanese knotweed bad?
Japanese knotweed roots and shoots are so strong they can grow through concrete and asphalt, causing damage to walls and underground drainage systems. They can even bring down the value of a house. The clumps which develop once the plant becomes established are very unsightly, even when the upper shoots are cut off. If you sell your house you must tell the buyer if there is Japanese knotweed at the property.
You don't have to remove Japanese knotweed from your land, but under UK law you could be prosecuted or given a community protection notice for causing a nuisance if you allow it to spread onto someone else's property. If you allow soil or plant material contaminated with Japanese knotweed to spread into the wild you could be fined up to £5,000 or sent to prison for up to two years.
Japanese knotweed control
So, how do you get rid of Japanese knotweed? Getting rid of Japanese knotweed permanently is very difficult. Cut down all top growth every year and check with the Environment Agency before disposing of it. Visit the GOV.UK website to read about the dos and don'ts of getting rid of Japanese knotweed waste.
After cutting back the Japanese knotweed stems you can drop into its hollow stems a weedkiller containing glyphosate using the pipette supplied with the product. It usually takes three years of treating Japanese knotweed before the underground rhizomes become dormant. Because Japanese knotweed is such a tough plant this is unlikely to kill it but will slow down its progress.
How to prevent Japanese knotweed
Introduce top soil into your garden only where it is carefully sourced from a reputable supplier.
If you are digging them out, try not to leave any fragment of Japanese Knotweed roots in the ground.  The plant can quickly regenerate from a tiny piece of root material left behind.