How to grow and care for Geums
Pretty and delicate, Geums provide colour throughout the summer. These perennials, also known as 'avens', look charming in an informal border, where their beautifully disordered display provides vibrancy and warmth. Geums are frost tolerant, happy in a range of soil types, and are much-loved by bees.
Types of Geums to grow
The foliage is bright green, sometimes tending to lime, reaching about 50cm (20") tall, with wiry stalks and dainty bright Geum flowers bobbing amongst it all. There are many to choose from, but these particular Geums are our favourites:
Geum 'Blazing Sunset'. Intense red double flowers.
Geum 'Mrs J Bradshaw' Deep red, ruffled flowers reaching 60cm.
Geum chilonese spp. A slightly taller variety growing to 60cm (2') tall, with attractively textured leaves.
Geum coccineum spp. Fiery red-orange flowers which keep on going all summer long. 'Koi' is a particularly beautiful cultivar.
Geum 'Cosmopolitan'. Light pink petals with dark pink edging.
Geum 'Flames Of Passion'. A relatively short flowering season, but worth it for the contrast of red blooms, yellow anthers, bright green leaves and purple stems.
Geum 'Lady Stratheden'. Cheerful yellow flowers.
Geum 'Mai Tai'. Peachy coloured flowers.
Geum rivale spp. Will tolerate full sun and drier conditions better than others. Slightly furry foliage and flowers that are bell shaped.
Geum 'Prinses Juliana'. Flowering earlier in the summer, this cultivar has bright orange flowers.
Geum 'Scarlet Tempest'. Deep orange-red coloured flowers.
Geum 'Totally tangerine'. Lively orange flowers which will provide colour right up until the early frosts of autumn. This cultivar can reach a much larger height of 90cm (3')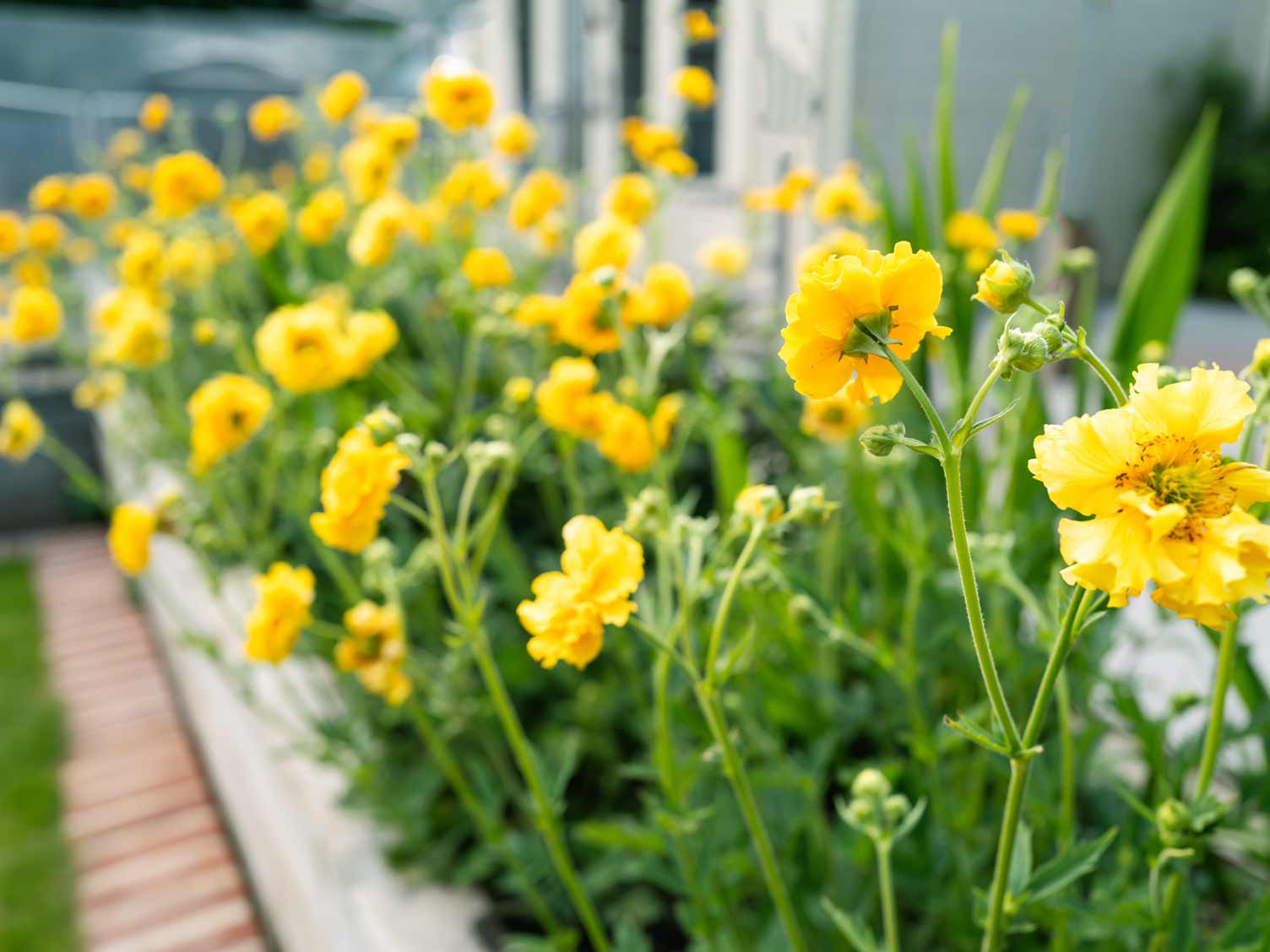 What you'll need to grow Geums
Geums are best grown in the ground rather than in containers. Dig in lots of well-rotted organic matter before planting out, such as farmyard manure. Most Geums prefer moisture, and adding organic matter will help to retain the right amount of moisture around the roots of the plant.
For the best range of cultivars, buy a plant from a reputable horticultural retailer. Geums can also be propagated by division. Dig up a Geum in the spring, and using a sharp spade, break the clump into smaller sections. Replant and water regularly until established.
Alternatively, collect seeds when flower heads have died off in the autumn, and re-sow these in early spring. Use a seed compost, such as Levington® John Innes Seed Compost.
Where to plant and place your Geums
Geums can be found in most parts of the world's habitable continents, and are suited to any temperate environment. Some are more tolerant of extreme conditions, such as Geum rivale spp., which will tolerate full sun as well as more shade better than some species.
As Geums usually only reach about 50cm high, they can be enjoyed the most when positioned towards the front of a border. Right at the very front might expose them to too much sun however, so if planting in a south-facing border, place another low growing plant in front to soften the effects of the summer sun.
Caring and nurturing your Geums
Most Geums prefer a little shade, and too much direct sunlight can scorch the leaves. Make sure that the soil is moisture retentive, but not sodden. Dig in plenty of organic material to help the roots to access moisture. Do not over water, but also do not allow to dry out completely.
They are tolerant of frosts and dry weather, and similarly tolerant of different soil types, whether acidic or alkaline.
Deadhead after flowering, and cut back to ground level from late autumn or at any time during the winter.
Divide every three years in the spring, to keep Geums young and fresh. They spread through rhizomes, so simply dig some up during the growing season, and replant elsewhere. They will also self-seed, so don't be surprised to see more plants popping up nearby!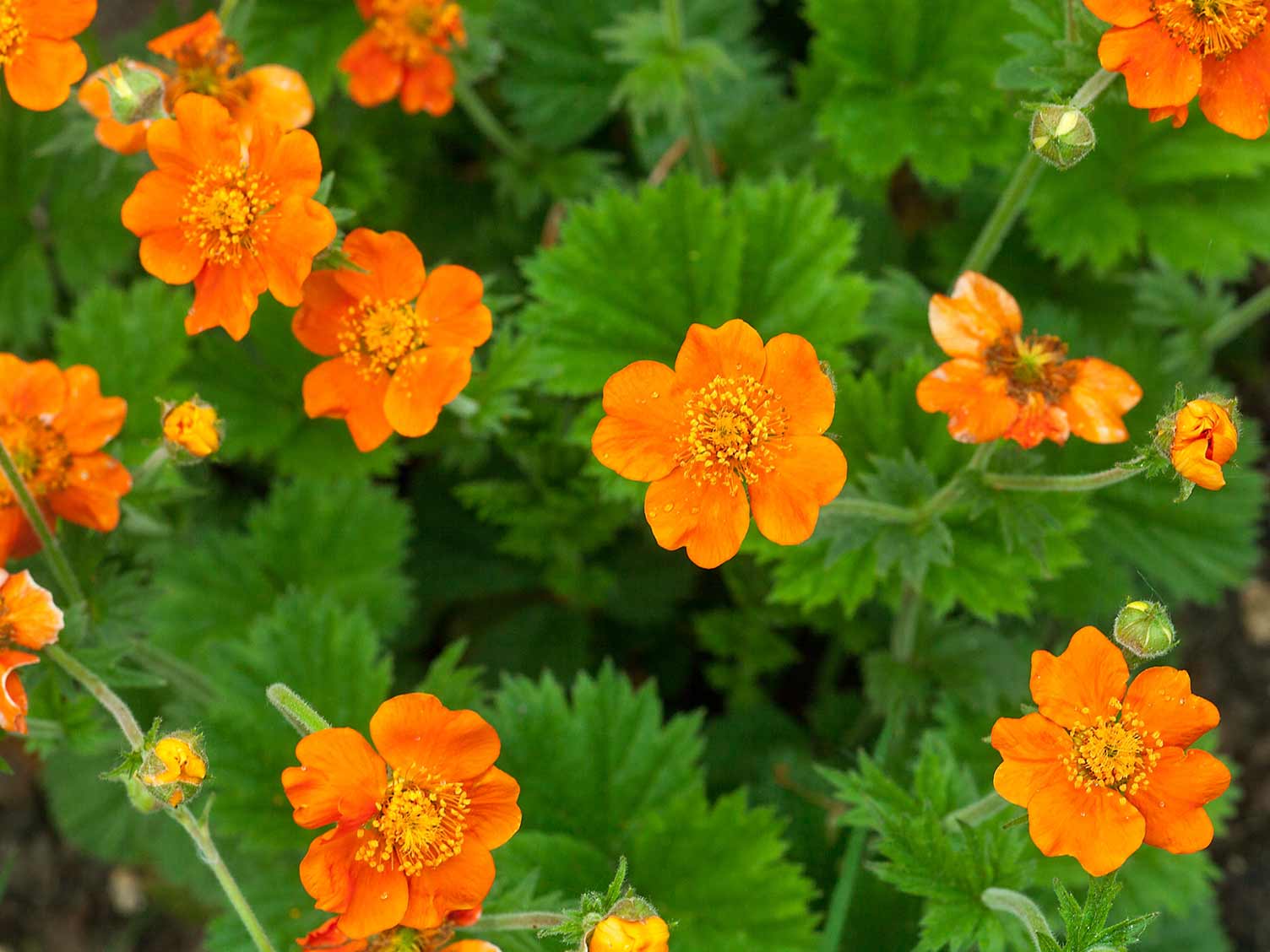 Key features of Geums
| | |
| --- | --- |
| Botanical Name | Geum |
| Plant Type | Herbaceous perennial |
| Family | Rosaceae |
| Light Exposure | Partial shade |
| Soil pH | Alkaline, Neutral to Acidic |
| Flowering Time | May to October |
| Flower Colour | Orange, pink, red, or yellow |
Frequently asked questions about Geums
Can you plant geums in pots?
Yes, Geums can be grown in pots, however they look best when planted as part of a border where they can spread into an informal mass of colour.
Is Geum a geranium?
No, Geums and Geraniums are not closely related.
Do Geums flower all year around?
No, Geums will flower throughout the summer, and will keep flowering if they are deadheaded regularly.
When should I divide my Geum?
This is best done in the spring, although it can also be done in the autumn if it's more convenient.
Common pests and diseases with Geums
Geums are largely free of pests and diseases. One pest to be vigilant of are Geum sawflies. They eat the foliage of Geums, shredding the greenery and causing extensive damage. A bad attack can be hard for a plant to recover from, so monitor from spring onwards and remove any sawfly larvae by hand, and destroy. Encourage natural predators into the garden, such as birds, which will usually find them before you do!
If grown in pots, then like all container grown plants, Geums can be attacked by vine weevil. This nuisance pest presents a double whammy: the baby larvae chew the roots of a plant, and the mature adult will nibble the leaves. Vine weevils are very difficult to get rid of – the best treatment is to remove the Geum from its pot and pick off and destroy any vine weevil larvae or beetles. When buying a new plant, stand it in a bath of water for 24 hours to flood out any of these unwanted pests. Badly infested plants should be destroyed, including complete removal of the compost.