How to grow and care for Helenium
Bearing bold flowers in orange, red and yellow, Heleniums are a bright and cheerful addition to the garden border. This plant thrives in full sun and looks great mixed with other warmly coloured flowers. There are hundreds of types of Heleniums, so we'll pick out the best of these and show you how to grow them.
Types of Helenium to grow
Heleniums are related to sunflowers, and it's easy to see the resemblance. Erect stems, and a showy disk-shaped flower with flattened petals, make this a similarly impressive plant.
There are so many varieties of Helenium plants to choose from, but we particularly like:
Helenium amarum, also known as yellowdicks. An annual yellow-flowered variety, the bushy, short size of this one makes it great towards the front of a border.
Helenium autumnale. Very popular in British gardens, this perennial produces a thicket of bright yellow flowers. This variety likes a lot of moisture, so water more frequently than other Helenium.
Helenium 'Coppelia'. A perennial with large, 8cm (3") wide, dark orange flowers.
Helenium 'Mardi gras'. A perennial with multi-coloured flowers which combine shades of brown, orange, red and yellow.
Helenium 'Moerheim Beauty'. A perennial with crimson red flowers.
Helenium 'Peach sundae'. A short perennial variety reaching just 50cm (20") tall. The marigold type flowers are great for attracting bees and butterflies.
Helenium 'Pipsqueak'. A dwarf perennial with loose dark yellow petals and a large brown centre.
Helenium 'Red jewel'. A perennial variety which produces thick clumps of green foliage. Brown-red flowers with flecks of orange and yellow.
Helenium 'Riverton beauty'. A perennial variety with yellow petals that are reddish on the undersides.
Helenium 'Wyndley'. A variety which grows to just 90cm (3'). This perennial has yellow petals with a slightly darker centre.
Hymenoxys hoopesii is sometimes labelled as Helenium hoopesii, but is not a true species of Helenium.
What you'll need to grow Helenium
Most Heleniums are easy to grow perennials, coming back year after year. They are best planted out in May or June, when you will need:
A sharp spade.
A garden fork.
Compost.
Pots (if growing on before transplanting to their final position).
Perennial Heleniums can be bought from most garden retailers as plug plants or as more mature specimens. They can also be propagated from existing plants:
Use a garden fork to dig out a clump of Helenium, and then a sharp spade to split it into smaller pieces. Do this dividing in March, April or October.
Either plant straight out, following steps 3-4 below, or place in a pot temporarily to grow on, until you are ready to plant it out the following year.
Use the spade to dig a hole twice the diameter of the Helenium root ball, and slightly deeper.
Add a generous amount of Essentials Multi Purpose Compost to the bottom of the hole.
Place the rootball in the hole so that the top of it is just below the soil surface. Backfill the hole, and add more compost if needed to ensure good contact between the roots and the soil.
Water well until established.
Annual Heleniums are also easy to grow from seed. Either purchase seeds or collect them from older flowers at the end of the growing season:
Sow on the surface of a pot of Levington® John Innes Seed Compost, uncovered, and water lightly until they germinate, which will take about two weeks.
Transplant seedlings to a pot of compost and allow to grow on, before planting out as above, in May or June.
Annuals can also self-seed, so don't be surprised to see little seedlings popping up nearby the next year!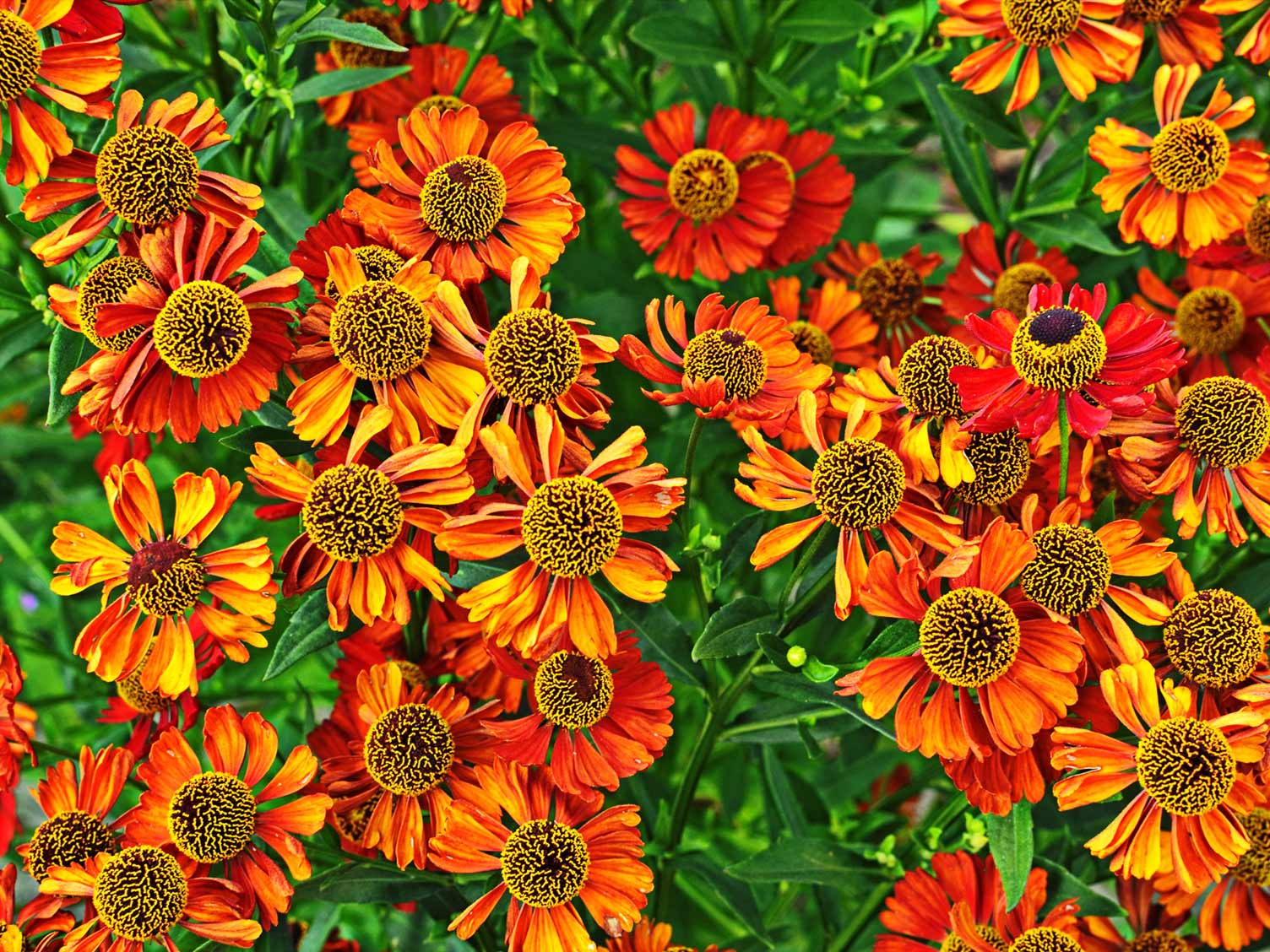 Where to plant and place your Helenium
Heleniums come from the hotter areas of the Americas and need the same warm and dry conditions. Protect from wind by planting in a sheltered position and add stakes to taller varieties.
Some species can grow to 2m (6') tall, so are great at the back of an informal border. They look good with other warmly coloured plants, such as Echinacea and Kniphofia. They are also fantastic for attracting pollinators, so try to choose other plants which will complement them in creating a wildlife paradise.
Heleniums need well drained soil, and will not enjoy heavy, clay soil. If this is the type of soil you have, add Miracle-Gro® Peat Free Premium Border Booster Soil Improver to make conditions more suitable.
Caring and nurturing your Helenium
Heleniums prefer full sun, but will tolerate a small amount of shade. They like warmth but are hardy and will tolerate frost.
Water new bulbs until they are well established, but mature plants will tolerate drought well. Make sure they have access to moisture retentive but well drained soil, adding compost if needed to improve conditions.
Feed annually in the spring, by sprinkling Levington® Growmore Multi Purpose Plant Food around the base of the plant.
Deadhead Heleniums by cutting the Helenium flower stalks as far down as the foliage, from July through to September. You can also cut some new blooms to use as freshly cut flowers in the home.
Cut the entire plant back to ground level in November.
Key features of Helenium
Botanical Name: Helenium< spp.
Common Name: Sneezeweed.
Plant Type: Herbaceous perennial or annual.
Light Exposure: Full sun.
Soil pH: Neutral to slightly acidic.
Flowering Time: Just to September.
Flower Colour: Orange, red or yellow.
Native Area: The Americas.
Frequently asked questions about Helenium
The leaves of Helenium were once used to make snuff, which was inhaled to cause sneezing and allegedly rid the body of evil spirits! The nickname has stuck even if the practice has not.
How long does it take Heleniums to bloom?
Heleniums will flower in the same year that the bulbs are planted. They are quick growers and will soon provide a flush of colour to your border.
How tall do Heleniums get?
Depending on the variety, some can reach up to 2m tall (6').
What does Helenium symbolise?
Helenium are named after Helen of Troy and are said to symbolise tenderness and tears.
What is the difference between Echinacea and Helenium?
They are distantly related, being in the same tribe of plants, and have lots in common. Echinacea tend to be slightly shorter, although some varieties of Helenium are small too. Echinaceas are also available in a wider variety of colours, most commonly pink.
Common pests and diseases with Helenium
Helenium are largely trouble free, just occasionally suffering from leaf spot.
This looks unattractive and can limit the vigour of a plant. To get rid of any leaf spot on your Heleniums, simply remove and destroy any affected material.