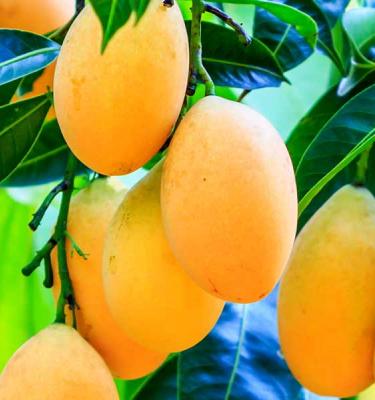 How to grow mango trees
Everyone loves mangoes, but did you know that you can grow a mango tree from a seed? The mango tree (Mangifera indica) comes from Southern Asia and although it's unlikely to produce fruit in our cooler climate, it makes a lovely foliage plant for a conservatory or greenhouse. Why not try growing your own mango tree?
Types of mango tree to grow
There are many different varieties of mango tree, each bearing fruit with a unique flavour and texture. Here are some of the most common mango varieties:
Mango 'Alphonso' is an exceptionally popular Indian mango variety with golden-green fruits and a superb mild, sweet flavour.
Mango 'Kesar' is said to be one of the sweetest mango varieties available, with delicious smooth fibre-free orange flesh.
Mango 'Honey' (previously called Mango 'Ataulfo') produces fruits with a distinctive sweet and sour flavour. The skins are bright yellow, turning golden yellow when ripe. The yellow flesh is firm with no fibres, and the seed is very small.
Mango 'Francis' produces green-tinged yellow fruits that turn golden-yellow when ripe. The fibrous flesh is soft and juicy with a sweet, fruity flavour.
Mango 'Haden' is a popular variety with firm, fine-fibred flesh. The flavour is sweet and sour with a faintly bitter aftertaste of tropical fruit. 'Haden' mangoes have red skins with green and yellow overtones, turning yellower when ripe.
Mango 'Kent' produces juicy fruit with few fibres and a sweet flavour with hints of sour. This variety is great for juicing and drying. The fruits have dark green skins with a red blush, developing yellow overtones as they ripen.
What you'll need to grow a mango tree
Mango trees can be grown successfully in the UK in a conservatory or greenhouse, provided they're given plenty of warmth, sunshine and protection from frosts. Here's what you will need to grow a mango tree in the UK:
Mango trees are best grown in pots, so that they can be moved indoors in winter, using a very free-draining compost such as cactus compost.
Mango trees need a warm environment with a temperature ideally above 21°C (70°F) and a minimum temperature of 4°C (40°F).
Mango trees ideally need 8 hours of sunlight per day to produce flowers and fruit. Place pot-grown mango trees outside in summer if possible, to give them sufficient sunlight.
Mango trees like a humid environment, so when growing a mango tree indoors, mist the tree regularly to raise the humidity level around the plant. Surrounding your mango tree with other indoor plants will help to create a microclimate with raised humidity.
Where to plant and place your mango tree
Mango trees are native to tropical southern Asia, so in the UK they are best grown in a conservatory or greenhouse. They can be germinated from seed and grown in pots. Mango trees have long tap roots, so choose a pot at least 45cm (18") deep to accommodate the roots.
How to grow a mango tree from a seed
You will need:
Remove the mango flesh to expose the pit (seed) at the centre of the fruit. Leave this pit out to dry for 3-4 days.
Look for an indentation at the top of the pit, and insert the point of the knife into this, peeling back the outer rind to expose the seed inside.
Place the large seed approximately 2cm (1in) deep in the container filled with cactus compost.
Water the pot and place it in a warm spot at a temperature of around 21°C (70°F). It should take 1-2 weeks to germinate.
Nurturing and caring for your mango tree
As your mango seedling grows, pot it on into larger pots filled with a free-draining compost such as cactus compost.
Keep the temperature around your mango tree at 21°C (70°F), with a minimum temperature of 4°C (40°F). Mist indoor trees regularly. Feed pot-grown mango trees once a month with a liquid feed in the growing season and water when the top few inches of compost in the pot has dried out.
Repot your mango tree every few years if it becomes root-bound. Remove it from its pot and place it in a larger pot, making sure the trunk of the tree is at the same depth in the new pot. Fill around the rootball with fresh potting compost and water well.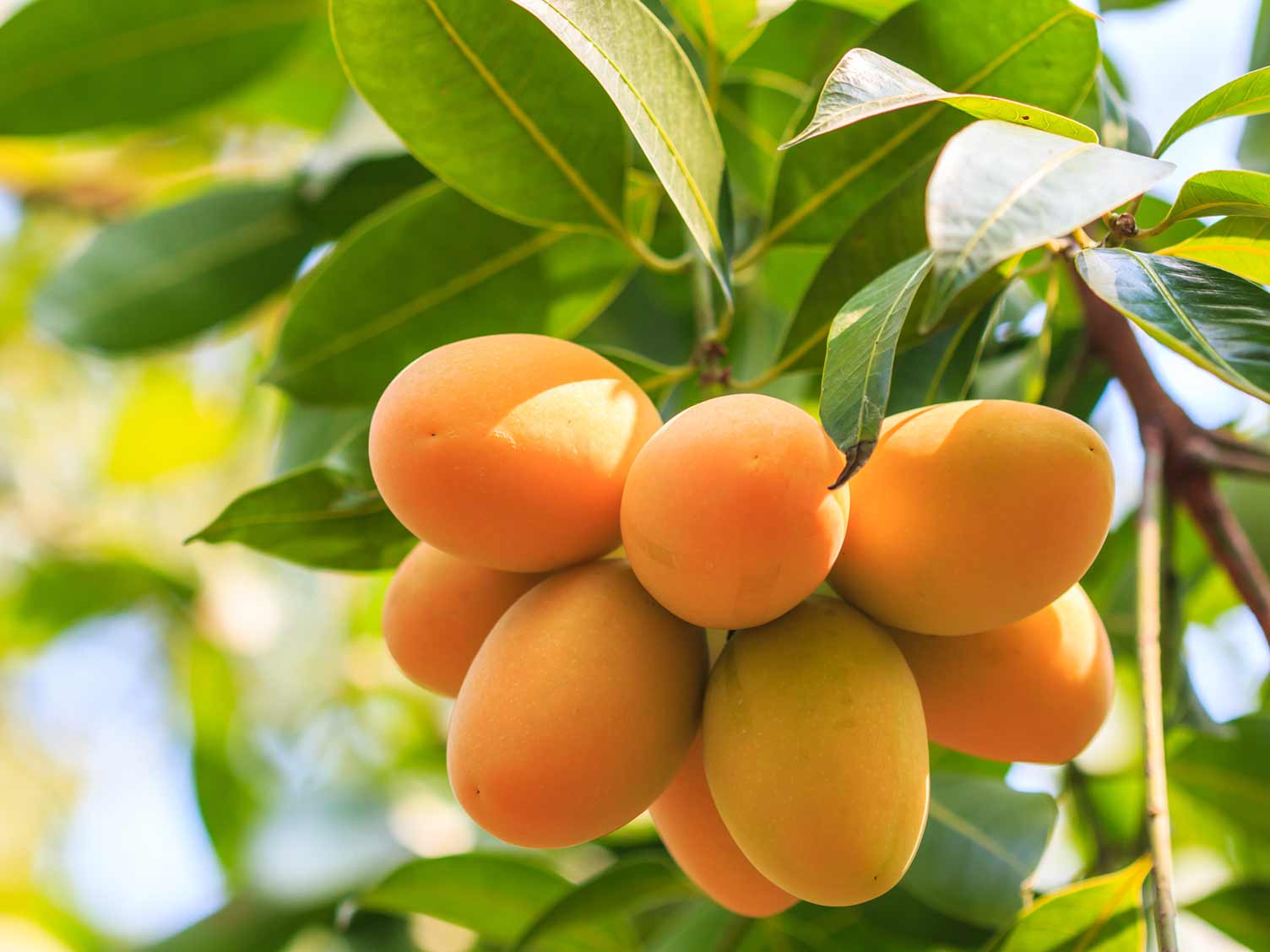 How to prune a mango tree
You should prune mature mango trees in late summer. Remove any dead or crossing branches, and thin the canopy as necessary to allow air and sunlight to reach the remaining branches.
How to take mango cuttings
You can propagate a mango tree from cuttings taken in summer.
Cut a 15-20cm (6-8in) length from a young, healthy stem. Remove all leaves from the lower half of the cutting.
Dip the cut end into rooting hormone powder.
Fill a small container with cactus compost.
Insert the cut end of the cutting into the compost mix.
Water the compost and place the pot in a warm, humid environment in bright but indirect light. If possible, place the pot on a heat mat at a temperature of 24-29°C (75-85°F) to encourage root growth.
Keep the compost moist. It can take 7-8 weeks for roots to develop.
Once the roots are sufficiently developed, repot the plant into a larger container.
Common pests and diseases with mango trees
How do I get rid of aphids on my mango tree?
Aphids are small green or black insects that suck the sap of young shoots. Blast them off with a strong water jet or use an insecticide spray.
How do I get rid of mealybugs on my mango tree?
Mealybugs are small white fluffy-looking insects that suck sap and over time can weaken a plant. To get rid of them, use an insecticide spray such as BugClear Ultra 2.
How do I control anthracnose?
Anthracnose is a fungal disease that causes black blotches on leaves. Remove any infected leaves promptly and ensure the plant has sufficient sunlight and water, as stressed plants are less likely to recover.
Frequently asked questions about mango trees
Can you grow a mango tree in the UK?
Yes, although they are unlikely to produce fruit. In the UK mango trees are best grown in a conservatory or greenhouse.
How long does it take to grow a mango tree?
It takes between 5-8 years to grow a mango tree from seed.
Can you grow a mango in a pot?
Yes, mango trees grow well in pots and can be pruned to keep them to the required size.
Do you need two mango trees to produce fruit?
Mangoes are self-fertile so you don't need two mango trees to produce fruit.
Key features of mango tree
| | |
| --- | --- |
| Botanical Name | Mangifera indica |
| Family Name | Anacardiaceae |
| Plant Type | Tree |
| Size | Up to 30m (100ft) x 10m (35ft) |
| Light Exposure | Full sun |
| Soil Type | Free-draining |
| Soil pH | Acid, alkaline or neutral |
| Flowering Time | Winter |
| Toxicity | Stems, leaves and fruit skins contain sap that can cause skin irritation and blisters. Mango wood smoke is highly irritant. |