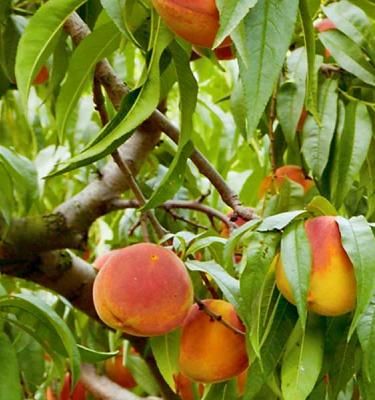 How to grow peach trees
What better way to round off a summer meal than with a luscious peach? Even better, a peach you've grown yourself? But can you grow peaches in the UK? With a sheltered sunny location and careful nurturing, you can grow peaches in the UK. Prunus persica originates from China and in the age of the grand country house was extensively grown in specially designed glasshouses. Follow this guide to learn how to grow peaches in your garden at home.
Types of peach trees to grow
Here is a selection of widely available peach trees to grow in your garden, including some smaller trees suitable for growing in containers. Most of the peach plant varieties listed have pretty pink blossom in spring. We've highlighted where the flowers are a slightly different shade.
'Peregrine': has red tinted skin and white flesh. It is said to be one of the most reliable varieties for a generous crop of fruit ready to harvest in August.  
'Avalon Pride': is said to be strongly resistant to the most common problem when growing peaches, leaf curl disease. It ripens from early August with yellow flesh that parts from the stone relatively easily.
'Duke of York': an early variety ready to harvest from early summer, the fruits have red skins and sweet white flesh.
'Saturne': grow this 'doughnut' peach for something a little different. Children love the flat fruits with extremely sweet white flesh.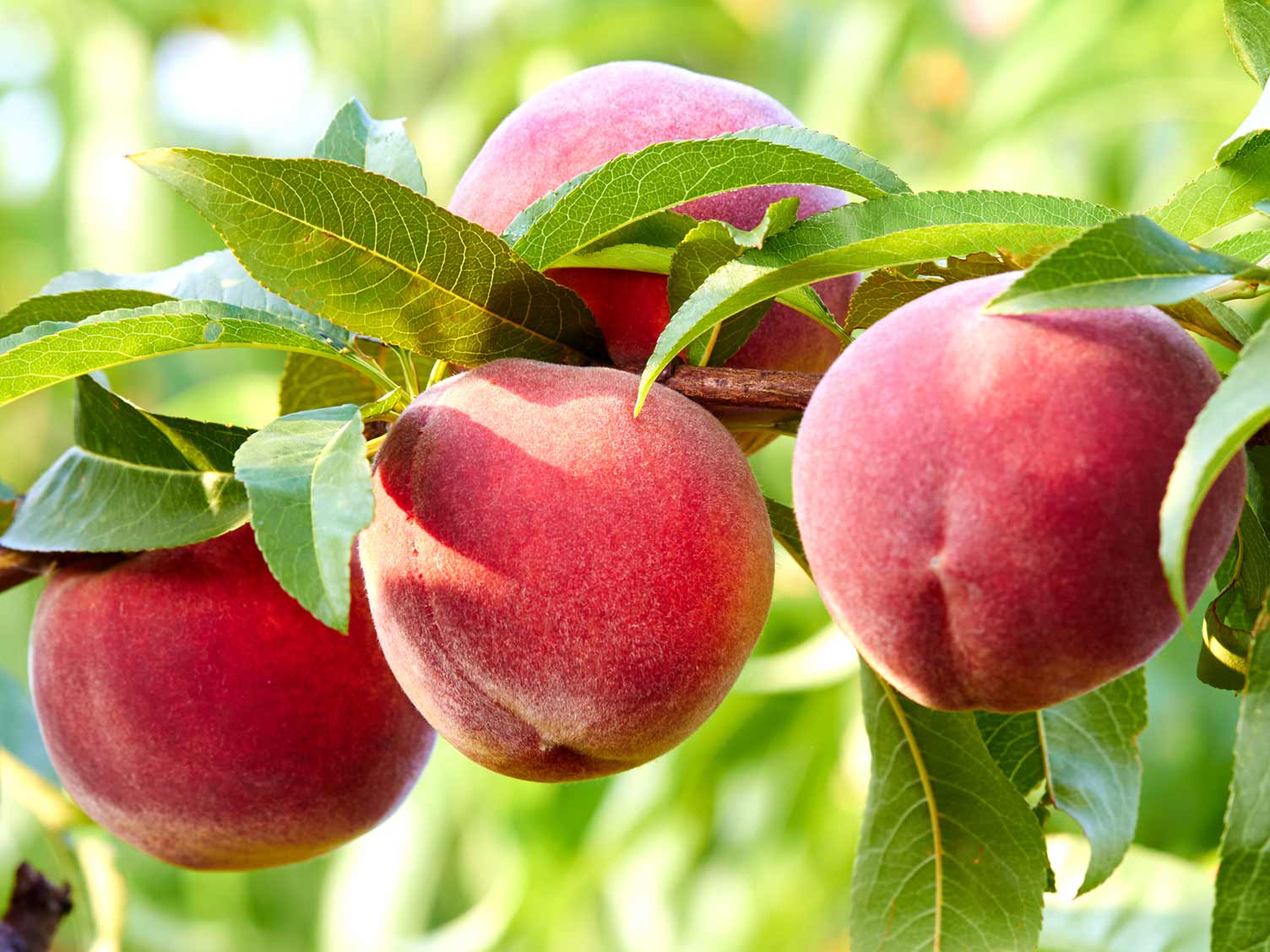 These compact and slow growing varieties have been bred to grow in containers:
'Bonanza': crops in late summer with large red and yellow skinned fruits with yellow flesh.
Sibley's Patio Peach 'Melred': the sweet yellow flesh parts easily from the stone. Magenta red flowers.
'Garden Lady': a later fruiting variety with yellow and red skins and yellow flesh.
What you'll need to grow peach trees
Peaches do best grown in well-drained, fertile soil. If you have heavy clay, you may find they grow best in a large container, such as the variety 'Bonanza' - but you can improve drainage by adding mulch every year. You can enrich all soils by adding well-rotted manure.
To grow peaches in a container you will need:
a container with a diameter of at least 30cm.
pea gravel at the base of the pot for drainage and stability.
Where a peach tree is planted against a wall or fence, provide support with horizontal strands of strainer wire at 15cm intervals, attached to the vertical support with metal vine-eyes. Train the branches of the peach onto bamboo canes arranged on the wires in a fan shape. Training peach trees this way encourages more fruit for minimum space and allows more sun and heat to get to the fruits.
To take care of a peach tree, ideally you need to provide protection at several stages of growth with:
Polythene sheeting shelter: in winter this protects the tree from peach leaf curl.
Horticultural fleece: in early spring this protects the delicate blossom from frost. Remove it during the day for any early pollinating insects to reach the flowers.
Strong netting: from April through to harvesting because birds love to eat the peaches off the tree.
Peaches often flower before many pollinating insects emerge. A small paint brush can be used to pollinate the peach flowers by hand. Just dab each flower with the brush at around midday every day during the flowering season.
Where to plant and place your peach trees
Peaches grow best fan-trained (see above) against a sunny, sheltered south or south-west facing wall or fence. Peach trees are often sold bare-rooted and should be planted between November and March about 15-20cm from the wall, at a slight angle towards the wall. If planting more than one peach, space them at least 3.5m to 4m apart.
In a sheltered location, peaches can also be grown as a free-standing shrub.
Caring and nurturing your peach trees
Follow these care tips for growing successful crops of peaches:
Peaches prefer warm conditions in a sunny spot and protection from frost: see above.
In late winter feed peach trees with a continuous release feed followed by a mulch of well-rotted manure. For peaches grown in containers, apply a liquid feed high in potassium such as tomato food every two weeks during the growing season.
Keep the ground moist throughout the growing season and water peach trees generously during hot sunny weather as the soil near a wall can quickly dry out. Make sure peach trees in containers don't dry out.
Thin out any badly placed or misshapen fruits from the growing clusters to allow the remaining fruits space to develop. This should be done when the fruits are about 1cm wide. Aim to leave about 15cm between each peach.
The fruits are ready to harvest when their skins have coloured up and the flesh around the stalk yields slightly. Cup your hand around the peach and remove it from the tree by giving a slight twist. Peaches do not store well and are best eaten when freshly picked.
Prune peach trees immediately after harvesting. Because peaches flower on one year-old growth, remove as much old growth as possible. Cut back stems which have fruited to a new shoot, and tie in the new growth to the support to replace the old growth.
Re-pot container grown peach trees approximately every three years.
After the first year, never prune peach trees in the winter, as this can lead to disease.
Peaches tend to be self-fertile, so you should harvest enough fruit even with one plant.
Common pests and diseases with peach trees
What is peach leaf curl?
Peach leaf curl happens in spring when new leaves blister and turn bright red or purple followed by a white layer of spore. The leaves then drop. The disease is caused by a fungus carried by wind and rain which overwinters in the bark and bud scales.
To control it, remove infected leaves before the spore layer forms. Encourage the growth of replacement leaves by feeding and watering the tree. Fan trained trees can be protected from mid-winter to late spring with a temporary open-sided shelter made from polythene sheeting.
Can aphids attack my peach trees?
Aphids can attack peach trees, with the leaves becoming wrinkled and turning a yellowish-green in late spring/early summer. It's caused by a couple of species of aphid (both green and black). You can control it by spraying from mid-spring with a plant oil pesticide.
Frequently asked questions about peach trees
Do you need two peach trees to produce fruit?
No, Peach trees are self-fertile. But you may need to hand pollinate your fruit tree (see above) as the tree can come into blossom before the emergence of pollinating insects.
How big do peach trees get?
The average height of a mature peach tree is between 2.5m and 4 metres.
What is the lifespan of a peach tree?
Peach trees live for an average of 12 years.
Where do peach trees grow best?
Peach trees grow best in full sun, fan-trained against a south or south-west facing wall or fence.
Key features of peach trees
| | |
| --- | --- |
| Botanical Name | Prunus persica |
| Plant Type | Deciduous fruit tree |
| Family | Rosaceae |
| Light Exposure | Full sun |
| Soil pH | All soil types: acid, neutral, alkaline |
| Flowering Time | March |
| Flower Colour | Pink |
| Native Area | China |