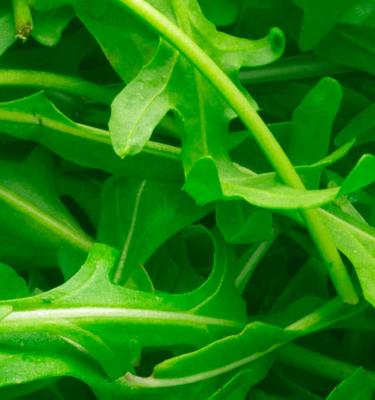 How to grow and care for salad rocket
Salad rocket, like its name, is a fast-growing salad leaf, perfect for adding a peppery spiciness to your salads. It will give a crop for most of the year, and if allowed to, will seed freely providing new plants for the next season too. This is a tough plant that needs little care, and a great way to easily grow some healthy food. Here we run through how to grow rocket and offer some handy rocket growing tips.
Types of salad rocket to grow
Salad rocket (Eruca vesicaria) is also known as 'Arugula' in many other parts of the world but is slightly different from Wild rocket. It is, however, grown and harvested in the same way.
The main difference is that salad rocket is an annual, with creamy-white flowers and softer leaves, and wild rocket is a perennial, has yellow flowers and a much spicier flavour.
Salad rocket is rich in potassium, vitamins A, B C and K. The leaves are the most commonly eaten part of the plant but you can also eat rocket flowers. Younger leaves and flowers are best eaten fresh, whereas older parts of the plant are better blanched or popped in a stir fry.
Varieties of salad rocket:
'Sky Rocket' - a very fast grower, providing a crop quickly
'Letizia' - slow to flower and set seed, giving a longer growing season than many others
'Esmee' - very attractive lobed leaves, looks lovely in pots
'Wasabi' - a wild rocket variety with a particularly peppery flavour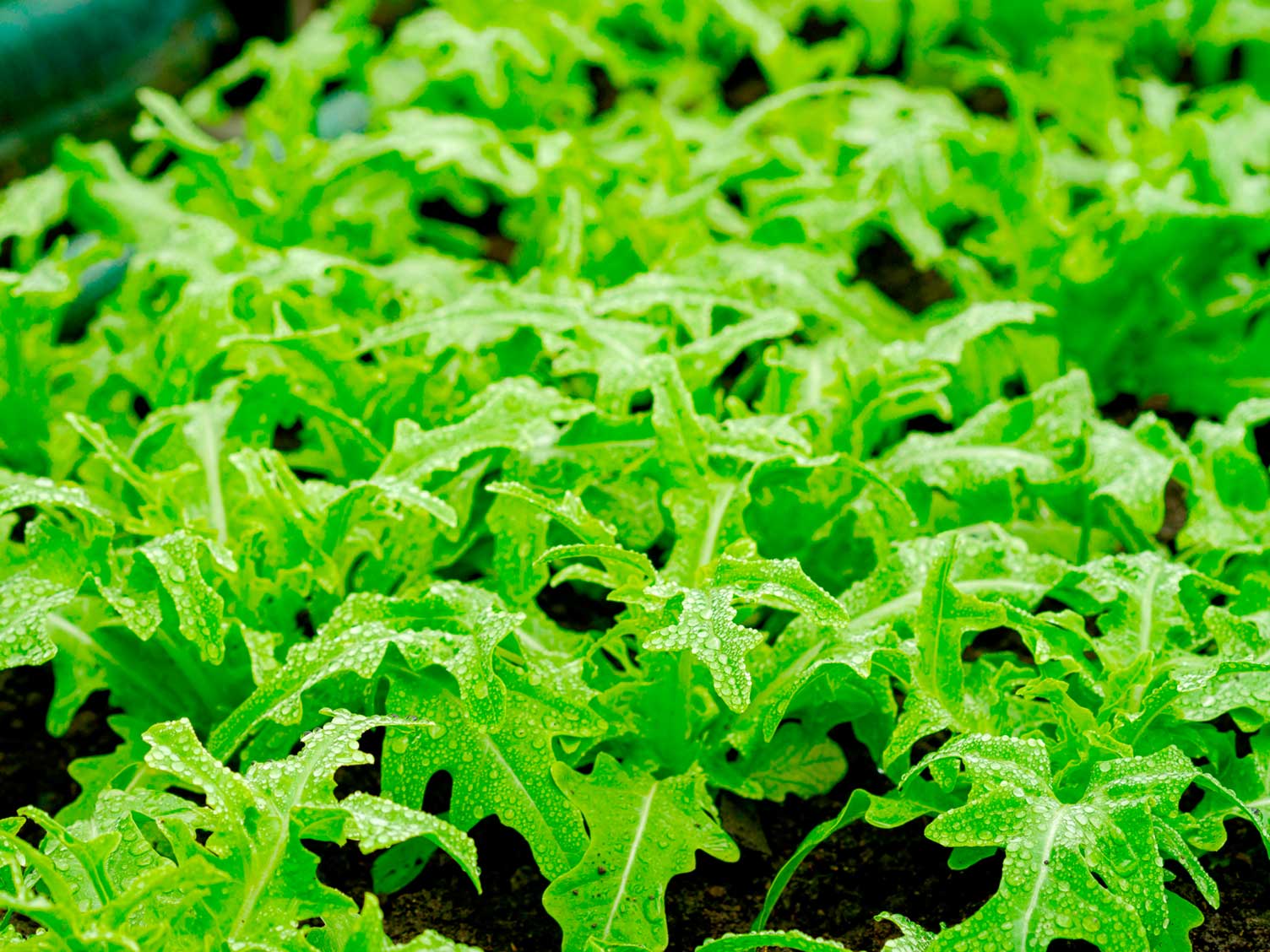 What you'll need to grow salad rocket
It's super easy to grow rocket from seed. It is fairly tough and can cope with poor soil, although you will get a more tender leaf if you can provide fertile soil and try to keep the soil moist in dry weather.
Sow rocket seeds from April through to September, and expect to harvest it from March (from autumn sowings), all the way through to December.
To grow rocket directly in the soil you will need:
A trowel or hoe
Watering can with fine rose
Rocket seed
Create a shallow drill in the soil, no more than 1cm deep, using the trowel or hoe.
Water the drill, and then place 2 seeds 6cm (2") apart, along the length of it. If sowing more than one row, allow 15cm (6") between the rows.
Cover the seeds with soil, and water again using the fine rose on your watering can.
Water every day until seedlings germinate.
Salad rocket can also be grown in containers from seed using a peat-free multi-purpose compost and sowing closer together. Don't allow the containers to dry out as this will encourage the plants to bolt (set seed).
When to plant salad rocket
Sow from spring through to late summer and then cover with fleece or a cloche when it gets cold to continue harvesting rocket in the autumn. Rocket can be grown indoors, although can go to seed very quickly with too much heat or sunlight.
Allow some plants to flower and develop seedpods, which you can then leave to sow themselves, or collect and dry out to sow again next season.
Where to plant and place your salad rocket
Rocket is a low growing plant which rarely reaches 1m (3') in height. It can become quite spindly towards the top when it gets to this height, and is best grown towards the front of a patch, where it is easy to harvest.
Although rocket likes warmth if it gets too much sunshine and too hot it will go to seed very quickly. It's often better to sow rocket after the summer solstice to lessen the chance of bolting.
Rocket is related to other Brassicas, such as cauliflowers, cabbage and broccoli. For that reason, it's best to sow salad rocket in a place where these plants haven't grown recently. This stops unwanted pests and diseases from building up in the soil.
Caring and nurturing your salad rocket
To keep the plant producing fresh, young green growth, feed weekly with Miracle-Gro® Performance Organics Fruit & Veg Concentrated Liquid Plant Food. Water well during dry spells as it has a tendency to bolt when the weather is hot and dry.
Rocket does not need to be pruned, but keep cutting the young leaves so that they repeatedly come again. This will be just four to six weeks after sowing, when it can start to be harvested. Pick the outer leaves first and you should find new leaves appearing. Pick them fresh, as they do not store well, and more mature leaves can taste bitter and be much tougher.
Frequently asked questions about salad rocket
Is rocket safe to eat?
Yes, rocket is delicious eaten raw in salads, on top of pizzas and added to pasta dishes. It does have a peppery flavour that some people may need to get used to.
Is rocket easy to grow from seed?
Rocket is super easy to grow from seed. It copes with any soil but does prefer a bit of sun. The best part is that if it's grown from seed when the outside temperature is warm then you can pick just four to six weeks from sowing.
Can rocket be grown as a perennial?
Wild rocket is a perennial plant. Salad rocket is an annual but can be treated as a perennial by simply leaving it to self-seed from year to year.
Common pests and diseases of salad rocket
Rocket is largely unaffected by pests and diseases, but you can run into a few problems…
Why are my rocket leaves covered in tiny holes?
Flea beetles love munching on rocket leaves, making it look unattractive. Cover with fine netting or horticultural mesh from the moment they are sown. Encourage natural predators such as ladybirds and ground beetles, or spray with BugClear™ Fruit & Veg. However, tolerate it where possible - although it doesn't look nice, the leaves are still edible.
Key features of salad rocket
| | |
| --- | --- |
| Botanical Name | Eruca vesicaria |
| Plant Type | Annual |
| Family | Brassicaceae |
| Light Exposure | Full sun - partial shade |
| Soil pH | Any |
| Flowering Time | Summer |
| Flower Colour | Creamy-white |