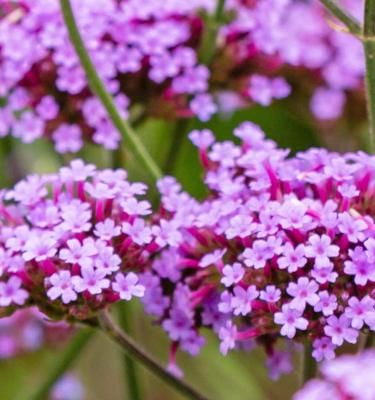 How to grow Verbena
With nectar-rich long-lasting flowers, the many different species of Verbena are great for bringing useful pollinators to the garden. There are lots of types to consider, from the architecturally striking Verbena bonariensis, which looks great in a border, to the trailing Verbena rigida, which is perfect for containers and hanging baskets. Here we explore the different varieties and how to care for this pretty plant.
Types of Verbena to grow
​​The Verbena genus of plants is varied, so there's certain to be one (or several!) suited to your garden. We recommend starting your exploration with:
Verbena bonariensis. A very popular Verbena, the bonariensis is a slender stemmed, densely flowering type. The small purple flowers bob around in light winds, attracting butterflies and bees to the garden. Reaching 1.8m (6') tall, but not needing support, this one is perfect towards the back of a border. We especially like 'Lollipop', which is a dwarf type reaching just 60cm (2') tall with lavender-coloured flowers, and 'Buenos Aires', which has earned the respected RHS Award of Garden Merit.
Verbena hastata. Also known as 'Blue Vervain', this perennial is another tall type with spikes of purple, and occasionally white, flowers. It is great behind other plants and in front of a solid backdrop, such as a hedge of cherry laurel. The cultivar 'Rosea' has rose-pink coloured flowers, and 'White Spires' erect clusters of tiny white flowers.
Verbena officinalis var. grandiflora 'Bampton'. A relatively new cultivar notable for its unusual bronze-coloured foliage.
Verbena rigida. Also known as Verbena venosa. Usually grown as an annual, this frost tender species has pleasantly scented flowers. 'Santos' has richly purple coloured flowers, and 'Dazzling Nights' a truly dazzling bright purple flower.
Verbena 'Samira', 'Enchantment Hot Pink', 'Fuego Scarlet' and 'Quartz Mixed'. As trailing types usually used as annual bedding plants, these are great for adding to hanging baskets or containers. Plant closely together for a thick display of red, purple, pink and white colour.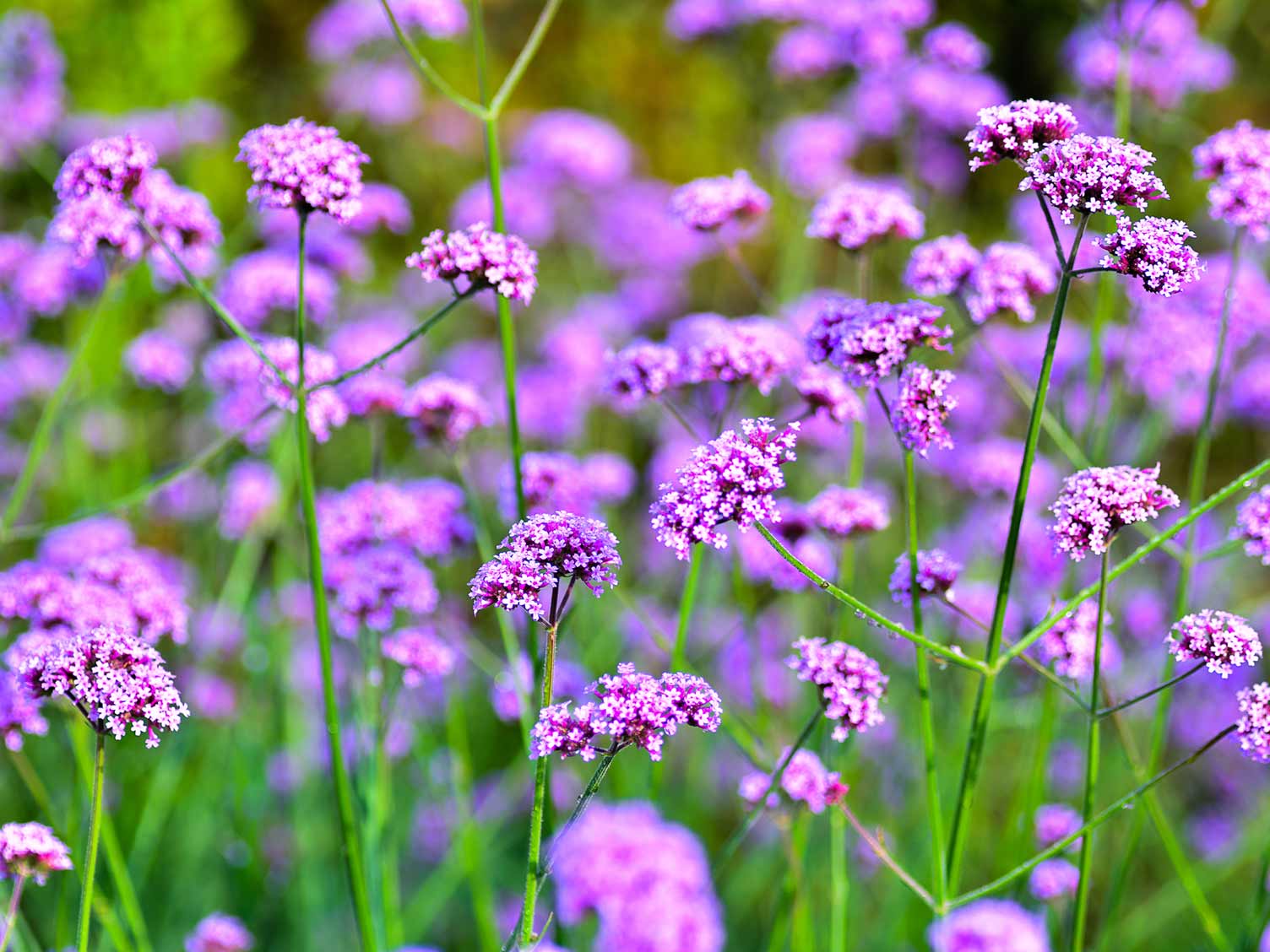 What you'll need to grow Verbena
​Gloves are a must when handling seeds, plants and compost. Verbena can be grown from seed, stem cuttings, or plug plants bought from a reputable retailer.
For growing Verbena from seed, you will need:
Seed tray.
Watering can with fine rose.
Verbena seeds.
Propagator (for sowings indoors in March-April, not necessary for those sown directly outdoors from May onwards).
For Verbena plants ready to be planted outside, you will need:
Garden spade or trowel (for those being planted in the ground).
Container (for those being grown in pots).
Watering can.
Verbena plants.
Where to plant Verbena
Tall varieties of Verbena are great, drifting through a border. Dwarf cultivars of the same varieties work well in pots as well as at the front of a border. Trailing species are perfect for hanging baskets and containers. Flowers are typically purple, but may be pink, red or white, all of which pair well silver-grey foliage plants and they also work really well with ornamental grasses.
When to plant Verbena
Sow in seed trays with a propagator from March to April. You can then sow the seeds direct in their final position from May to June as long as all risk of frost has passed. Plant young plants out from May onwards.
How to sow Verbena
Fill a seed tray with Levington® Peat Free Seed Compost with added John Innes, and water it well with a fine rose watering can.Sow seeds on the surface of the compost, only covering with compost if that particular variety needs it - do check the packet, as it varies between types.
Once Verbena plants are ready to be planted outside, apply plenty of Miracle-Gro® Peat Free Premium All Purpose Compost with Organic Plant Food to the soil first.​​​​ Feed regularly with Miracle-Gro® All Purpose Concentrated Liquid Plant Food.
Caring for and nurturing Verbena
Verbena is generally a low maintenance and unfussy plant.
Light, water and temperature
Verbena will tolerate full sun or partial shade, and is resistant to drought conditions, although prefers consistent moisture. Containers and hanging baskets in particular can dry out easily, so make sure to water regularly in dry spells. Perennial types will survive frosty temperatures, with the tops dying back in late autumn, but coming back the following year. Although many will self seed and the seedlings will come through even if the parent plant doesn't Annual Verbena will not live through very cold weather and will need to be replanted next year.
Soil and feeding
Neutral, well-drained soil is ideal for Verbena. When planting out, add Miracle-Gro® Peat Free Premium All Purpose Compost with Organic Plant Food. Feed monthly with Miracle-Gro® All Purpose Concentrated Liquid Plant Food.
Deadheading and pruning
You should deadhead Verbena by removing browning flowerheads once they have finished flowering, unless the seeds are to be collected for sowing. Cut back to ground level all old, dead growth of perennial varieties in March, when new shoots are visible at ground level. Pinch out growing tips of both annual and perennial types once they start growing, to encourage bushing out of the plants.
Propagate from seeds, stem cuttings or purchase plants.
Common pests and diseases for Verbena
Verbena is largely unaffected by pests and diseases, but you may see some of the following symptoms indicative of problems that need to be addressed.
What are the white-gray patches on the foliage of my Verbena?
Powdery mildew is a nuisance fungal infection which can spread to other plants. Remove and destroy affected parts of the plant, increase airflow around the plant, and avoid getting the leaves wet when watering.
Why are there small yellow patches on the leaves of my Verbena?
Thrips can cause mottling on Verbena leaves. Small populations can be tolerated, but you should use BugClear™ Ultra Gun! for larger outbreaks.
What are the rusty orange-brown patches on my Verbena?
Rust can affect a wide range of plants, looking unsightly and weakening them. You should remove and destroy infected parts of the plant, and spray with a suitable fungicide to help stop it spreading.
What are the sticky patches on the leaves of my Verbena?
Honeydew is a symptom of aphids, which excrete this sticky substance as they suck sap from plants. You will likely see clusters of small bugs on fresh young growth - squash them by hand, daily, until there are no further signs of them. Use a damp cloth to gently wipe honeydew from the plant, to reduce the likelihood of black sooty mold developing.
Frequently asked questions about Verbena
Does Verbena self-seed?
Yes, it does. Verbena bonariensis is particularly well-known for spreading seeds across the garden, meaning an ongoing supply of plants. To avoid this, remove dying flowerheads from plants. If you have space, allow them to seed themselves, and plant up small seedlings to be relocated or given to friends and family.
Does Verbena come back every year?
Most varieties do, as they are perennials. They are herbaceous, so the tops will usually die back, re-emerging in the spring. Once these new shoots appear, the brown stems from last year can be cut back to ground level, usually in about March. Annual types of Verbena will not come back again.
Is lemon beebrush a type of Verbena?
Lemon Verbena is related to Verbena, but is not part of the same genus of plants. It has a similar flower spike, and is often grown as a herb and then used in herbal teas.
How tall does Verbena grow?
Some types of Verbena will grow up to 2m (6') tall, but others are grown for the trailing habit, and are much shorter.
Key features of Verbena
| | |
| --- | --- |
| Botanical Name | Verbena spp. |
| Plant Type | Herbaceous perennial or annual |
| Family | Verbenaceae |
| Light Exposure | Full sun or partial shade |
| Soil pH | Neutral |
| Flowering Time | June - September |
| Flower Colour | Purple, occasionally pink or white |