How to grow roses
Roses (Rosa) are among our favourite garden plants – and deservedly so. They are versatile, produce vibrant colour all summer long and well into autumn or even winter, and many are deliciously scented.
Rose varieties
There are literally thousands of different varieties and species of roses. First, you need to decide what type you want, and the use it'll be put to, and then decide on colour and fragrance.
Miniature and patio roses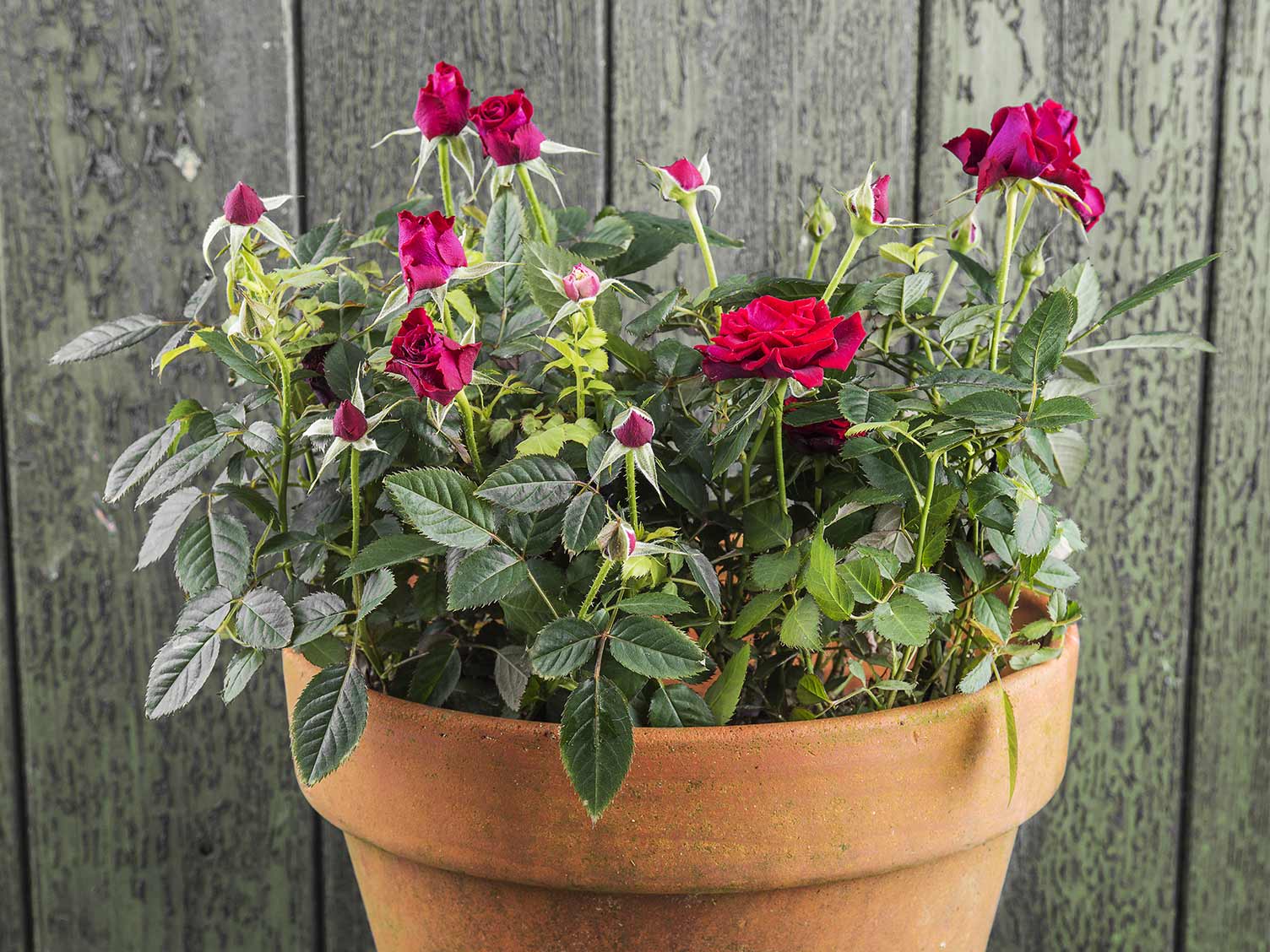 These dwarf roses grow anything from 15-60cm (6in-2ft) high. They are perfect for the front of a border or small, deep containers.
Bush roses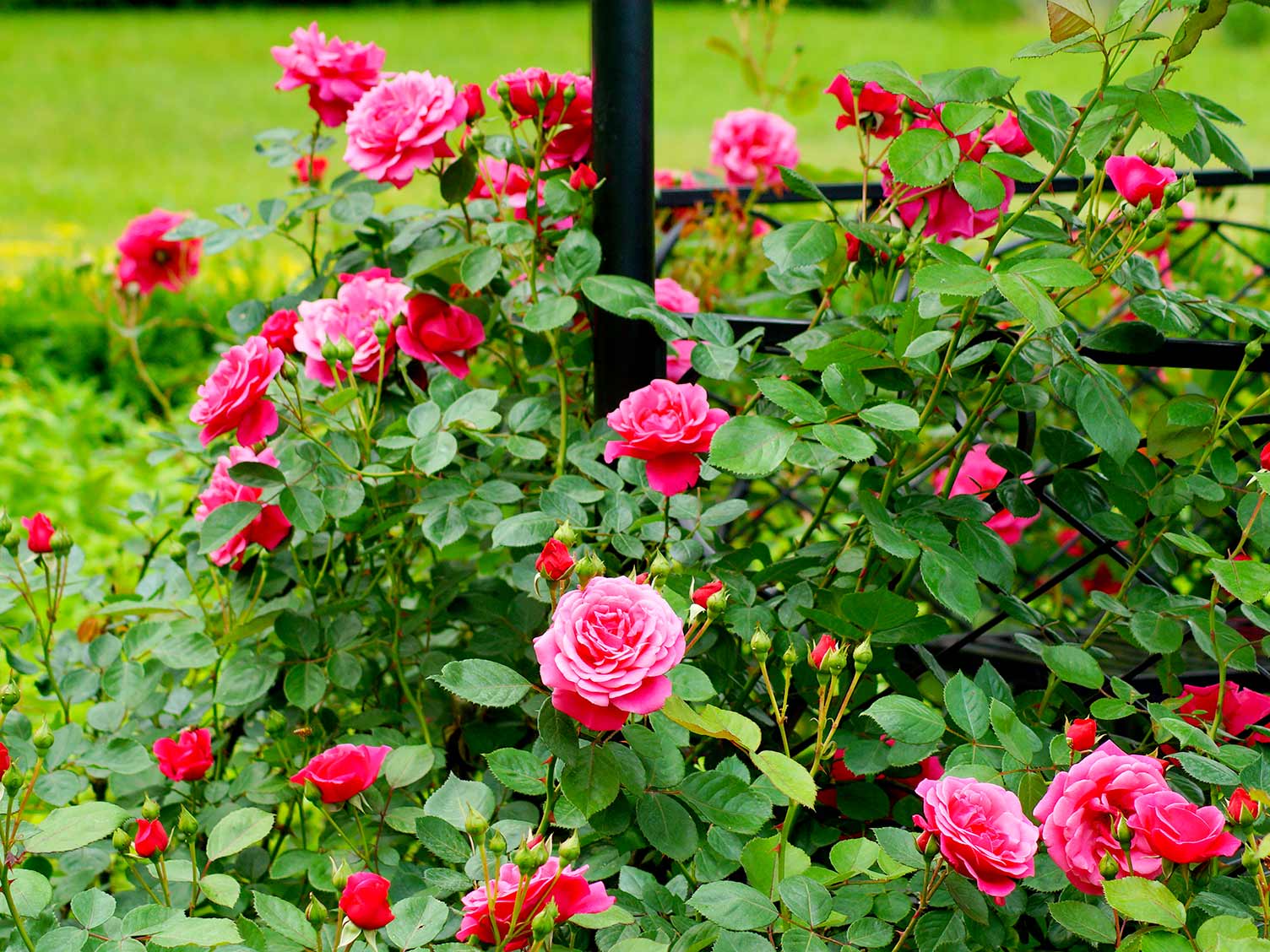 This includes hybrid tea (sometimes called large-flowered roses), floribunda (sometimes called cluster roses) and David Austin New English roses. They grow anything from 90cm-1.8ft (3-6ft) high. They are the main choice for borders and large containers.
Shrub roses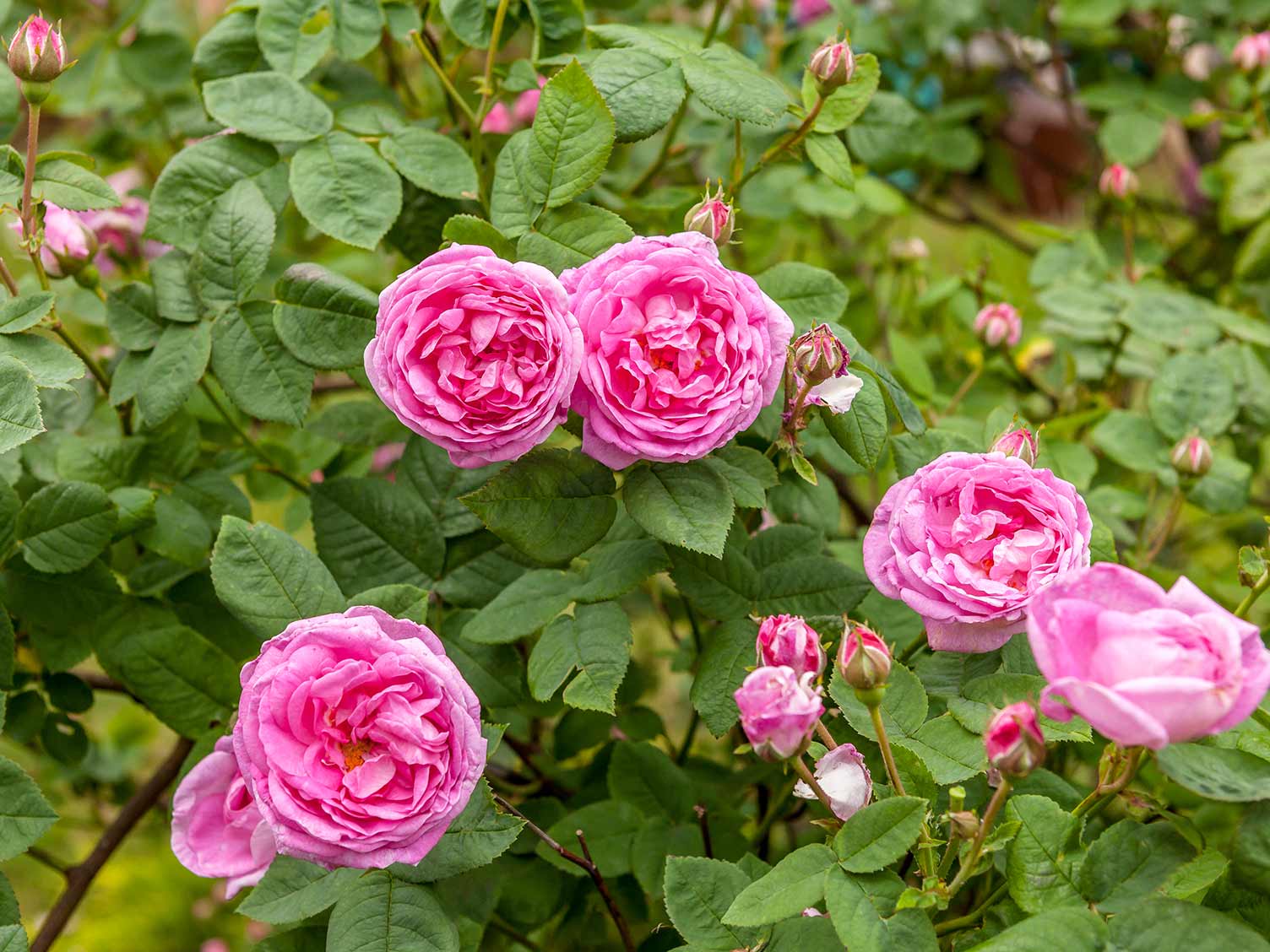 This is the term given to a broad group of roses that includes the old-fashioned varieties, such as Bourbons, Centifolias and Albas, and species roses. Shrubs can be dwarf in height or grow anything up to 2.4-2.7m (8-9ft) high. Most are quite vigorous and only flower for a short period in summer.
Climbers and ramblers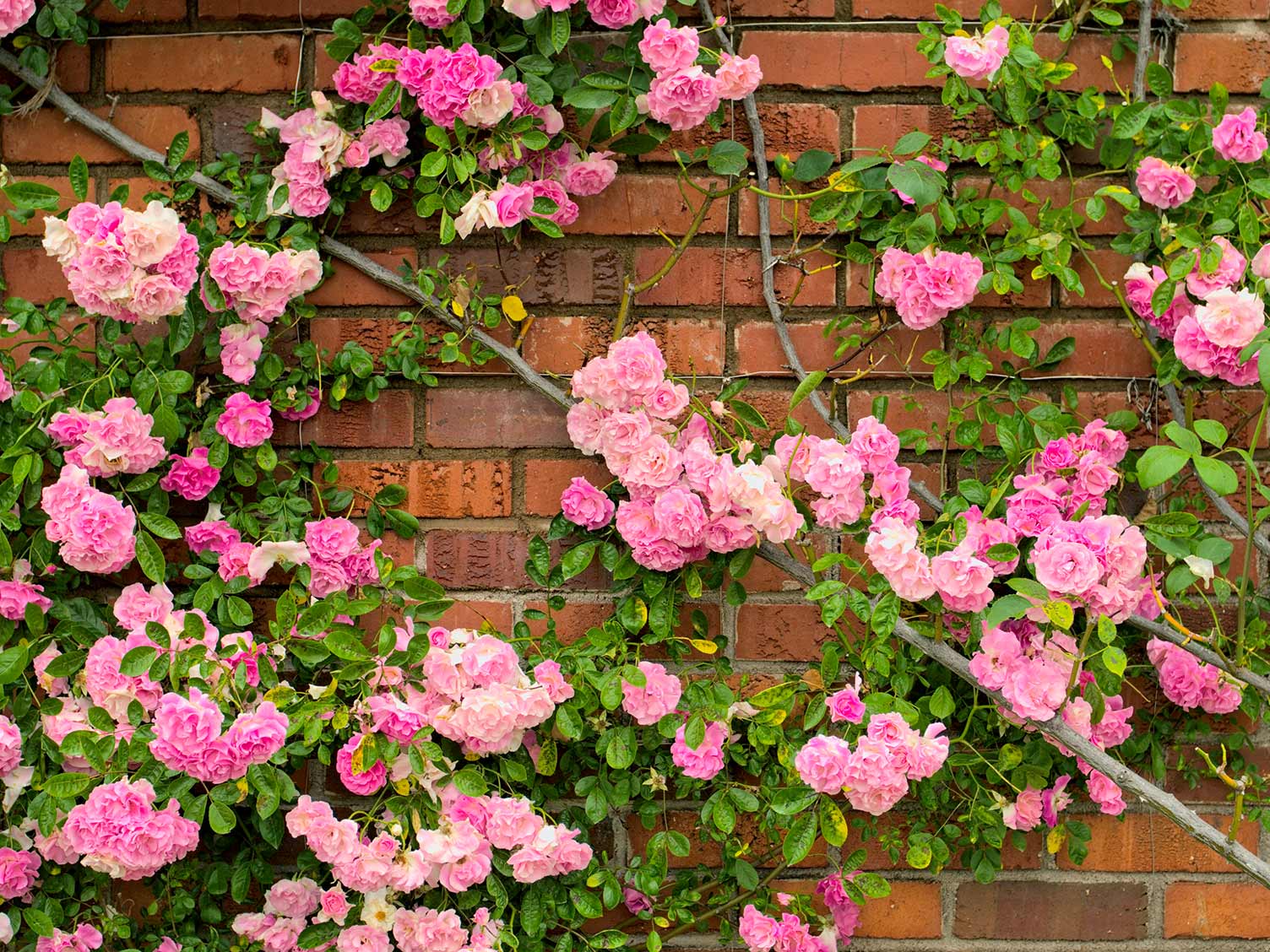 These are traditionally used to cover walls, fences, rose arches and pergolas. The main differences between the climbers and ramblers are: ramblers are more vigorous than climbers and only really suitable to cover large areas, they tend to only flower once in summer and usually produce clusters of smaller flowers. Climbers are less vigorous, more compact, produce larger flowers and usually flower all summer long.
Ground cover roses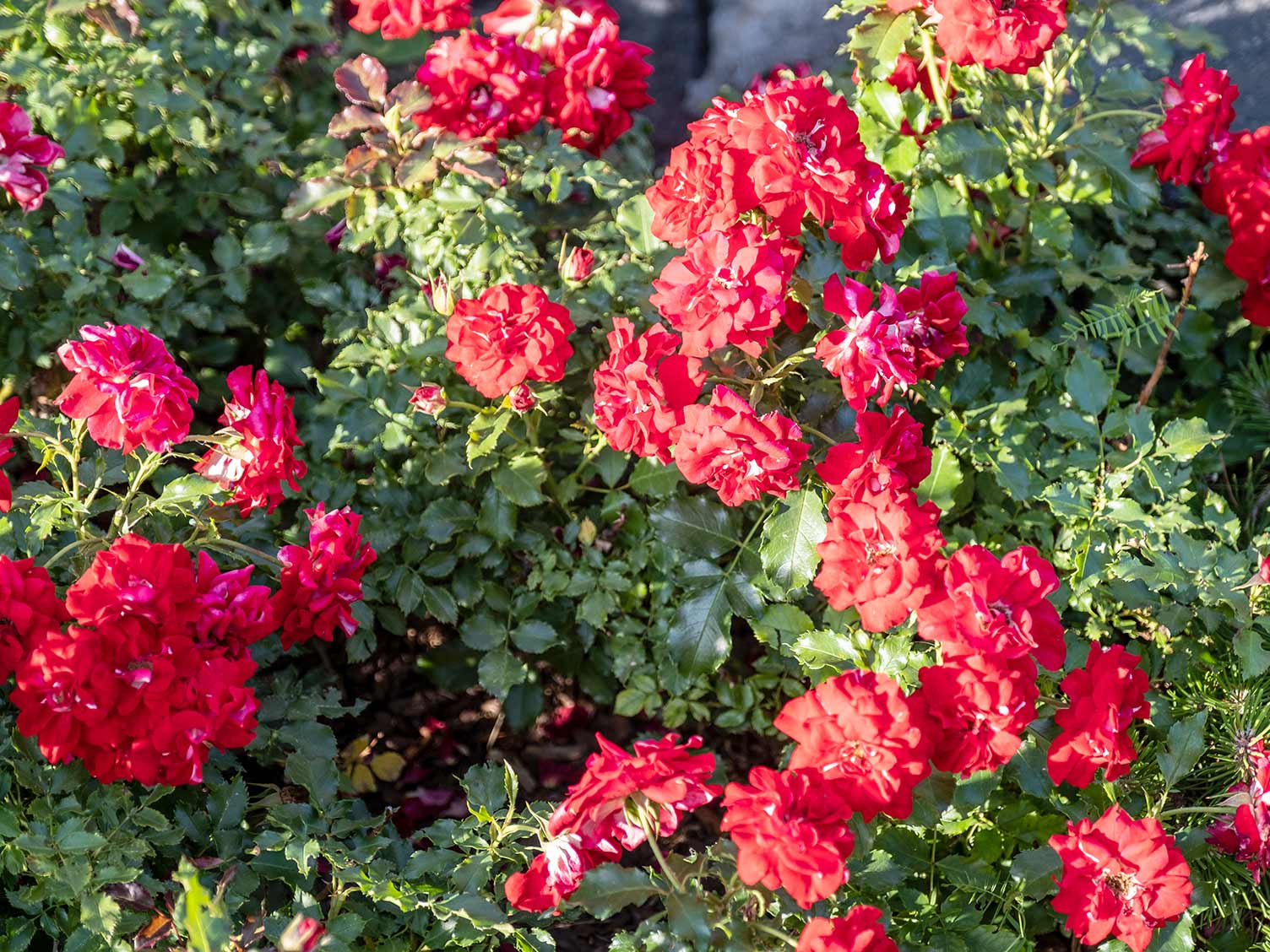 These low-growing roses are useful for covering quite large areas of ground. As they don't produce thick mats of foliage, they don't tend to be that useful for weed suppression, but are brilliant for producing a carpet of colour.
Standard roses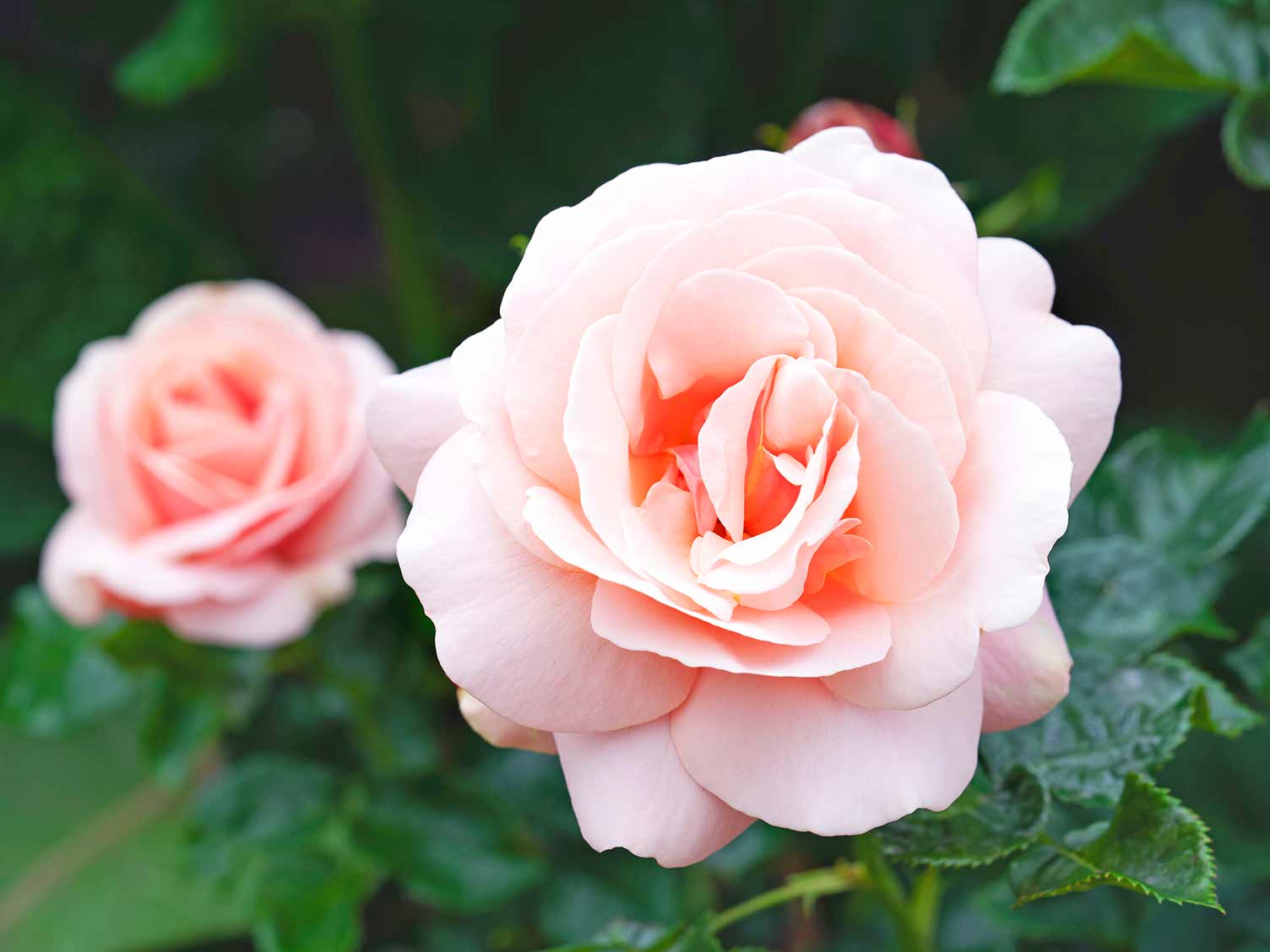 These have either a bush rose or a climbing or rambling rose (weeping standard) variety grafted on top of a single, upright stem. They come in a range of heights, including quarter, half and full standards.
Cultivating roses
The vast majority of roses need good light, preferably full sun, and shelter from strong or cold winds. They benefit from plenty of room and air, so don't plant roses under trees and generally not less than 60-90cm (2-3ft) apart for most rose bushes, and at least 45cm (18in) away from the base of walls for climbers and ramblers.
Roses root quite deeply and are hungry feeders, so the soil needs to be thoroughly dug over and improved before planting. Dig in plenty of bulky organic matter; many traditional rose growers prefer to use well-rotted manure, but any organic matter will help ensure strong, healthy growth.
They prefer a well-prepared clay soil, rich in organic matter. Light, sandy soils tend to dry out quickly, nutrients leach away and they often fail to provide the physical support and anchorage needed to withstand strong winds. So, again, incorporate lots of additional organic matter when planting.
Most roses will not tolerate extremes of acidity or alkalinity, generally preferring soils that are neutral or slightly acidic. If the soil is alkaline, treating it with sulphur chips or sulphate of iron will help to make it more acidic.
Buying roses
You can buy roses in three different ways: bare-root; pre-packed; and containerised or container-grown.
Bare-rooted roses and pre-packed roses
Pre-packed roses are basically the same as bare-rooted roses, but have their roots trimmed and wrapped in plastic with a little compost. Bare-rooted roses and pre-packed roses must be planted between mid-autumn and early spring, when the plants are dormant. Soak the roots in a bucket of cool water for a couple of hours before planting, as the roots may have begun to dry out.
Containerised and container-grown roses
These can be planted at any time of year, providing that the ground is not frozen solid, waterlogged or suffering from drought conditions. Most roses are containerised - having been grown in the ground, then lifted and potted up - so check plants have developed a good root system before buying and planting.
Always check the leaves, stems and flowers before buying and only buy strong, healthy-looking plants. This will prevent many potential problems right from the start.
What you'll need to grow roses
Having the right equipment will help you to grow roses that are strong, healthy and beautiful. Here's what you'll need:
Garden fork and spade
Trowel
Secateurs
Well-rotted farmyard manure
Rose food
Sulphate of iron (for very alkaline soils)
Rose plants
For climbing roses:
String or twine
Support framework e.g. trellis or wires
Planting roses
For bare-root and pre-packed roses, dig out a hole large and deep enough to easily accommodate the spread out roots at the right depth.
For containerised or container-grown roses, dig out a planting hole twice as wide and 5-7.5cm (2-3in) deeper than the pot.
Prepare a planting mixture of 50/50 garden soil mixed with more organic matter, such as a tree and shrub planting compost and mix in some granular rose food.
Line the base of the planting hole with a 5cm (2in) depth of planting mixture, place the rose in the hole, checking that it is at the correct depth, and fill the hole with the remainder of the planting mixture. Gently firm the planting mixture around the roots. Then water in thoroughly and mulch the soil.
Growing roses in containers
Most roses can be grown in good sized containers – including climbers – providing they are deep enough to accommodate the rose's deep roots. Obviously, as with any plant that is grown in a container, they will need more care and attention than when grown in the ground. Always plant using John Innes No.3 compost.
How to care for roses
As roses are deep-rooting plants, they rarely need watering once they have become established, particularly on heavier clay soils. In prolonged periods of dry weather, even established roses may need watering.
It is better to give the roots a thorough soaking by using a drip-feed, 'leaky pipe' system, or simply a hosepipe turned down to a trickle so that the water is applied gradually over a long period. Watering in the evening rather than in the heat of the day minimises water loss through evaporation.
Roses are hungry feeders. To feed established roses, use a granular rose food in early spring, or after pruning, and again in mid-summer. Alternatively, you can feed once in spring with a continuous release rose feed. This will feed your plants for the whole season with 1 application.
Providing that the soil has been prepared well prior to planting and roses are fed correctly, nutrient deficiencies should not occur. If yellowing leaves do develop, the rose may be suffering from iron and/or manganese deficiencies.
Likewise pale patches towards the centres of leaves and areas of dead tissue near the main vein indicate a lack of magnesium. Apply a suitable plant tonic, iron sulphate and/or Epsom salts to balance out these deficiencies.
Mulches are extremely valuable to help maintain favourable soil conditions, as well as reducing the level of maintenance needed, by helping to retain moisture in the soil, suppress weeds and maintain an even soil temperature.
When applying a mulch for the first time, it is best applied when the soil is warm and moist; don't apply it to dry soil. Before applying the mulch, remove or kill any weeds, especially deep-rooted perennial weeds. Most mulching materials need to be at least 7.5-10cm (3-4in) thick to effectively control weeds and conserve soil moisture.
Generally, shrub roses, ground cover roses and standard roses need only be pruned to keep them looking tidy and within bounds, for more information read our detailed guide on how to prune roses.
Common problems, pests and diseases in roses
Rose black spot

Rose black spot is one of the most common rose diseases. This fungal disease causes black spots on rose leaves. The leaves often drop early, reducing plant vigour.

Feed and mulch roses.  
Remove and destroy all fallen leaves in autumn.
If necessary, spray with a fungicide. If using a combined fungicide/insecticide spray, don't spray when plants are in flower as this can harm bees.

Rose rust

Rose rust is a fungal rose disease. Yellow spots appear on leaves with small orange pustules on the undersides of the leaves, turning black in summer. Large powdery orange deposits appear on stems. Affected leaves may drop early. 

Remove any affected growth immediately to reduce the spread of spores.
Remove and destroy all fallen leaves in autumn.
If necessary, spray with a fungicide. If using a combined fungicide/insecticide spray, don't spray when plants are in flower as this can harm bees.

Powdery mildew on roses

Powdery mildew is another of the fungal rose diseases. It appears as white spots on rose leaves, stunting growth and causing leaves to shrivel. Drought-stressed plants are more susceptible. 

Dig organic material into the soil before planting to improve soil water retention. 
Space plants when planting to ensure good air circulation.
Remove any affected growth promptly. 
Water regularly in dry periods.

Rose dieback

Rose dieback occurs when stems turn brown at the tips and gradually die back. There are several different causes, including frost damage, poor pruning technique and environmental stress (e.g. drought or waterlogging).

Feed and mulch roses annually to boost their health and ability to fight off infections.
Remove all affected stems promptly.
Prune using sharp tools, making clean cuts.

Aphids

Aphids are sap-sucking insects that can quickly infest new young rose shoots in spring, stunting growth.

Wipe off small colonies with a damp cloth.
Encourage natural predators like ladybirds and hoverflies.
Pesticide sprays are available for aphids.

Rose sawfly

The larvae of the rose sawfly eat rose leaves and can cause extensive damage. They are easily visible along the edges of rose leaves.

Check roses regularly, pick off affected leaves and destroy the caterpillars.
Spray large infestations with a pesticide. (Avoid spraying when roses are in flower as this can harm pollinators.)