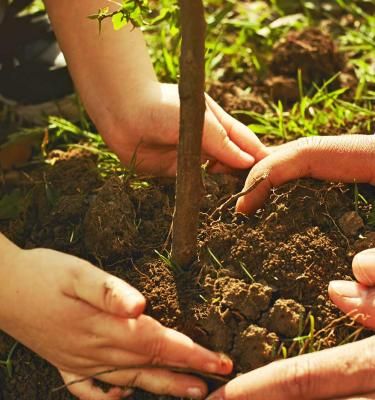 How to plant a tree
Planting a tree is a declaration of hope for the future. A well planted tree will live for decades, providing endless benefits to the environment and wildlife. It feels great to see the tree grow, knowing that others will continue to enjoy your efforts for years to come. Read on to find out when, where and how to plant a tree.
What is the best time of the year to plant a tree?
It's best to plant trees when they are dormant. This is when plants are not actively putting on new growth. In the UK this is usually from October through to March, when we have cold weather and shorter days. At this time of year they are less likely to develop diseases, and will not need to be nursed through a hot, dry summer.
When buying a new tree, growers will categorise them as whips, maidens, standards or semi-mature trees. This refers to the age of the tree:
Whips are the youngest specimens available, and are supplied as a short, single stem. They need to be pruned to shape over time, but are the cheapest, easiest and most reliable to grow.
Maidens are slightly taller than whips, typically sold when they are around 1m (3') in height and at least 2 years old. They may have some side-shoots, and will develop into mature trees a little faster than whips.
Standards are usually 1.8m (6') or more tall before any branching is visible on top, and at least 3 years old. They need more care and attention once planted to help their well-developed root system to settle in place.
Semi-mature trees are usually at least 6 years old. They are the most expensive option, but look great straight away and are perfect for creating an instant impact.
Trees are sold as bare root, rootballed plants, or as container-grown plants. There is usually a wide variety of bare root and rootballed plants available compared to container grown plants. Non-container grown trees tend to be cheaper and will establish more quickly, but are only available in the dormant season and need to be planted out straight away.
Where to plant a tree
The best place to plant a tree is somewhere that it can stay forever. Expect the tree to live for many decades, so choose a location that will still be suitable in years to come.
Find out how wide the tree canopy will become, and how tall the tree is likely to be, at full maturity. Make sure that there is plenty of space for it to grow in all directions. Check that the tree, the shade it will create, and any falling branches, twigs and foliage, will not cause any issues. Allow at least 2 metres (6') between a newly planted tree and any other trees, and potentially more as needed to allow the tree to mature to its full size.
Consider temperatures and moisture levels, and how they might vary in different areas of your garden. Some trees will tolerate wet soil better than others, so if your garden is prone to those conditions, look at trees such as Alder (Alnus glutinosa) and Weeping Willow (Salix alba). Eucalyptus spp. and Silver birch (Betula pendula) prefer drier conditions, so will do well in a hot spot.
Your soil type should also influence the type of tree you plant. For slightly alkaline soils, Hawthorn (Crataegus Monogya) for a smaller garden and Oak (Quercus robur) for a large garden are a good choice. For slightly acidic soil, magnolias and Cercis siliquastrum are more likely to be successful.
Trees can be planted in a lawn or a border, and some smaller trees do well planted in a container. Planting the tree in a pot is a great option if you want to take the plant with you when moving house. Trees that work well in containers include Japanese Maples, (Acer palmatum) Eucalyptus Gunnii and Magnolia Stellata.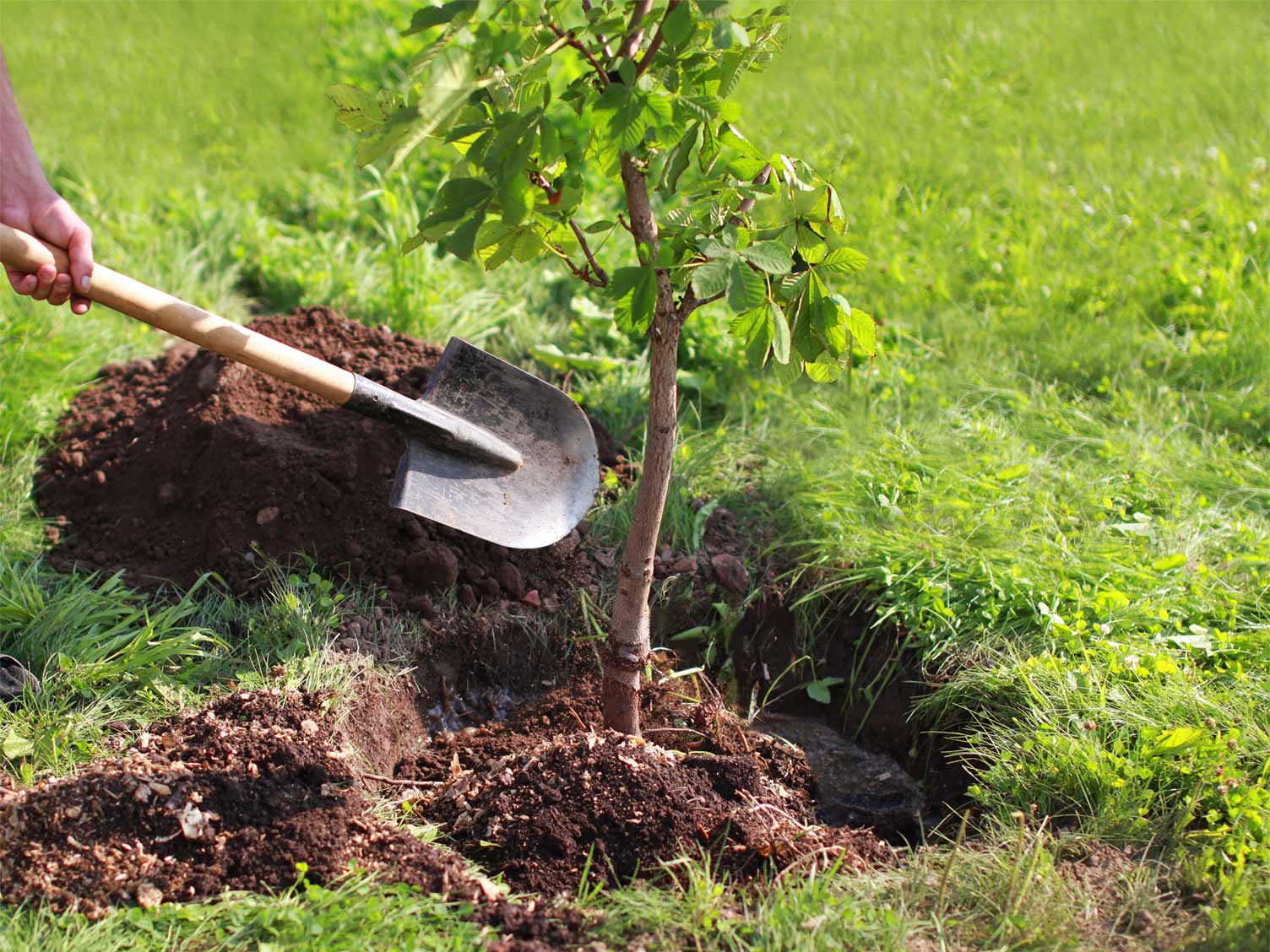 What you'll need to plant a tree
To plant a tree you will need:
A bucket.
Spade.
Garden fork.
Tree.
Tree stake and tie (optional - see guide below).
Mallet (if using a tree stake).
Tree protector and cane (optional - only if animals are a problem).
Fill the bucket with water. Remove the tree from the pot or wrapping, and place the roots in the bucket to soak whilst you prepare the ground.
Clear the ground of any weeds. Dig a square hole at least twice as wide as the roots, and to the depth of the rootball or soil mark on the stem.
Use the garden fork to break up any hard soil in the bottom of the hole. This will encourage roots to spread downwards.
Place the tree in the hole, checking that the top of the rootball or soil mark on the stem is at the same level as the soil. Lie the handle of the spade or fork across the top of the hole to check. Take the tree out of the hole again.
Spread a spadeful of Miracle-Gro Peat Free Rose, Tree & Shrub Compost across the bottom of the hole.
Tease the roots of the tree apart if they are balled closely together. Place the tree in the hole, ensuring that the stem is upright.
Add a stake and tie, if using - see our guide below to choose the right kind of staking method.
Backfill the hole with soil and firm it around the roots. It should feel firmly in place and not move much when gently shaken.
Add a tree protector if rabbits or deer are known to be a problem. Push it into the surface of the soil so that pests cannot get up and under it. Keep it in place with a cane.
Water well and then mulch with Miracle-Gro® Peat Free Premium Fibre Smart™ Mulch. Continue to water thoroughly and keep well watered in dry weather.
How to stake a tree
Standard and semi-mature trees should be staked to minimise movement, giving their root systems a chance to establish and strengthen. Maidens only need to be staked if the location is exposed to strong winds that may cause the tree to move. Whips do not need to be staked.
Stakes should be slightly thinner than the stem of the tree, so that the plant does not overly rely on the support. Use a mallet to drive the stake into the soil, ensuring that it reaches 60cm (2') into the ground.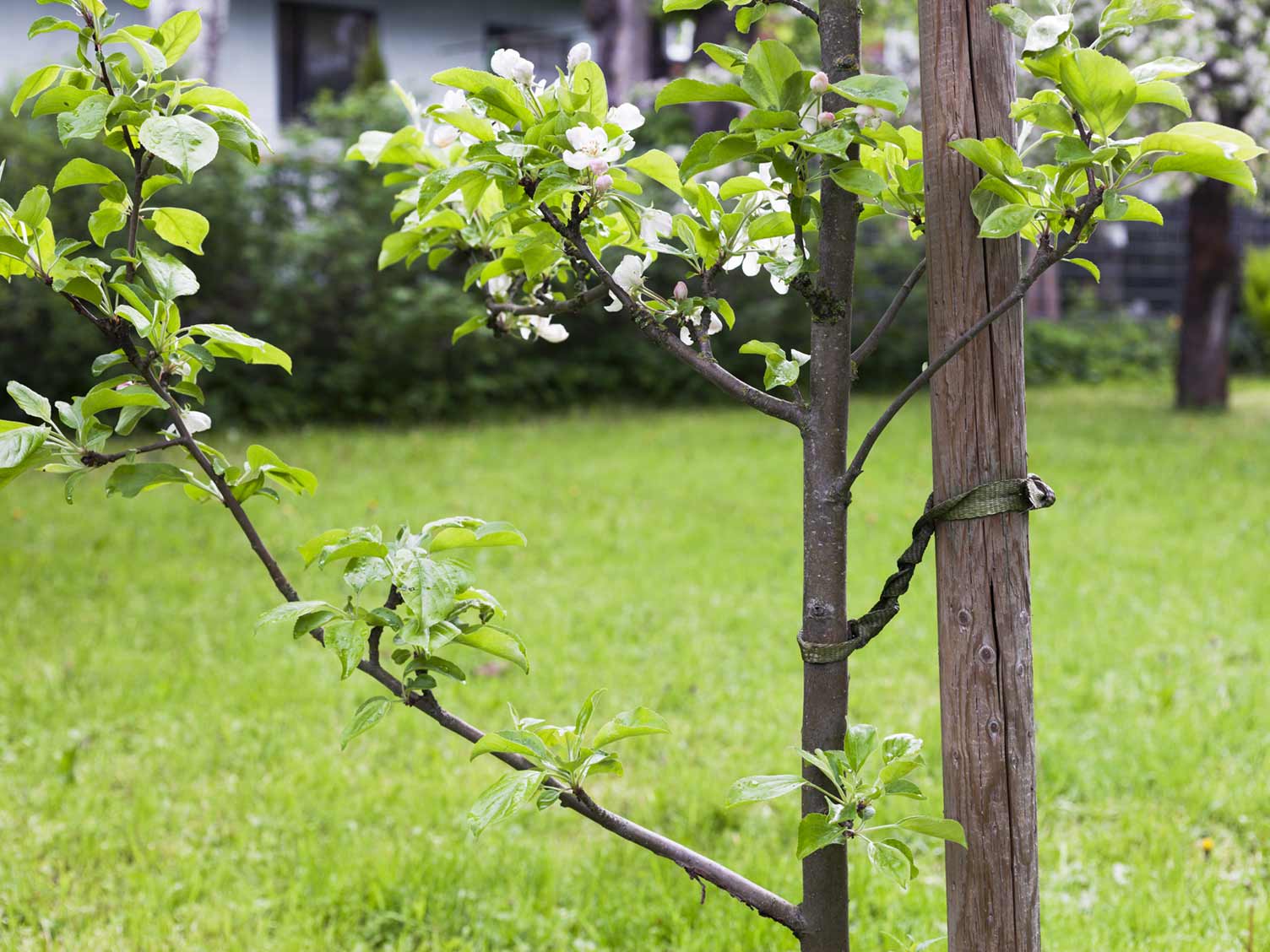 There are different ways to stake a tree:
Single stake. Use for bare-root trees at the time of planting. The stake should reach as high as a third of the height of the young tree, and placed 2-3cm (1") away from the stem. It should be located on the side from which the prevailing wind blows, so that the stake takes the brunt of strong gusts. Use a tie to secure the trunk to the stake.
Double stake. Use for container-grown trees. Locate two stakes at opposites, either side of the rootball, and attach the tree to both stakes with ties.
Angled stake. Use for bare-root and container-grown trees which are being planted on a slope. This can be added during or after planting at a 45° angle and secured with a tie.
You should check ties every year, replacing them if they're damaged and ensuring that they are not rubbing against the tree. Remove the stake entirely after 3 years, and once the tree does not move in the ground at all.
Frequently asked questions about planting a tree
What trees can be planted close to a house?
Trees can damage building foundations and pipes, as well as creating shade in your garden or a neighbour's garden. If planting close to a house, choose a smaller tree or shrub, such as a Lilac, ornamental quince or bay.
How much space do you need to plant a tree?
It depends on the tree. Always check the expected size of a tree at full maturity, and consider nearby structures. It is possible to grow a tree in a very small space - look for patio fruit trees which are perfect for small spaces and for planting in a pot.
How much does it cost to plant a tree?
Anything from £1 upwards. Young tree whips are very cheap, particularly at the end of the dormant season (very early spring) when retailers may be clearing out stock. There is very little cost once a tree is planted - just mulch annually with Miracle-Gro® Peat Free Premium Fibre Smart™ Mulch to retain moisture.
Can you overwater a newly planted tree?
It is possible to overwater any plant. Give a newly planted tree a good soaking once a week, and more often if you're planting a container-grown specimen in the summer – checking that excess water is able to run off. Trees grown in pots can easily be overwatered, so make sure there are plenty of drainage holes in any containers.
What is the basic method of planting a tree?
See our handy guide above. Decide on the location, prepare the soil, place the tree at the correct depth, and water well.
What's the best tree for autumn colour, wildlife and blossom?
Hawthorns (Crataegus monogyna) are a great all round tree, providing white blossoms in the spring, and red berries in the autumn. Crab apples (Malus sylvestris) are another tree that ticks all of the boxes, with white or pink blossom followed by yellow, orange or red fruits later in the year. Both of these trees are great for bees, birds, moths and other wildlife.