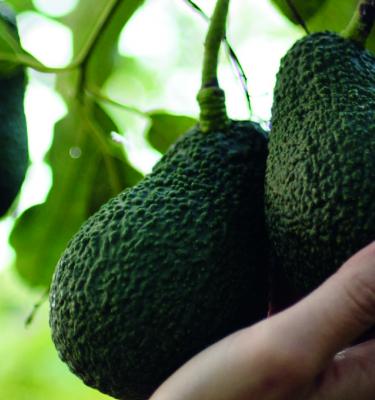 How to grow avocado from the stone
Avocados are a favourite fruit used in kitchens around the world. Once the buttery green flesh has been used, why not try planting the stone to grow your own? We'll take you through how to grow your own avocado tree, although we hope you aren't in a hurry for an actual avocado.
Types of avocado to grow
The fruit of Persea americana, to give the plant its botanical species name, are known to most of us as avocados. They are also sometimes called alligator pears or avocado pears. The skin of an avocado fruit can be dark and heavily textured, like that of an alligator, and the fruit is shaped like a pear, so those nicknames make sense.
The skin of an avocado fruit can be green, brown, purple or near-black. An avocado fruit is actually a large berry with a single seed in the middle - it is this light brown seed, sometimes called a pit or stone, which we will use to grow your own avocado.
Avocados are sometimes grouped according to what time of day they flower, being categorised as either Type-A or Type-B. However, unless we are growing avocado fruits commercially, which is not the case in the UK, it is more useful to understand the non-flowering characteristics of different avocado trees. There are three main types:
Guatemalan. New foliage tends to be red, and the skin of the fruit is more heavily textured than on other types. Avocados of this tree take longer to mature than others.
Mexican. The plants tend to tolerate cold better than the other types, and produce small fruits with smooth skin.
West Indian. These prefer a humid environment, and the fruits tend to have very shiny skin.
Given the climate of the UK, a Mexican type is most likely to produce fruit here. There are hybrid types of avocado too, combining different characteristics. There are cultivars of both pure and hybrid types:
Guatemalan cultivars: Gwen, Hass, Nabal, Pinkerton, Reed, Sharwil.
Mexican cultivars: Mexicola, Zutano.
West Indian cultivars: Hall, Pollock.
Guatemalan-West Indian hybrid cultivars: Beta, Choquette, Lula, Monroe.
Mexican-Guatemalan hybrid cultivars: Ettinger, Fuerte, Maluma.
Mexican-West Indian hybrid cultivar: Brogden.
Some of these cultivars will be easy to find in the grocery section, others will take a bit more tracking down. And of course not all will be labelled with the cultivar, so you may have fun trying to identify the type as it grows!
What you'll need to grow avocados
To grow an avocado from stone you will need:
An avocado stone/seed/pit
Bowl of warm water
Sharp knife
Fungicide powder (optional)
Container (15cm/6" diameter)&
Seed compost
Water
Although avocado seed can be sown all year round, doing it in the winter means that you may get an early flush of flowers the following spring. To germinate the avocado seed:
Soak the avocado seed in warm (40-50C, 104-120F) water for 30 minutes before sowing.
Clean any remaining green flesh from the seed and cut about 1cm (1/2") from the pointed tip of the seed.
Dip the cut end of the avocado stone into a fungicide powder, if using.
Fill the container with seed compost.
Place the stone in the middle of the container, with the cut end of the seed slightly above the surface of the soil. Water lightly.
Leave the container in a sunny position, keep well watered, and wait for the seed to sprout.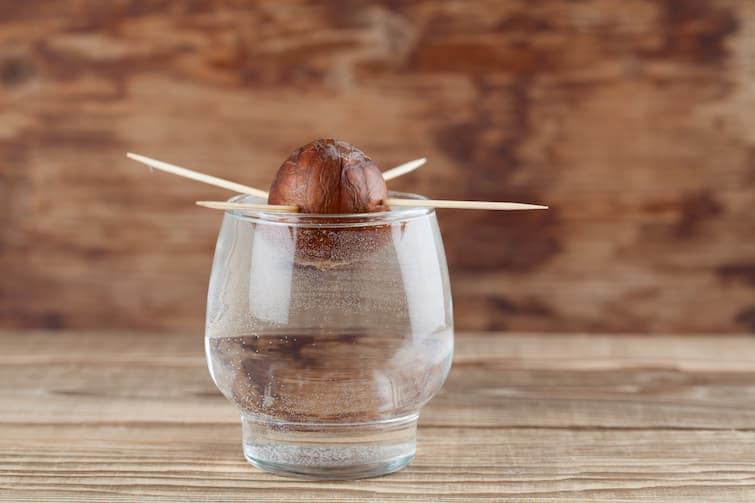 Once the avocado stone has germinated and grown to about 30cm (1') high, it can be transplanted to a new pot. For this you will need:
Container (30cm/1' diameter)
Potting compost
Avocado seedling
Secateurs
Water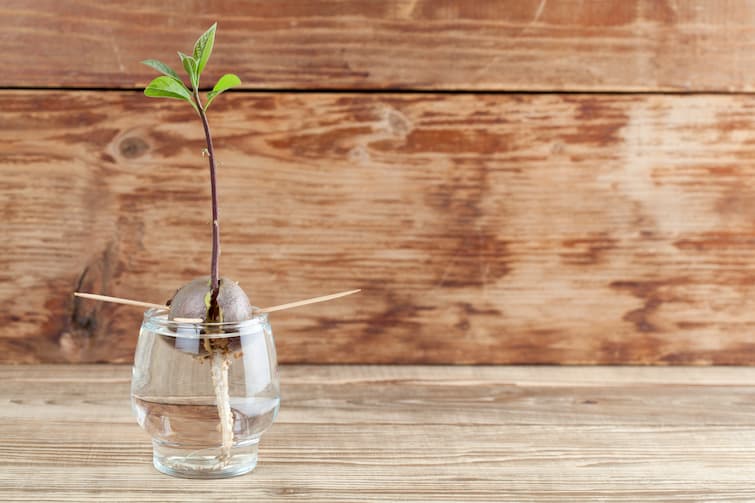 To plant the seedling:
Fill the container with potting compost - we recommend Levington® Peat Free John Innes No.3 compost, which is perfect for plants grown in containers.
Place the seedling in the pot and cover with soil.
Immediately trim the plant to half the height using a sharp pair of secateurs, leaving some foliage if possible, and water well.
The avocado tree can eventually be planted outside or kept indoors as a houseplant.
Where to plant and grow your avocados
The avocado plant is an evergreen tree, growing to 15m (45') high in its natural environment. It is native to the subtropic areas, with Mexico, Peru, and Indonesia producing some of the world's largest avocado crops. To produce avocados in the UK, we need to replicate those subtropical conditions as closely as possible.
Position the avocado tree in a warm, sunny location. Aim for a temperature no lower than 13°C (55°F) all year round, and ideally 20-28C (68-82F) in the spring and summer. Whilst some varieties are frost-hardy, they are generally tender and will benefit from continued warmth. However, they also need humidity of around 70%, meaning that centrally heated households can pose a challenge.
To maximise the chance of the avocado tree producing fruit, provide as much natural sunlight as possible. Avocados are partially self-pollinating, and meeting their very high light demands will enhance the prospect of the tree producing flowers and fruit.
Whether planting outside in the soil or indoors in a pot, the avocado plant will need well-drained soil.
A good way to achieve the optimal conditions needed is to plant the avocado tree in a container and move throughout the seasons. This means putting the plant outside during a warm UK summer and moving to a conservatory or greenhouse the rest of the time.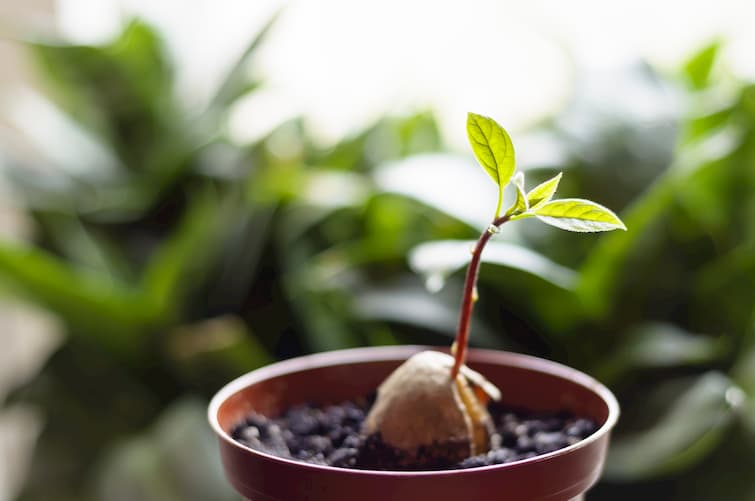 Caring and nurturing for your avocados
So, how long will it take before avocado plants bear fruit? In the UK, realistically, it is likely to be at least five years before we see an edible avocado. The fruit can stay on the plant for several months before maturing, although picking it before then will help it to ripen. Take care of the avocado tree to provide the best opportunity for it to fruit.
For an outdoor grown avocado plant, mulch annually with Miracle-Gro® Peat Free Premium Fibre Smart™ Mulch. This will help to suppress weeds and retain moisture. Leave a gap around the stem to maximise airflow. Place in a sheltered position to protect from wind, as the tree wood is brittle and easily damaged.
An avocado tree grown in a container should be repotted when roots begin to appear through the bottom of the container. This is likely to be in the spring when the plant starts to put on new growth and may need to be done annually. Wherever the avocado plant is grown:
Feed with general purpose fertiliser every 2-3 weeks in the spring and summer, and every 2 months in the autumn and winter.
Water regularly and never allow the soil to dry out.
Prune sparingly, and only to remove dead, diseased or dying branches, and to maintain an open air flow.
Enjoy the thick, shiny and lush foliage, and look out for the green-yellow flowers in late spring and early summer.
Common pests and diseases with avocado
Avocado plants are susceptible to a number of pests and diseases. Those most commonly affecting avocado trees grown in the UK are…
Avocado root rot
A fungal disease which is hard to spot, as the main initial symptoms happen at the roots of the plant, beneath the soil. Once the disease takes hold, foliage yellows and dies back. If growing the avocado from seed, avoid root rot by soaking the avocado stone in warm water before sowing. Ensure good soil drainage and feed regularly to maintain good plant health.
Avocado cercospora spot
Another fungus, this one affecting the leaves of the plant, creating small dots on the foliage, and lightly spoiling fruits as spots or cracks appear. Avoid by keeping the soil around the plant weed free, and pruning if needed to maintain good air flow throughout the plant.
Mealybugs
Mealybugs are a sap-sucking insect which will weaken the avocado plant. Leaves sticky and sooty marks on the foliage. Encourage ladybirds which will feed on the bugs.
Red spider mite
To check for red spider mite, look out for fine webbing on the plant and leaves turning yellow. Avoid by misting regularly to maintain humidity.
Whiteflies
Whiteflies are another sap-sucking pest which also leaves sticky and sooty marks on the plant. Avoid by maintaining good ventilation around the plant.