Levington® Essentials Multi Purpose Compost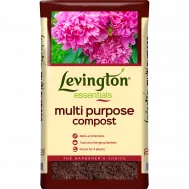 Levington® Essentials Multi Purpose Compost
Levington Essential Multi Purpose Compost is perfect for beds and borders, cuttings, tubs, pots and hanging baskets. It is ideal for most growing uses and feeds up to 4 weeks. 
HOW TO USE
Use straight from the bag.  After filling or potting lightly firm the compost. Keep the compost moist and do not let it dry out, but avoid over watering.
WHERE TO USE
Cuttings, potting, beds and borders, tubs and hanging baskets. Not suitable for rhododendrons, azaleas and heathers or other acid loving plants.
HOW OFTEN TO APPLY
Feeds plants for up to 4 weeks.
CAUTIONS
Use in a well ventilated place and avoid breathing in dust. Always wear gloves when gardening and then wash your hands after use.
Always read the label and product information before use.
RECYCLING & HANDY HINTS
DID YOU KNOW THAT YOU'RE PART OF ONE OF THE WORLD'S LARGEST RECYCLING EFFORTS?
Each year, Evergreen Miracle-Gro resuses thousands of tonnes of material from gardens and forests in many of our compost mixes, to help you grow plants that enhance your environment and make the World more beautiful.