Levington® Growmore Multi Purpose Plant Food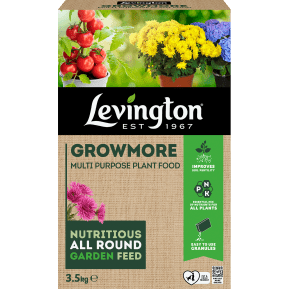 Watch our video about Levington's range of multi purpose soil supplements.
Levington® Growmore Multi Purpose Plant Food
Levington® Growmore Multi Purpose Plant Food is an essential mix of nutrients for all plants. These easy to use granules produce strong and healthy growth and improve soil fertility.
How to use
For small or bare rooted plants in beds, borders and vegetable plots apply when preparing the soil for planting. Sprinkle evenly over the soil and mix in well. Water well after planting out, especially in dry weather.
For bigger, well-rooted plants, bushes and trees mix with soil or compost and use as planting mix. Water well afterwards.
During the growing season, sprinkle evenly over the soil around plants. Gently work it into the soil surface with a hand fork or hoe without disturbing the plant roots and water in thoroughly.
Where to use
Can be used all around the garden: Bedding plants, flowers, bushes, trees and conifers, fruit and vegetables.
How often to apply
In spring for new and established plants and for reapplication during the growing season.
Coverage area
Bedding plants: 50-75g per m².
Flowers: 75-100g per m².
Bushes, trees and conifers: 50-100g per plant.
Strawberries: 50g per m² in spring, apply 75g per m² after fruiting.
Fruit trees and bushes: 50-125g per m².
Low feed vegetables: Lettuce, radish, onions, French beans 50-75g per m².
High feed vegetables: Courgettes, tomatoes, potatoes, carrots 75-100g per m².
Fertiliser analysis
NPK 5-10-0.
Cautions
Always wear gloves when gardening.
Only use where there is a recognised need to feed plants. Keep away from plant leaves and stems.
Do not exceed the appropriate application rate. Increasing the dosage may result in damage to your plants.
Store in the original container in a cool, dry, frost-free place away from children, pets and foodstuffs.
Wash hands and exposed skin after use.
Do not eat or smoke while applying the product.
Always read the label and product information before use.
Health and Safety
Always read the pack label and product instructions carefully before use. For further information relating to product safety please review the product data safety sheet link below.

Levington® Growmore Multi Purpose Plant Food
3.5kg (other sizes available)