Levington® Houseplant Compost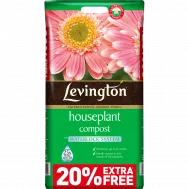 Levington® Houseplant Compost
Levington Houseplant Compost is perfect for potting on, repotting and propagation of cuttings. It absorbs 25% more water than ordinary multi purpose compost and its patented waterlock system helps to lock in valuable moisture.
Pack Sizes
8 litres + extra free
HOW TO USE
Re-Potting Houseplants:
Levington® Houseplant compost can be used to pot on. This is best done in the spring, when plants are actively growing. Often when the roots are appearing through the drainage holes, potting on to the next size of pot is required. Water the plant thoroughly. Place a layer of Levington® Houseplant compost in the base of the new pot. Remove the plant from the pot by tapping the base of the container and place in the centre of the new one. Fill the space around the root ball, ensuring that the compost level is the same as it was originally and firm gently. Water the plant well.
Potting on of Seedlings:
Fill pot with Levington® Houseplant compost and lightly firm. Make holes into the compost with a dibber. Gently ease seedlings from original container by lifting the roots with a dibber. When handling seedlings gently hold by the young leaves and place into the hole in the new compost. Gently firm in. Keep soil moist without satu-rating. Do not allow compost to dry out.
Propogation of Cuttings:
Fill pot or tray with Levington® Houseplant compost and lightly firm. Water the compost using a watering can with a fine rose ensuring that it is moist but not saturated. Make a hole in the compost with a dibber. Insert cutting and firm compost around the stem. Cuttings will root better and are less likely to show stress if the container is covered with a clear polythene bag or placed in a propagator.  Keep compost moist with gentle watering but do not over water.
Care for your Plants:
Levington® Houseplant compost provides all of the necessary food for up to 6 weeks. After 4 to 6 weeks, we recommend Miracle-Gro® Plant Food (see pack for details). Not only will this specialist compost and plant food provide the best environment for your plants, they will also continue to grow in a healthy and abundant way, enabling flowering plants to bloom more profusely.
Houseplant compost should be kept moist at all times and it should never dry out. Plants should not be left to stand in water for long periods as this will encourage root rot.
Where Not to Use:
Not suitable for ericaceous/lime hating plants, such as Rhododendrons, Azaleas, Camellias and Heathers. We recommend Levington® Ericaceous Compost for these plants
WHERE TO USE
Suitable for potting on, re-potting and propagation of cuttings.
CAUTIONS
Use in a well ventilated place and avoid breathing in dust. Always wear gloves when gardening and then wash your hands after use.
Always read the label and product information before use.
RECYCLING & HANDY HINTS
OUR COMMITMENT TO SUSTAINABILITY
Did you know that you're part of one of the World's largest recycling efforts?  Each year, Scotts Miracle-Gro reuses thousands of tonnes of material from gardens and forests in many of our compost mixes, to help you grow plants that enhance your environment and make the World more beautiful.
Health and Safety
Always read the pack label and product instructions carefully before use. For further information relating to product safety please review the product data safety sheet link below.