Miracle-Gro® EverGreen® Autumn Lawn Care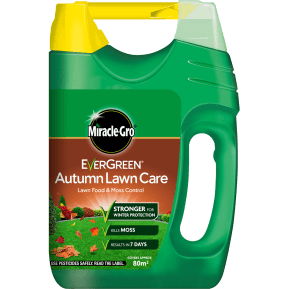 How to use Miracle-Gro hand-held ready-to-use product spreaders.
Miracle-Gro® EverGreen® Autumn Lawn Care
Miracle-Gro® EverGreen® Autumn Lawn Care helps to protect your lawn from harsh winter weather, giving your lawn a good start next spring! While killing moss, it toughens the grass to help it withstand harsh winter weather and strengthens the roots.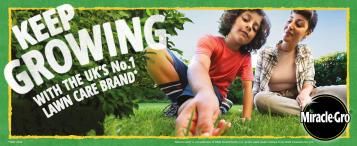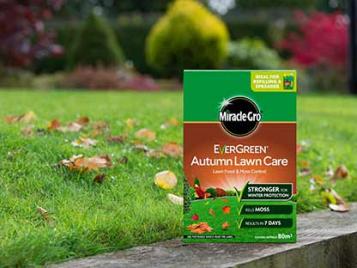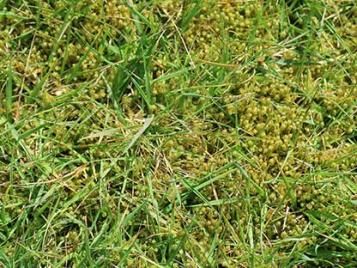 How to use
Press down the yellow spout and slide back the green overcap.
Flip the spout over.
Walking at a brisk pace of 1.5m/second, invert the dispenser so that the spout points towards the ground and the granules flow freely.
Maintain the spout at a comfortable height off the ground (at least 45cm). Spread across the lawn area in even strips. Avoid overlapping. When you stop walking raise the spout to stop the flow of granules.
Maximum individual dose: 35g of product per square metre.
Where to use
For use on lawns.
Miracle-Gro® EverGreen® Autumn Lawn Care can be used around trees in the lawn, but avoid contact with the foliage. It can be applied where bulbs are growing in the lawn, provided it is applied after all the bulb foliage has died down naturally.
Fertiliser analysis
Contains iron sulphate. NPK 6-5-10.
Cautions
Note: This list is not exhaustive.
Contains iron sulphate.
We recommend you wear gloves when gardening.
Wash hands after use.
Keep out of the reach of children.
Only apply to new lawns once the lawn is established (usually 3 months). Maximum 2 treatments per year.
Apply this product very carefully as it will cause brown stains on any surface it comes into contact with e.g. clothing, tarmac drives, paving, decking and kitchen floors.
Note: This list is not exhaustive.
Do not walk on the treated area and keep children and pets away from the area until the product is thoroughly watered in and the grass is completely dry to stop it transferring onto other surfaces. Sweep up any spillages and dispose of carefully.
Watering in: If no rain falls within 2 days, water the lawn thoroughly so that the lawn food starts to work.
Mowing: Avoid mowing the lawn 2-3 days before and after treatment.
Use plant protection products safely. Always read the label and product information before use
Q1: When can children and pets return to a lawn treated with Miracle-Gro EverGreen Autumn Lawn Care?
A1: After applying this product in accordance with the label instructions keep children and pets away from treated areas until the granules have been watered in thoroughly and the area has dried.
Q2: When will I see results?
A2: Within 7 days the moss in the lawn will blacken as it dies. After 2 weeks the moss will be dead and must be raked out.
Q3: When can I reseed my lawn?
A3: You can overseed or reseed patches on your lawn 6 weeks after use. However, it is important to ensure that weather conditions and soil temperature levels are still correct for seed germination.
Q4: Should I mow my lawn before application?
A4: Avoid mowing your lawn 2-3 days before and after treatment. Do not use the first 4 mowings after treatment for mulching. They will be safe to use after being thoroughly composted for 6 months.
Q5: Why should I feed my lawn in autumn?
A5: Summer is a very stressful time for your lawn, hot temperatures, dry soils and heavy use all cause stress to the grass. Autumn is the time for the grass to stop putting on top-growth and concentrate on root development. Strong roots are needed to withstand a harsh winter and put on fresh lush green growth in the spring.
Health and Safety
Always read the pack label and product instructions carefully before use. For further information relating to product safety please review the product data safety sheet link below.

Miracle-Gro® EverGreen® Autumn Lawn Care
2.8kg spreader (other sizes available)