Miracle-Gro® Growmore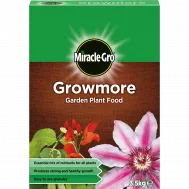 Miracle-Gro® Growmore
Miracle-Gro Growmore Garden Plant Food is an essential mix of nutrients for all plants. It can be applied prior to seeding or turfing lawns. Th ese easy tp use granules produce  strong and healthy growth and improves soil fertility.
HOW TO USE
In spring for new planting - small palnts in beds, borders, bare rooted plants and vegetable plots apply with soil preparation before planting.  For bigger well rooted plants / bushes and trees mix with soil or compost and use as planting mix.  Water well afterwards.
In spring for established plants and for reapplication during growing season - sprinkle evenly over the soil around the plants.  Gently work it into the soil surface with a hand fork or hoe without disturbing the plant roots and water in thoroughly.
WHERE TO USE
Suitable for all plants around the garden. It is also ideal for topdressing the lawn.
HOW OFTEN TO APPLY
A second dose or third dose can be given every 6 wks, when plants are actively growing.
FERTILISER ANALYSIS
NPK 7-7-7.
CAUTIONS
Always wear gloves when gardening. Only use where there is a recognised need to feed plants. Keep away from plant leaves and stems. Wash hands and exposed skin after use. Do not eat while applying this product.
Always read the label and product information before use.
RECYCLING & HANDY HINTS
DID YOU KNOW THAT YOU'RE PART OF ONE OF THE WORLD'S LARGEST RECYCLING EFFORTS?
Each year Evergreen Miracle-Gro® resuses thousands of tonnes of material from gardens and forests in many of our compost mixes, to help you grow plants that enhance your environment and make the world more beautiful.
Health and Safety
Always read the pack label and product instructions carefully before use. For further information relating to product safety please review the product data safety sheet link below.