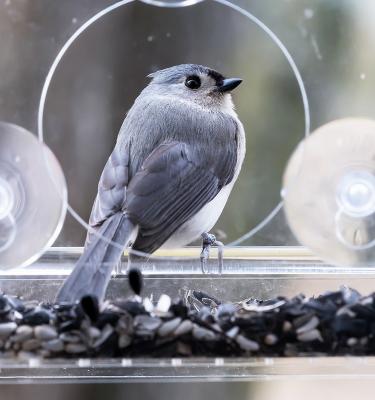 Who said geeks have to be behind a computer screen? Because all of us green fingered types know only too well that we love nothing better than a good garden gadget. In fact we have our own little garden gadget geek world! So here's our top cool garden gadgets to get you all hot under the collar this summer!
1. Inflatable outdoor movie screens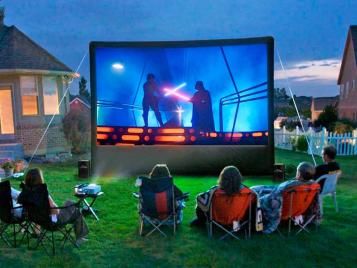 Love the outdoors? Well don't waste a moment inside but still catch your favourite films with this giant inflatable screen. They come in all sorts of sizes.
2. Big Foot pushover slippers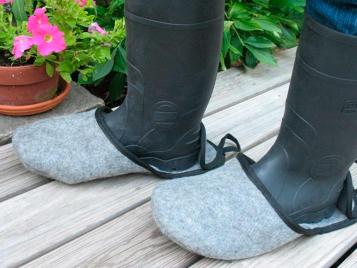 Brilliant for that sneaky cup of tea, these over-your-boot slippers mean you don't have to take off your boots if you just want to pop indoors quickly. You won't get your nice clean patio covered in mud from your boots either.
3. Inflatable sun lounger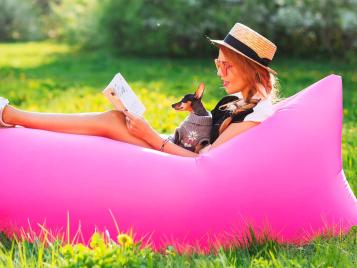 While you're thinking of lying down, why not get really comfy wherever you go with a super lightweight, portable and inflatable sun lounger. Just relax and enjoy, that's what summer's about after all, isn't it?
4. The water carrying bag that fits in your wheelbarrow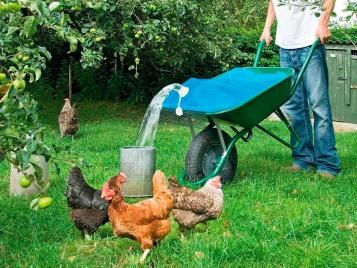 Make life that little bit easier this summer if you need to store and transport water. This bag fits in your wheelbarrow and has a spout and cap so watering doesn't have to be back breaking.
5. Spider catcher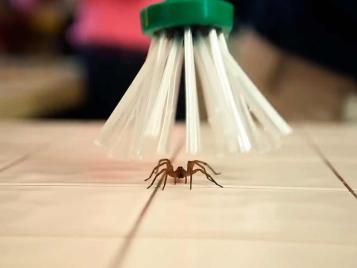 Not keen on our eight legged friends? You'll love this super easy spider catcher which allows you to grab them without getting too close. Keep one indoors as well and you'll never need an upturned glass again.
6. Solar powered dummy CCTV camera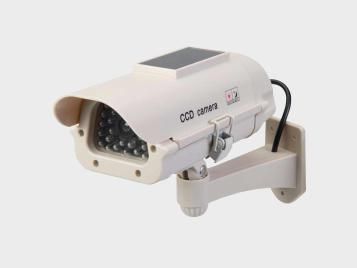 If you're not a fan of big brother watching over us or haven't got the time or budget for full CCTV, why not opt for this dummy. Because it's solar powered a red light comes on at night so it looks realistic but there's no wiring or complicated installation.
7. Luxury window bird feeder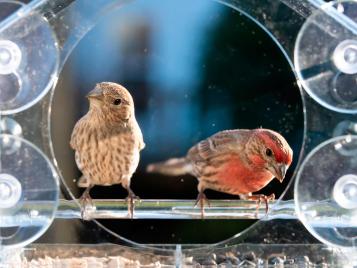 Get up close and personal with the birds with a luxury bird feeder which you can attach to a window. With room for feed, water and seeds balls, birds love it and you can enjoy seeing them really close up. Perfect for the lazy twitcher who wants to stay at home.
8. A barbecue in a bag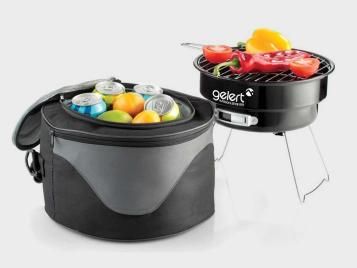 This one's for the passionate barbecuer! A barbecue that saves space, is portable and even comes with a cooler! So whatever you get up to this summer and wherever you get up to it, you'll have hot sausages but cool drinks to order!
9. Lego planter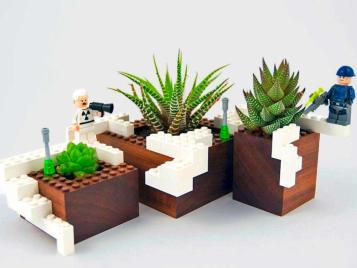 Love Lego? Minecraft mad? You'll love the Lego planters and however large or small your garden or green space, you can bring a bit of the outdoors in.
10. Make watering easy with Oya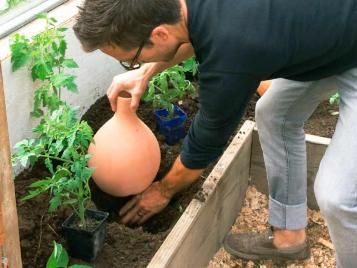 Perfect for the lazy garden, you bury these terracotta shaped vases in amongst your plants and fill them with water! The self-watering Oyas do the watering for you and all underneath the surface too! And you? Well put your feet up for a change!
11. Air-Pots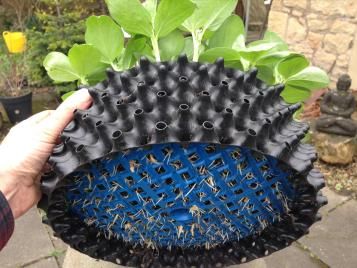 For the more serious gardener, Air-Pots are an exciting new way of getting more from your plants, whether that's blooms, fruit or veggies. With hundreds of little holes around the pot, they encourage healthier, more productive roots. That can only be good news.
12. Husqvarna Automower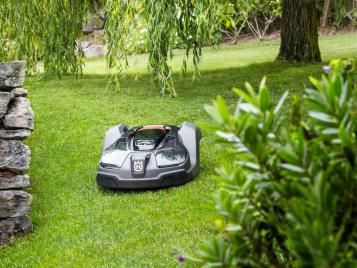 It's cool, it's cute, but it's costly. This little automatic mower will be busy about your lawn while you enjoy the view. This robot friend who starts at £1,000 can manage all weather and tricky terrain. He's smart too and frees up your time for whatever you fancy!
13. Parrot's Flower Power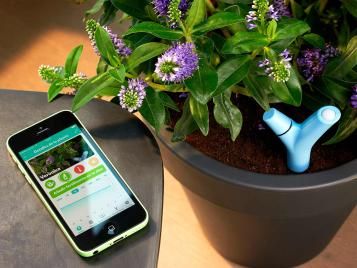 If you love technology as well as gardening this is the Flowering App is for you. You just stick the little branch shape gizmo in your pots and when your plants needs some love or attention (or water and feed), it sends a message to your phone.
14. The geodesic aviary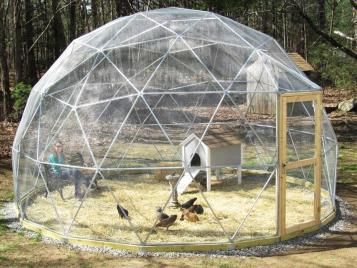 Bring a touch of the Eden Project to your garden with this versatile, light weight and almost space age aviary or chicken coop. It doesn't come cheap (or is that cheep cheep) but you have to admit that it's cool.
15. The Good Ideas Pondguard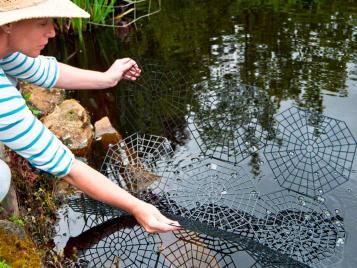 Save your pond life from those unwanted predators with this interlocking net system. Because it's a series of cobweb shapes, it'll fit different shaped ponds and leaves your pond still looking great!
16. Darlac string cutter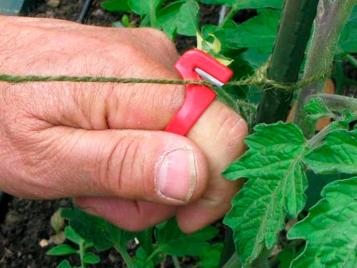 Good things often come in small packages and this easy to use string cutter is small but perfectly formed. Safe too, just clip it on to the top of your finger and away you go. Things don't get more simple or smaller than that.
17. Garden clock and thermometer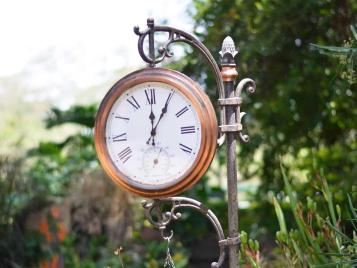 It is easy to lose track of time when you're getting stuck in and this slate looking clock and thermometer will not only keep you on time but gives you the temperatures too, so you can track trends in your garden throughout the year. No more leaving it to chance.
18. The Lily Rain Chain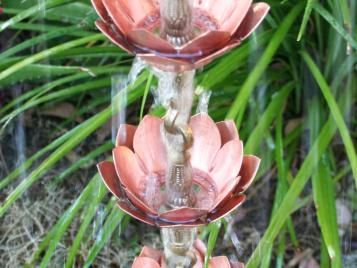 Fancy a water feature with a difference? But don't want to start digging or installing pumps and complicated water feature systems? The Lily Rain Chain is a simple but delightful take on a water feature with cup shapes hung down a chain, each with a hole in it allowing rain from the gutters to gently drip down.
19. Sky planter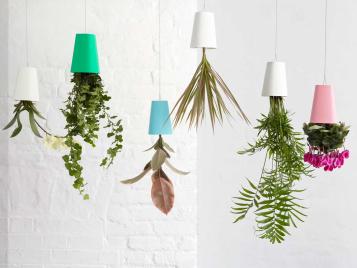 Run out of space for your planting? Indoors or outdoors why not plant from the sky with this clever little device made from recycled plastic. It looks great, comes in 3 sizes and even has its own reservoir and gives you a great chance to get really creative with your planting.
20. The storage sun lounger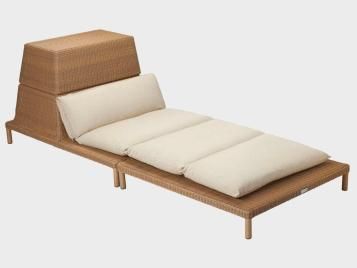 Stuck for summer storage? This lovely looking sun lounger doubles up as storage meaning you can keep your cushions and towels clean without having to drag them inside every evening. You may have to make it yourself… this one's a DIY but that means the potential is endless. Paint it green, decorate it with flowers or keep it natural, the decision is yours.
21. Good Ideas Kneeler with storage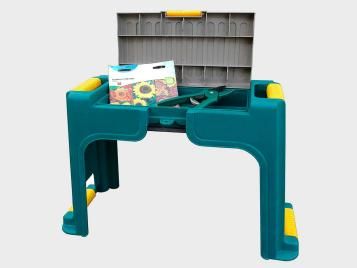 There's a reason Good Ideas is called what it is and we love this foam kneeler/storage combo which also gives you a hand getting up too. Light weight and weather resistant … now that is a good idea!
So that's it. From the fun to the functional and for the lazy to the labourer, those were our top 21 cool garden gadgets for this summer. We'd love to know what you think of them and how you get on but better still, we'd love to know what garden gadget you've found which you now just can't live without. Share your garden gadgets with us green gingered geeks at on our social media sites. Let's get techie this summer!