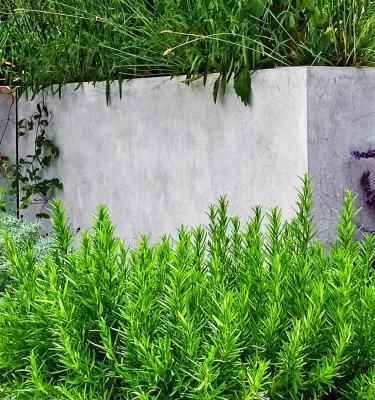 Concrete in your garden doesn't have to be ugly
The mention of concrete normally brings the thought of grey, ugly and boring structures to mind. But it can be made into fun, contemporary and stylish designs to uplift your garden with a little creativity.
Concrete is a very versatile material to use in the garden, as it is easy to create and is hard and durable allowing it to withstand the harsher weather.
Either by using pre-made moulds, making your own moulds or casting objects, a DIY garden project with concrete, couldn't be easier to begin.
Alternative materials and embellishments can also be combined with the concrete to create even more unique designs, such as wood, metal, coloured or clear glass, sand and stone.
A few ideas to get you started could include:
Furniture
All types of furniture can be made using homemade structures to form a mould, with a mixture of wood, metal and concrete. These can be simple or extravagant depending on taste and space available.
Some types of furniture that can be made using concrete include:
Chairs
Sofas and benches
Stools
Dining Tables
Side tables
A bar
Decoration
If you just want to add a little something extra to brighten your garden, add a unique twist or create a whole theme; there are plenty of options for small quirky items to be made.
All of which can be hand-painted in your choice of colours and patterns.
Decoration examples include:
Leaf moulds
Moulded shapes; stars, rose, mushroom, pebbles, spheres
Clocks
Imprinted stencils
Lighting
If you want a more natural feel with candles, a modern electric set up or a gathering space for friends and family then look no further. Simple moulds can be made using a variety of household objects, even a plastic bottle.
Ideas for concrete lighting can be:
Candleholders
Lamps
Wood burner/fire pit
Paving and steps
Concrete can be used to cover vast or small areas and altered in many ways to get different effects. Whether you prefer a smooth finish or something with a bit more texture, there are plenty of options to get the desired look.
This can be used for patios, pathways, steps or even just as a decorative gap filler.
Paving styles include:
Block
Patterned
Stepping stones
Planters
This can be an inexpensive way to fill your garden with beautiful plants and flowers, as they can be made in any size or style. Solid rectangular borders can be used to line the edges of your garden, or smaller rounded pots can be moulded from bowls or buckets.
Types and arrangements for planters can include:
Stacked
Shelved
Freestanding
Water features
The sound of water nearby is always relaxing, so why not create your own zen garden? Alternatively, concrete can be used to create a nature-friendly environment, inviting to amphibians and birds alike.
Ideas for water features include:
Fountains
Ponds
Bird Baths
Pools
When it comes to concrete in the garden, the possibilities are endless, with a bit of imagination you can build almost anything!