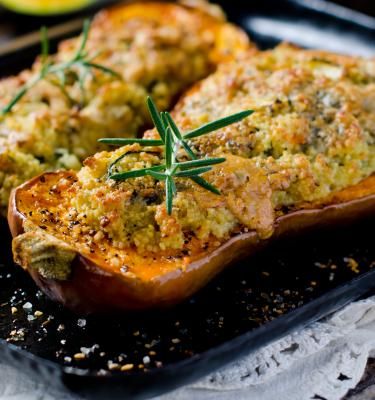 3 glorious recipes for the harvest season
Also known as the harvest season, autumn brings with it so many wonderful flavours, from pumpkin spice to butternut squash, the return of soups and stews, and an overall feeling of warmth in the kitchen.
We've put together below our top three favourite in-season recipes - each including ingredients that you can grow at home. We're firm believers that nothing tastes as good as fresh from the garden!
Lentil-stuffed roast squash
Note: for this one, you don't have to use a butternut squash specifically. This also works well with other types of squash, including pumpkins - just make sure you adjust the cooking times for the size of the veg!
You will need:
75g lentils (either green or red, uncooked)
1 medium butternut squash, halved lengthways and flesh scooped out (preferably homegrown!)
1 litre stock (ensure this is correct for your kind of lentil)
1 onion, diced
1 sprig fresh rosemary
Juice of ½ a lemon
½ a courgette, diced
2 garlic cloves
4-5 sundried tomatoes, diced
Salt and pepper
2 tbsp olive oil
1 bay leaf
50g peas (homegrown is best, otherwise frozen is good)
A few leaves of fresh sage
Feta cheese (for garnish, optional)
Method:
1. Preheat your oven to 200°C and place your halved, scooped out squash on a parchment-lined sheet, cut face down. Bake this for 55-60 minutes.
2. In the meantime, prepare the filling. Saute the onions and garlic in a saucepan with about the olive oil until soft and fragrant. Add the courgette and sundried tomatoes and cook on a medium heat until the courgette has softened a little.
3. Add all the other ingredients except for the peas and lemon juice and place a lid on the pan. Leave to simmer for as long as your lentils require to cook (12 minutes for red, 40 minutes for green). If there is still a lot of liquid remaining, simmer for a while with the lid off to reduce.
4. When the filling is ready, add the peas in and stir through, cooking for a further 5 minutes, and pick out the rosemary and sage. Then take it from the heat and et aside.
5. After the baking is complete, take the squash out of the oven. Careful – it will be hot! You can check to make sure it's cooked through by turning it over and piercing with a fork – it should go through the skin easily. Turn it back over and scoop out some of the soft flesh – leaving about a half inch border around near the skin.
6. Mix the scooped squash into your lentil mix and spoon it back into the squash 'bowls' – top with feta or any other cheese you fancy and it's ready to serve!
Autumn tomato chutney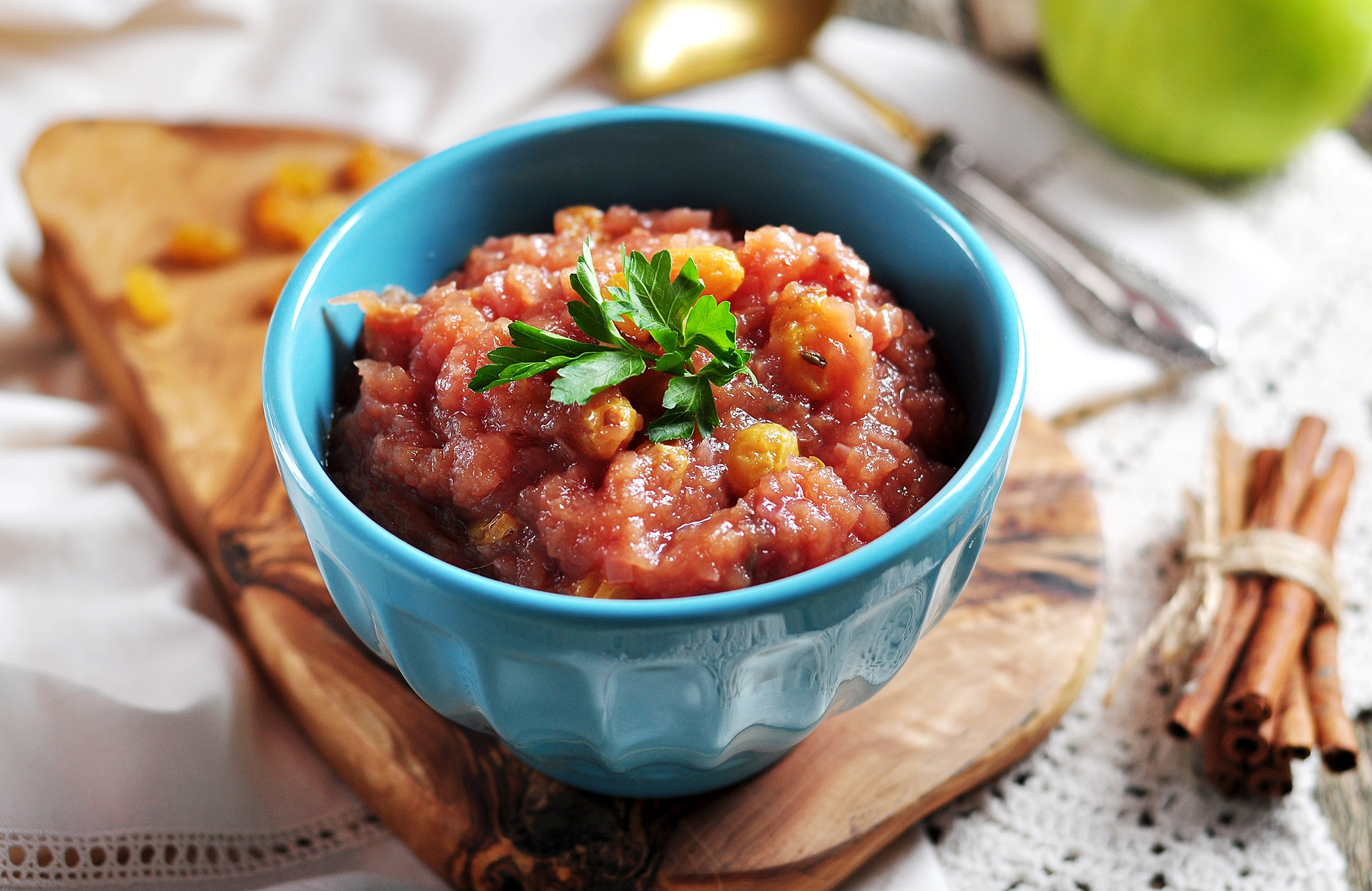 If you've been growing your own this year, there's a good chance you've got some fresh tomatoes – the easiest to grow, they're also one of the most versatile fruits. This chutney brings out the fresh taste of your homegrown tomatoes while also enriched with some autumnal flavours. Great for a garnish for any dish, or in a sandwich.
You will need:
500g ripe tomatoes, chopped
3-4 cooking apples, peeled, cored & chopped
100g light muscovado sugar
250g onion, chopped
100g raisins
150ml apple cider vinegar
1 tsp salt
½ tsp ground ginger
½ tsp cinnamon
½ green pepper, chopped (or a jalapeno if you fancy some heat)
Method:
1. Add all the ingredients into a large pan and bring to a boil over a medium heat.
2. Reduce to a simmer and stir regularly until all the sugar has dissolved.
3. Leave the mixture to boil for around 30-40 minutes until the fruit is tender and the sauce is thick.
4. Simply leave to cool then transfer the chutney to a sterilised jar and seal.
Spiced apple butter bars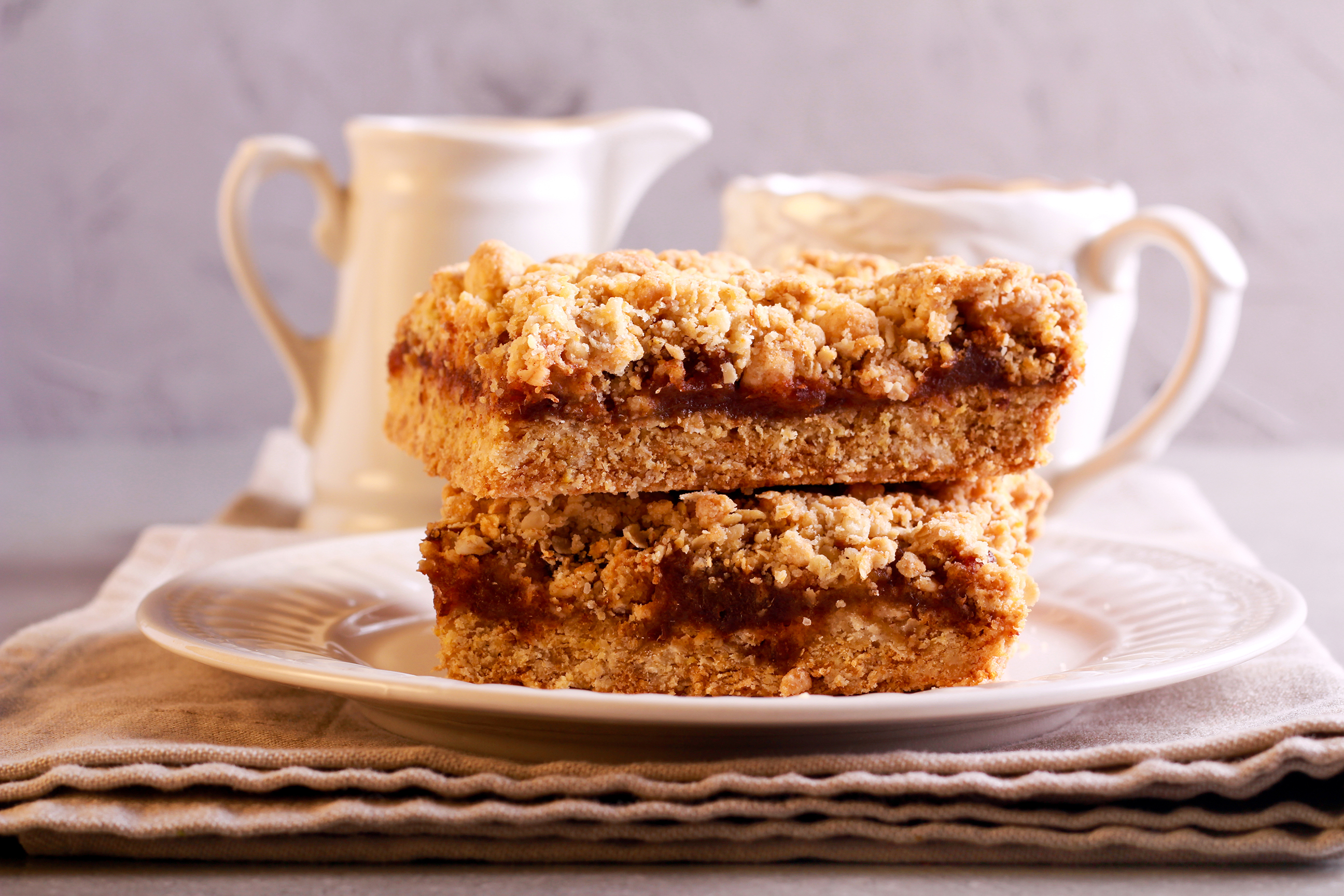 These are a delicious sweet treat and a great way to use up a big glut of apples - particularly the apple butter, which is delicious on ice cream, cakes, toast and much more. It will reduce a lot of apples down so you could make an extra large batch to keep in the fridge.
For the apple butter:
A selection of apples, around 1kg (any kind)
150g brown sugar
2 tsp cinnamon
½ teaspoon cloves
½ teaspoon allspice
250ml water
Juice and zest of a lemon
Pinch of salt
For the bars:
3 apples, cored and sliced
250g oats
100g brown sugar
100g butter or margarine (you can also swap this for peanut butter)
100g apple butter
Method:
1. Starting with the apple butter: core, peel and slice the 1kg of apples and add to a saucepan with all the other ingredients for the butter. Bring to a boil and leave on a gentle simmer on a low heat for several hours, until the apples have broken down completely and gone a deep brown colour. This could take 3-4 hours. If you have a slow cooker, this works well overnight on a low heat.
2. Once the apple butter is ready, leave aside to cool.
3. For the bars: preheat your oven to 180°C and greaser and line a square brownie tin or baking tray with greaseproof paper.
4. In a large bowl, mix the oats, butter (or butter alternative) and sugar in a bowl and mix thoroughly.
5. Take about ⅔ of the oat mixture and press into the brownie tin in a layer around 2cm thick.
6. Spread the apple butter on top of the base and lay the apple slices on top.
7. Sprinkle the final ⅓ of the oat mixture on top, but don't press it in.
8. Place in the oven and bake for around 20-25 minutes, or until the topping has gone a soft golden brown
9. When cooked, remove from the oven and either allow to cool or enjoy when still warm, sliced into squares.