Grow some goodness
Tomatoes are so versatile, tasting great raw in a fresh summer salad or cooked in curries and pasta sauces, you can't go wrong. Not only does their tangy taste add flavour, but they also supply our bodies with a great deal of nutrients.
The carotenoid, lycopene, is the natural pigment that gives tomatoes their vibrant red colour, and generally, the redder the tomato, the more lycopene it has. This carotenoid has strong antioxidant properties and has been linked to preventing memory loss conditions such as Alzheimer's disease as well as other chronic diseases such as breast and prostate cancers.
Right place, right time
Before growing, you'll need to choose if you want to grow upright style tomatoes, which are the traditional tall-growing varieties, or bush tomatoes that don't require support which grow well in hanging baskets. March to early April is the best time to sow seeds, but tomatoes grow brilliantly in a greenhouse where you can sow from late February.
The seedlings like to be kept around 18°C, so keep them on a sunny windowsill or in a plastic bag or propagator. The best time to plant them out is in May when the first truss begins to open. But don't worry if you've missed the time to sow from seed because you may be able to get some young plants to start growing.
Levington Tomorite Giant Tomato Planter with Seaweed is a large gro-bag to transfer your young plants into. It's enriched with plant food and added seaweed which supplies essential micronutrients to allow maximum growth and deliciously flavoured fruit.
It's deep enough to grow three tomato plants comfortably, whilst allowing optimal root growth. Simply cut along the convenient dotted lines and plant in your tomato plants once the first flowers open and water them in.
Nourish to flourish
Keeping a watering schedule to keep the soil moist is important to stop it drying out and then becoming waterlogged. However, Levington Tomorite Giant Tomato Planter with Seaweed needs less frequent watering than smaller growbags as smaller containers heat up quicker and so lose moisture faster, thus making them perfect for the gardener that's a bit tight on time.
Ensuring your plants have the right access to the necessary nutrients will mean you'll have a higher yield but will also decrease the likelihood of them succumbing to pests and disease too.
Levington Tomorite Concentrated Tomato Food delivers a high potash hit that tomatoes and fruiting crops need. Where you're growing your plants will determine how often you'll need to feed them. Those growing in greenhouses should start being fed when the first stems with small green fruits have set, then continue to feed at alternate waterings. On the other hand, those planted out will need feeding every 1 to 2 weeks.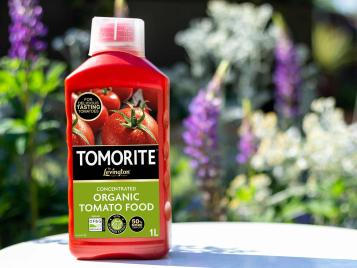 Plants in growbags will need feeding once a week outdoors or twice a week if situated in a greenhouse. Just dilute 20ml of the feed into 4.5 litres of water to create the mix and apply to the base of the plant. Like the planter, this food is enriched with seaweed for that extra support.
Once the fruit is ripe and fully coloured, they can be picked. In addition to this, at the end of the growing season they can be harvested and placed into a drawer alongside a banana which will help to ripen them to their vibrant red colouring.
Short on space
Even if you've just got a balcony or small urban garden to tend, there's still plenty of opportunity to grow your own produce.
The cultivar 'Tumbler' is a small trailing bush, that grows well in hanging baskets, so you don't even need to take up any valuable floor space and will have a lovely flowing texture on a balcony. When it comes to feeding time, Levington Tomorite Concentrated Tomato Food will fit handily under the kitchen sink, or if you have any handy outdoor storage in your small space.
Alternatively, if you'd rather grow different produce such as strawberries in a window box, you can still use this tomato food on them. In fact, you can use it on any other plants where liquid feed is needed.
No matter what space you have available, there's plenty of opportunity to have access to your own harvest of delightfully tasty tomatoes. Once you do, you'll never go back to shop-bought—the tang of homegrown tomatoes is unlike anything else!